We all know that March comes in like a lion, so it's altogether appropriate, then, that Real Gone Music comes into March with a roar!  The label's March 4 slate of eight titles emphasizes classic soul, with detours to vintage pop and country.  And as Mardi Gras 2014 falls on that very date, the sound of New Orleans is celebrated with a few very special releases, too.  From New Orleans, Real Gone presents titles from three bona fide Big Easy legends: Dr. John, Professor Longhair and Irma Thomas.  Sweetening the deal, the soul queen of New Orleans' release unearths no less than 13 unreleased tracks!  That Crescent City trio is joined by a rare, never-on-CD solo album from The 5th Dimension's Marilyn McCoo and Real Gone's first-ever dip into the Motown catalogue with four long out-of-print albums on two CDs from The Temptations' David Ruffin.  The line-up is rounded out by a collection of gospel sides from country legend Charley Pride and the complete hit A-sides from a group we knew the label would discover "sooner or later" - The Grass Roots!
Hit the jump for all of the details courtesy Real Gone's press release, plus pre-order links to all titles!  And don't miss out on the eclectic roster coming from Real Gone this February 4...all of the details are right here!

Los Angeles, California - The Grass Roots were, without a doubt, one of the great singles bands of the '60s and early '70s. So, why hasn't a collection of their complete, original Dunhill/ABC hit singles ever been released? Well, there's the little matter of the original mono master tapes. There are various stories about what happened, including one with Dunhill head Jay Lasker pitching all the label's multi-track recordings and mono masters after having deemed them obsolete. And so the classic hit singles by the Grass Roots have for the most part only surfaced in their stereo album versions on the various anthologies of the band. But when the going gets tough for a reissue label, Real Gone Music gets going. After a worldwide search for the best sources available, the label has rounded up all two dozen Dunhill/ABC hit singles (including the censored and uncensored versions of "Let's Live for Today" and their biggest smash, "Midnight Confessions") and put them together into one AMAZING-sounding package! Indeed, this collection offers the truest essence of the band - those hook-filled singles in that glorious, original mono sound mixed and mastered to punch through '60s and '70s AM radio. And, by covering the years 1965 to 1973, The Grass Roots: The Complete Original Dunhill/ABC Hit Singles also provides a fantastic overview of the group's tangled history and many line-ups - all meticulously explained by Ed Osborne's liner notes featuring quotes from group mastermind Steve Barri - with late lead singer Rob Grill the closest to a career-long member (their first two singles featured Bill Fulton on vocals). It's the Grass Roots collection that we've ALL been waiting for!
"Soul Queen Of New Orleans" Irma Thomas enjoyed a run of national success in the U.S. in the mid-'60s with classics like "Wish Someone Would Care," "Anyone Who Knows What Love Is (Will Understand)" along with the original vocal version of "Time Is on My Side" (later a massive hit for The Rolling Stones), recorded for Imperial Records. Following a short stint at Chess Records, Irma recorded for Canyon before being signed to Atlantic Records by the label's much renowned executive, Jerry Wexler. A first session in 1971 yielded one single, "Full Time Woman" (produced by noted New Orleans music legend Wardell Quezergue), which failed to chart but was singled out by Wexler in a 2007 interview as one of his all-time favorite recordings. Undaunted, Atlantic arranged further sessions for Irma in Detroit, Miami and Philadelphia throughout 1972 - yet none of the material was ever issued. Noted soul music historian and SoulMusic Records founder David Nathan uncovered all the tapes of this treasure trove of previously unreleased material during vault research in 2005; now, more than 40 years after they were originally recorded, Irma Thomas' Full Time Woman -- The Lost Cotillion Album brings all of Irma's recordings for Atlantic (under its Cotillion imprint) to light for the first time! With remastering by Alan Wilson at Western Star Studio in the U.K. and liner notes by David Nathan that recount his personal odyssey in search of these tapes, Irma Thomas: Full Time Woman -- The Lost Cotillion Album features a full 13 unreleased tracks and represents a major addition to the Irma Thomas discography.
As the originator of the "rhum-boogie," that amalgam of rhumba and boogie-woogie peculiar to New Orleans, Henry Roeland "Roy" Byrd a.k.a. Professor Longhair was a seminal influence on several generations of Crescent City stars, everybody from Fats Domino to Huey Smith to Allen Toussaint to Dr. John. But, as album producer (and controversial biographer of Elvis, John Lennon and Lenny Bruce) Albert Goldman writes in his liner notes to Professor Longhair's The Last Mardi Gras, the Professor was "was wasting away in comparative obscurity while the record companies either refused to cut him or sat upon the records he had already made." So Goldman, who at the time was music critic for Esquire, campaigned in the magazine's pages for proper recognition of the New Orleans legend, and, lo and behold, Atlantic Records stepped forward with a 16-track mobile recording unit to get the job done. Thus armed, Goldman set out to make the definitive Professor Longhair recording by capturing two nights of performances during (when else?) Mardi Gras in 1978 at (where else?) the Tipitina Club, and having the shows mixed by (whom else?) Cosimo Matassa, who engineered the original records of Fats Domino, Little Richard, Ray Charles, et al. The result: the one indispensable audio document of the great man's career (and the last Mardi Gras he ever played). Our Real Gone 2-CD reissue features Goldman's original liner notes and added pictures.  This CD debut is released on (when else?) Fat Tuesday itself.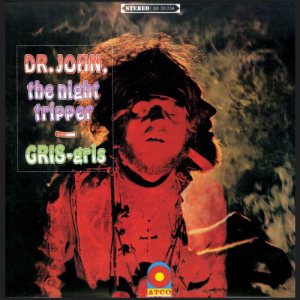 "Gris gris" is the New Orleans term for voodoo, and one could be forgiven for thinking Dr. John's album of the same name was recorded in the dead of night in one of the city's famed graveyards. Well, it was recorded in the dead of night - at Los Angeles' famed Gold Star Studios, where Phil Spector recorded many of his classics. Long-time New Orleans session man Mac Rebennack wangled some free, after-hours studio time originally intended for Sonny & Cher, gathered the Los Angeles diaspora of New Orleans musicians - including Jessie Hill (known for "Ooh Poo Pah Doo"), Shirley Goodman (of Shirley and Lee), sax man Plas Johnson and percussionist Richard "Didimus" Washington -- and adopted a new persona of Dr. John the Night Tripper, he of the feathered headdresses and name taken from an 1840s New Orleans root doctor. The result was probably the spookiest and most hypnotic album ever made -- "voodoo psychedelia" is about as close as you can come, but doesn't quite capture the otherworldly vibe. One thing is for sure -- if you don't get goosebumps when listening to "Croker Courtbullion" or "Walk on Guilded Splinters," you probably are already dead and the subject of a voodoo ritual yourself! Dr. John, The Night Tripper's Gris Gris features notes by Richie Unterberger and added photos. Absolutely indispensable in this life or the next.
The incandescent talent of David Ruffin was too big for even the Temptations to hold. As Smokey Robinson observed, "The only way David could survive at Motown was as a solo artist." And so Ruffin left the Temptations in 1969 to strike out on his own with a series of releases that further established him as one of Motown's great voices. Now, Real Gone Music is releasing Ruffin's first four classic albums for Motown on a pair of twofers that take their place among the most essential soul music reissues of the year, with liner notes by Gene Sculatti and original album art. The first, My Whole World Ended/Feelin' Good, presents two albums from 1969 that rank among the greatest soul albums of the late '60s. My Whole World Ended went to #1 on the R&B album charts on the strength of its hit title cut and "I've Lost Everything I've Ever Loved," while Feelin' Good went to #9 on the R&B album charts and sported the hit "I'm So Glad I Fell for You." The other twofer, David Ruffin/Me 'N Rock 'N Roll Are Here to Stay, reflects Ruffin's growth as an artist away from the Motown formula and towards a life spent in the fast lane. 1973's David Ruffin, produced by Bobby Miller, whose writing credit appears on eight out of the 10 tracks, is a psychedelic soul masterpiece, and features the definitive version of Gamble and Huff's "I Miss You (Part 1)." 1974's Me 'N Rock 'N Roll Are Here to Stay, meanwhile, marked the fiery collision of Ruffin with the brilliant producer Norman Whitfield, with the creative sparks to prove it. Both records appear here on CD for the first time outside of a long out of print, limited edition set.
In 1983, the time was definitely right for Marilyn McCoo to release her first solo album. After two decades of recording success and multiple Grammy Awards with the 5th Dimension and with her husband Billy Davis, Jr., her star had ascended even higher with her role as host of the long-running hit TV music show Solid Gold; naming the album after the show and leading off with an homage song to the show were obvious commercial choices. But what made the album really engrossing from an artistic standpoint was Marilyn's interpretations of some of the '80s biggest and best hits that were being featured on the show, like the Police's "Every Breath You Take," Hall & Oates' "One on One," Culture Club's "I'll Tumble 4 Ya" and a medley of David Bowie's "Let's Dance" with Men Without Hats' "The Safety Dance." Marilyn reimagines the songs as lightly disco-fied R&B, and her always impassioned yet tasteful singing never fails to hit the mark. There's also the single "I Believe in You & Me," a superb pop-soul duet with Billy Davis, Jr.  Solid Gold (Expanded Edition) includes an unreleased bonus track, "Relationship," with notes by Mike Ragogna and remastering by Maria Triana at Battery Studios in New York. A rare solo outing by Ms. McCoo in a CD debut.
Like his hero Hank Williams, Charley Pride was a country singer equally at home in the sacred and secular worlds, and so, right in the middle of his chart dominance in the early and mid-'70s, he stepped back from commercial success and recorded two albums of gospel music that remain models of their kind, with production by the late, great Jack Clement. The first, Did You Think to Pray, came out in 1971 and won Charley a pair of Grammies, one for Best Gospel Performance (for the song "Let Me Live") and one for Best Sacred Performance for the album itself. The second, 1976's Sunday Morning with Charley Pride, followed right in its predecessor's big footsteps, even briefly reprising "I'll Fly Away" from the first album in its last track, "Brush Arbor Meeting." Charley Pride: The Gospel Collection includes both albums, with liner notes by John Alexander and remastering by Vic Anesini and Mark Wilder at Battery Studios in New York. 20 tracks of heartfelt devotional music from one of the greatest country singers of all time.
March 4, 2014 Releases from Real Gone Music

The Grass Roots, The Complete Original Dunhill/ABC Hit Singles (Amazon U.S. / Amazon U.K.)
Irma Thomas, Full Time Woman -- The Lost Cotillion Album  (Amazon U.S. / Amazon U.K.)
Professor Longhair, The Last Mardi Gras (2-CD Set) (Amazon U.S. / Amazon U.K.)
Dr. John, The Night Tripper, Gris Gris (Amazon U.S. / Amazon U.K.)
David Ruffin, My Whole World Ended/Feelin' Good (Amazon U.S. / Amazon U.K.)
David Ruffin, David Ruffin/Me 'N Rock 'N Roll Are Here to Stay (Amazon U.S. / Amazon U.K.)
Marilyn McCoo, Solid Gold (Expanded Edition) (Amazon U.S. / Amazon U.K.)
Charley Pride, The Gospel Collection (Amazon U.S. / Amazon U.K.)