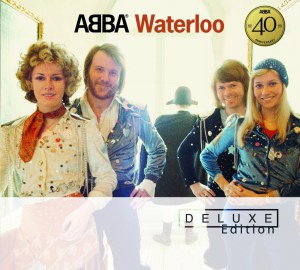 It may seem trite and ridiculous to Americans, but across the pond there is one competition that's bigger than any Idol or X-Factor event in the music world: the Eurovision Song Contest. For nearly 60 years, dozens of countries in the European Broadcasting Union send a song and a performer to the live event, and a winner is selected by votes.
Despite the immense popularity of the contest, it's interesting how few winners achieve true global superstardom. Sandie Shaw won with her signature "Puppet on a String" in 1967, and songs performed by Lulu, Celine Dion and even Katrina & The Waves have taken home the prize. But one stands tall above the rest - the 1974 Eurovision winner, written by Swedish songwriting duo Benny Andersson and Björn Ulvaeus (with manager/partner Stig Andersson) and performed by the duo with their wives, Agnetha Fälksog and Anni-Frid Lyngstad. The group was ABBA, the single was "Waterloo" and the rest is history.
Four decades after the quartet's immense international success (which far outlives the group itself, which disbanded in 1982), the ABBA catalogue machine (which, since 1992's smash compilation ABBA Gold: Greatest Hits, has never really turned off, with multiple reissues, compilations and box sets being released in the years since) is picking up with a new reissue of the band's sophomore Waterloo album, among other treasures.
[youtube=http://www.youtube.com/watch?v=Sj_9CiNkkn4]
While none of Waterloo's tracks stood up to the success of the title cut - a chart-topper throughout most of Europe, a Top 5 hit in Australia and No. 6 on the Billboard Hot 100 - there were some fan favorites in singles like "Honey, Honey" (a U.S. Top 40 hit) and only-ABBA-could've-done-these tracks like "Hasta Mañana" and "King Kong Song." The U.S. pressing also featured a new mix of "Ring, Ring," the band's 1973 breakout single.
As with previous ABBA deluxe editions, the new Waterloo is a CD/DVD set with no new audio bonuses (foreign language versions and alternate remixes are the order of the day) but a wealth of archival video content, including - what else? - the band's winning performance of "Waterloo" at Eurovision. A 20-page booklet of liner notes will feature a new essay with highlights from new interviews from Andersson and Ulvaeus.
The new Waterloo is out April 7; one day before, a special 7" picture disc featuring Swedish and English versions of "Waterloo" will be released, too. And it's certainly safe to assume more commemorative product will be available throughout the year. For now, full track list and pre-order links for the new deluxe set are after the jump.
Waterloo: 40th Anniversary Deluxe Edition (Polar/UMe, 2014)
Amazon U.S. / Amazon U.K.
Picture single: Amazon U.K.
Disc 1: Original LP (released as Polar LP POLS 252, 1974) and bonus tracks
Waterloo
Sitting in the Palmtree
King Kong Song
Hasta Mañana
My Mama Said
Dance (While the Music Still Goes On)
Honey, Honey
Watch Out
What About Livingstone
Gonna Sing You My Lovesong
Suzy-Hang-Around
Ring Ring (U.S. Remix) (from U.S. LP pressing - Atlantic SD-18101, 1974)
Waterloo (Swedish Version) (from original Swedish LP pressing and single A-side - Polar POS 1186, 1974)
Honey, Honey (Swedish Version) (single B-side - Polar POS 1186, 1974)
Waterloo (German Version) (single A-side - Polydor 2040 116 (DE), 1974)
Hasta Mañana (Spanish Version) (from Gracias por la musica - Septima SRLM 1 (Sweden), 1980)
Waterloo (French Version) (single A-side - Vogue 45-X3104 (FR), 1974
Ring Ring (1974 Remix - Single Version) (U.K. single A-side - Epic S EPC 1793, 1974)
Waterloo (Alternate Mix) (from The Complete Studio Recordings - Polar 0602498723272 (U.K.), 2005)
Disc 2: DVD
Waterloo (Eurovision Song Contest performance I, BBC)
Waterloo (Melodifestivalen performance I, SVT)
Waterloo (Melodifestivalen performance II, SVT)
Waterloo (Eurovision Song Contest preview performance, SVT)
Waterloo (Eurovision Song Contest, performance II, BBC)
Interview with Frida and Stig after the Eurovision victory (Rapport, SVT)
Waterloo (Top Of The Pops performance I, BBC)
Honey, Honey (Disco, ZDF)
Waterloo (Top Of The Pops performance II, BBC)
Honey, Honey (Spotlight, ORF)
Waterloo (German Version) (Musik aus Studio B, NDR)
Honey, Honey (Ein Kessel Buntes, Fernsehen der DDR)
Waterloo (Top Of The Pops performance III, BBC)
International Sleeve Gallery