In past years, Numero Group's Wayfaring Strangers series has taken adventurous listeners along to hear Ladies from the Canyon, Guitar Soli and Lonesome Heroes, drawing on rare or privately-pressed folk music and casting it in a new light.  With its latest release, however, Numero is traversing even more unexpected territory.  The punningly-titled Warfaring Strangers volume entitled Darkscorch Canticles will immerse listeners in a world of mystics and mages, devils and demons, and yes, dungeons and dragons.  The 16-track anthology, due in stores today on CD, LP and MP3, is a first-of-its-kind compilation of fantasy-based hard rock from the 1970s.  But more unbelievably, it will soon also become available in one of the most unusual box set configurations we've seen in our four-plus years here at The Second Disc: as a bona-fide role playing game!
If you've never heard of Triton Warrior, Stone Axe, Stoned Mace, Hellstorm, Medusa, or (doing Medusa one better) Gorgon Medusa, you're not alone.  But you might not forget them after spinning Darkscorch Canticles.  "This music hails from an occluded realm, somewhere just beyond the pot-addled minds of its creators," Numero explains.  Those young minds were likely listening to Black Sabbath and Led Zeppelin – and maybe Camel or even early, pre-glam Tyrannosaurus Rex - while exploring new worlds in Dungeons and Dragons, the role-playing game that first appeared in 1974 to spearhead the RPG genre.  "In this collection," Numero states, "medieval Bonham thunk and febrile Iommi guitar leads crowd out the bluesy Americana that foregrounded [Zeppelin and Sabbath], replacing hippie pastoralism with mythology, armored conflict, sorcery, and doom."  This is garage rock from a world in which wizards, elves, dwarves, monsters and wizards might be hiding next door to the garage in question.
Hit the jump for much more on Darkscorch Chronicles - the CD and the role-playing game – including the complete track listing and order links!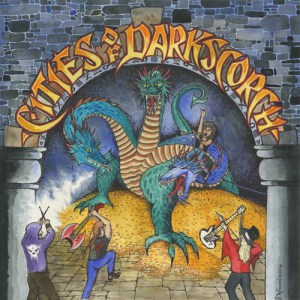 Niche though such sounds might be, Numero reveals them as forming a fascinating musical subgenre here.  This is one record to play loud, and preferably not in the dark!  But for the full Darkscorch experience, Numero is offering the Cities of Darkscorch board game which is due to ship in May.  This "dice-rolling, card-driven, heavy rock band van ride through a fantasy landscape" has taken its inspiration from Robert Soden, who delineated the Dungeons and Dragons lands of Eldara with his maps, schema and floorplans.  In Cities of Darkscorch, you can play as any one of the 16 bands featured on the accompanying CD or LP (both formats are included with the game), "battling such forbidding quartets as Grimsword, Narcissus, Ass-Centaur and 97 more—to collect city banners from such pits of hard rock competition as Afterdath, Wizard's Wellspring, and Throk.  Along the way, players may augment their bands through the use of fate cards with new artwork from the demented minds of John McGavock McConnell and Eliza Childress. The ultimate goal is Numenor, victory, and a record contract penned in brimstone, VD, and pot smoke."  (Interesting combination, no?)
Only 1,500 units will be manufactured of this limited edition RPG, which is packaged in a custom box designed by Robert Soden.  The set contains:
25x25 full color Cities of Darkscorch Gameboard
16 Wooden Player Tokens/45 Adapters
 6 Banner Boards
100 Fate Cards
100 Foe Cards
1 20-Sided Combat Die
1 6-Sided Movement Die
1 4-Sided Performer Die
The Numero Group's Warfaring Strangers: Darkscorch Canticles 2LP and slipcase CD with alternate cover art by Robert Soden.
A 500-unit version, subtitled the Supa Edition, adds a bonus seven-inch vinyl single with "Animal Woman" b/w "Red Brained Woman" by L.A. rock band Supa Chief as well as a custom guitar pick which serves as another player token for the game.  The single's picture sleeve also functions as an extension of the game board with another, exclusive Darkscorch city.
Whew!  You can check out the mystical mayhem of Darkscorch Canticles at the below links!  The CD, vinyl and digital format standard releases are available today, while the RPG itself will ship in May.  If sword-and-sorcery isn't your thing, however, Numero has a typically eclectic array coming up, including the March 18 release of the 3-LP box set Rat Conspiracy from Washington's noise punk trio Unwound, and an LP reissue of 1970's Dead Man from the heavy rockers Josefus.
Various Artists, Warfaring Strangers: Darkscorch Canticles (Numero Group NUM048, 2014)
Amazon U.S. : CD / LP / Digital
Amazon U.K.: CD / LP / Digital
Cities of Darkscorch Game Edition - Numero Group
Twelve O'Clock Satanial – Air
Warlord – Wrath
King of the Golden Hall – Stonehenge
Sealed in a Grave – Triton Warrior
Sorcerer – Junction
Slave of Fear – Stone Axe
Séance – Wizard
Tasmania – Stoned Mace
Black Death – Arrogance
Song of Sauron – Sonaura
Spectre – Dark Star
Wizzard King – Inside
Dark Days – Space Rock
Black Wizard – Medusa
Sweet Child – Gorgon Medusa
Cry for the Newborn - Hellstorm