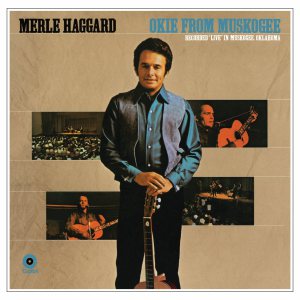 If you like livin' right and free, you're going to love the recent revelation that Merle Haggard's famed live album Okie from Muskogee will be reissued next week, paired with a follow-up live record making its CD debut.
Named for the 1969 country chart-topper that's easily Haggard's signature song - a tongue-in-cheek lampooning of the liberal values that were taking youth culture by storm at the time - Okie from Muskogee is a perfect distillation of Haggard's unique voice and sound, a uniquely harmonic, twangy country indicative of the Bakersfield sound fans have come to adore thanks to the likes of Haggard and Buck Owens. It was a significant smash within the genre, winning Haggard three awards from the Academy of Country Music that year: Album of the Year, Single of the Year and Top Male Vocalist.
The success of Haggard's next big single, a patriotic number called "The Fightin' Side of Me," Capitol quickly released another live album with the same name. This set saw Haggard in Philadelphia with a loose, mostly covers-heavy set (including takes on Tommy Collins' "When Did Right Become Wrong" and Woody Guthrie's "Philadelphia Lawyer." A high point of the set finds Haggard, in a medley of popular country tunes by stars including Marty Robbins, Johnny Cash and Buck Owens, performing in passable impersonations of each.
Capitol Nashville's two-disc set of Okie from Muskogee, released in honor of the album's 45th anniversary, marks the first time since its original release that The Fightin' Side of Me will be released anywhere. It hits stores on March 25 and can be pre-ordered after the jump. (A live cut from Fightin' Side can be streamed at Rolling Stone.)
Okie from Muskogee: 45th Anniversary Special Edition (Capitol Nashville, 2014)
Disc 1: Merle Haggard & The Strangers, Okie from Muskogee (Recorded "Live" in Muskogee, Oklahoma) (originally released as Capitol ST-431, 1969)
Introduction by Carlton Haney
Mama Tried
No Hard Times
Silver Wings
Merle Receives Key to Muskogee
Merle's Introduction to Medley
Swinging Doors
I'm a Lonesome Fugitive
Sing Me Back Home
Branded Man
In the Arms of Love
Workin' Man Blues
Merle's Introduction to "Hobo Bill"
Hobo Bill's Last Ride
Billy Overcame His Size
If I Had Left It Up to You
White Line Fever
Blue Rock
Introduction to Okie from Muskogee
Okie from Muskogee
Disc 2: Merle Haggard & The Strangers with Bonnie Owen, The Fightin' Side of Me (originally released as Capitol ST-0384, 1970)
Introduction by Carlton Haney
I Take a lot of Pride in What I Am
Corrine, Corrina
Every Fool Has a Rainbow
T.B. Blues
When Did Right Become Wrong
Philadelphia Lawyer
Stealin' Corn
Harold's Super Service
Medley of Impersonations: Devil Woman
Medley of Impersonations: I'm Movin' On
Medley of Impersonations: Folsom Prison Blues
Medley of Impersonations: Jackson
Medley of Impersonations: Orange Blossom Special
Medley of Impersonations: Love's Gonna Live Here
Today I Started Loving You Again
Okie from Muskogee
The Fightin' Side of Me