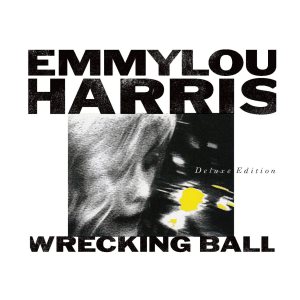 Before Bruce Springsteen unleashed his Wrecking Ball or Miley Cyrus her "Wrecking Ball," Emmylou Harris gave her 1995 studio album, produced by Daniel Lanois (U2, Bob Dylan) that title after a Neil Young composition.  Harris' Wrecking Ball embraced a more explicitly cutting-edge "rock" sound than many of her past traditional country efforts, and earned the artist a 1996 Grammy Award for Best Contemporary Folk Recording.  On April 8, Nonesuch Records (sister label to Elektra/Asylum, the original home of Wrecking Ball) will reissue this seminal alt-country effort in a deluxe 2-CD/1-DVD edition including an entire disc of previously unissued music and a new documentary film about the making of the album.  We first filled you in back on February 7 about this release, but we now have additional information including pre-order links!
Harris and Lanois selected a hip array of songs for her eighteenth studio release.   Wrecking Ball included renditions of Young's title track and compositions by Steve Earle ("Goodbye"), Anna McGarrigle ("Goin' Back to Harlan"), Bob Dylan ("Every Grain of Sand"), Lucinda Williams ("Sweet Old World"), Gillian Welch ("Orphan Girl"), Julie Miller ("All My Tears") and even Jimi Hendrix ("May This Be Love").  Songs by Lanois ("Where Will I Be," "Blackhawk") and Harris herself ("Deeper Well" with Lanois and David Olney, and "Waltz Across Texas Tonight" with Rodney Crowell) rounded out the eclectic set.  Tackling these diverse, accomplished songwriters was natural for Harris, who had previously recorded the songs of Lennon and McCartney, Pomus and Shuman, Chuck Berry, Paul Simon and her musical soulmate Gram Parsons alongside those by Hank Williams, Buck Owens, Dolly Parton and The Louvin Brothers.
Steve Earle, Neil Young, Lucinda Williams and Kate and Anna McGarrigle all performed on Wrecking Ball, along with a core band of Harris, Lanois, U2's Larry Mullen, Jr., Malcolm Burn, Tony Hall and Daryl Johnson.   Following its release in September 1995, the album peaked on the Billboard 200 at No. 94, and received critical acclaim from outlets including Rolling Stone, Entertainment Weekly, Uncut and The Los Angeles Times.  Today, almost twenty years later, Harris continues to meld both the traditional and alt-country worlds to great effect, most recently on Old Yellow Moon, her Grammy-winning collaboration with Crowell.
What extras will you find on the upcoming reissue?  Hit the jump!
Nonesuch's remastered and expanded Wrecking Ball adds a second disc of audio with 12 outtakes and alternates, including songs by Richard Thompson ("How Will I Ever Be Simple Again"), Leonard Cohen ("The Stranger Song"), Harris ("Gold") and Lanois ("Still Water").  The package's third disc, a DVD, includes director Robert Lanois' documentary film Building the Wrecking Ball.  The film features interviews and in-studio footage of Harris and Lanois as well as special guests Kate and Anna McGarrigle, Neil Young, Steve Earle, Brian Blade, and others.  To celebrate this reissue, Harris and Lanois are also embarking on an eight-city tour in April which will include stops in Los Angeles, Chicago, New York, Boston and Toronto among other locations.
Wrecking Ball is currently available for pre-order from Amazon U.S. and U.K.!  This 3-CD deluxe set is due on April 8.
Emmylou Harris, Wrecking Ball (Elektra/Asylum CD 61854, 1995 – reissued Nonesuch, 2014 (Amazon U.S. / Amazon U.K.)
CD 1:  Wrecking Ball
Where Will I Be
Goodbye
All My Tears
Wrecking Ball
Goin' Back to Harlan
Deeper Well
Every Grain of Sand
Sweet Old World
May This Be Love
Orphan Girl
Blackhawk
Waltz Across Texas Tonight
CD 2: Deeper Well: The Wrecking Ball Outtakes
Still Water (Daniel Lanois)
Where Will I Be
All My Tears
How Will I Ever Be Simple Again (Richard Thompson)
Deeper Well
The Stranger Song (Leonard Cohen)
Sweet Old World
Gold (Emmylou Harris)
Blackhawk
May This Be Love
Goin' Back to Harlan
Where Will I Be
DVD: Building the Wrecking Ball: A Documentary About the Making of Wrecking Ball