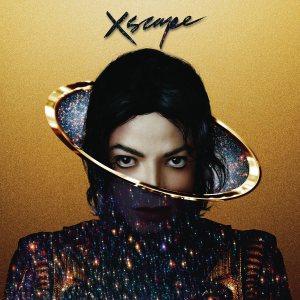 Roughly three-and-a-half years following the 2010 release of Michael, Epic Records and the Michael Jackson Estate have announced the second posthumous collection of unheard music from the King of Pop. Xscape, due on May 13, will feature eight previously unissued Jackson tracks including the Invincible outtake which lends the album its title. While the standard edition will feature "contemporized" productions employing Jackson's original vocals, a deluxe edition will also boast the original, untouched recordings as well as a DVD with music videos.
Expectedly, the project is still shrouded in a degree of secrecy; a complete track listing has not yet been confirmed. However, it is known that executive producer L.A. Reid has assembled a production roster including Timbaland, Jackson's Invincible collaborator Rodney Jerkins, Stargate, Jerome "JRoc" Harmon and Jackson Estate executor John McClain. Guest artists reported to appear (but not confirmed) include Jesse Johnson of The Time as well as Mary J. Blige, The Roots' Questlove, and D'Angelo. Reid states in the March 31 press release announcing Xscape, "Modern music and artistry would look and sound completely different if not for the groundbreaking contributions Michael Jackson gifted to the world. Michael left behind some musical performances that we take great pride in presenting through the vision of music producers that he either worked directly with or expressed strong desire to work with. We are extremely proud and honored to present this music to the world."
After the jump, we'll take a look at what you might be able to expect on this new Jackson release!
Epic notes that the album, via its title cut "Xscape," conforms to Jackson's practice of selecting single-word titles for his post-Off the Wall LPs. Written by Jackson and Rodney Jerkins, "Xscape" has been specifically revisited by Jerkins for this project. Another song, "Slave to the Rhythm," has been confirmed by producer Timbaland. The song had its genesis in the Dangerous sessions, and a version was leaked online in 2010; more recently, a new mix appeared overseas in an advertisement for a Sony mobile phone. "A Place with No Name" is inspired by America's classic rock staple "A Horse with No Name." A snippet first leaked online in 2009 and was acknowledged by the band. "Love Never Felt So Good" was written by Jackson, Motown veteran Kathy Wakefield ("Nathan Jones") and Paul Anka and was originally recorded by Johnny Mathis in 1984 for his A Special Part of Me album. Of course, Anka co-wrote the first posthumously released Jackson tune, "This Is It." Other titles reportedly mooted for inclusion are "Blue Gangsta," "Do You Know Where Your Children Are," and "Chicago (She Was Lovin' Me)."
Both the standard (single CD) and deluxe (CD/DVD) editions of Xscape will arrive from Epic Records on May 13.  Vinyl and digital editions arrive that same day, and the iTunes release is also said to include music videos. You'll find pre-order links for the physical releases just below.
Michael Jackson, Xscape (Epic. 2014)
Standard Edition: Amazon U.S. / Amazon U.K.
Deluxe Edition (CD/DVD): Amazon U.S. / Amazon U.K.
Love Never Felt So Good
Chicago
Loving You
A Place with No Name
Slave to the Rhythm
Do You Know Where Your Children Are
Blue Gangsta
Xscape
Deluxe Edition adds original versions of Tracks 1-8 plus "Love Never Felt So Good" duet with Justin Timberlake and a documentary DVD
Vinyl: Amazon U.S. / Amazon U.K. TBD