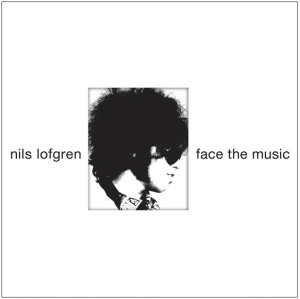 This Thursday evening, Nils Lofgren joins the esteemed ranks of Rock and Roll Hall of Famers when he's inducted into the institution as a member of The E Street Band. But Lofgren's work as one of Bruce Springsteen's resident axemen is only one facet of his exhilarating 45-year career in music. On May 27, 2014, Fantasy Records will deliver the ultimate celebration of Lofgren's creativity and longevity with Face the Music. This definitive 9-CD/1-DVD box set contains 169 tracks drawn from Lofgren's major-label and independently-released solo albums (including with his early band Grin), not to mention his own archives. Two of the CDs feature 40 previously unreleased recordings, while the DVD includes 20 diverse video clips.
The Chicago-born singer/songwriter/multi-instrumentalist had been immersed in music since his childhood, and was still in his teenage years when Neil Young called upon him to add piano and guitar to his now-classic 1970 album After the Gold Rush. It began an association between Lofgren and Young's music that continues to this very day, and the young musician even briefly joined Crazy Horse, playing on the 1971 self-titled album by Young's frequent collaborators. Lofgren's own band, Grin, recorded four well-received albums of melodic yet edgy rock-and-roll between 1971 and 1973 on the Epic and A&M labels, before Nils launched his own solo career with 1975's eponymous debut on A&M.
That solo career has lasted to this very day, even as Lofgren continues as a member of The E Street Band, a position he has held since 1984. Between 1975 and 2011, he's released over twenty solo albums on labels including MCA, CBS, Rykodisc and his own Cattle Track Road Records. Many of these recordings are difficult to find today; as Lofgren notes in the press release for Face the Music, "If it takes 45 minutes of work on the Internet to find one track from 40 years ago, that's not really available in my eyes." Needless to say, many of Lofgren's friends dropped in during his studio sessions, and so the box set features contributions from such luminaries as Young, Springsteen, Ringo Starr, David Crosby, Graham Nash, Levon Helm, Al Kooper, Buddy Miles, Aynsley Dunbar, Willie Nelson, Lou Gramm and Sam Moore of Sam and Dave. A testament to Lofgren's prolific songwriting, the box also makes room for songs co-written by Lofgren and the late Lou Reed as well as with Alice Cooper's associates Dick Wagner and Bob Ezrin.
Lofgren himself was instrumental in selecting the 169 tracks, stating, "[Fantasy parent Concord Records] had their good ideas, and then they said, 'It's your boxed set, so you pick.' They asked me to make the final choices and decisions, including every song." Grin is represented with such tracks as "Like Rain," "White Lies," "Slippery Fingers," and "Beggar's Day" (the last of which he also recorded with Crazy Horse), plus solo tracks like "Back It Up," "The Sun Hasn't Set," "You're the Weight," "Incidentally … It's Over," and "Dreams Die Hard."  Of his later-period material, Lofgren has tapped his records of original compositions plus live recordings, the soundtrack to the 1993 film Every Breath, his 2001 all-instrumental release Tuff Stuff! The Best of the All-Madden Team Band and 2008's The Loner, a tribute to his longtime friend Neil Young. Besides the stellar Young covers of favorites like "Mr. Soul" and "I Am a Child," there are also songs from Del Shannon ("I Go to Pieces") and Bruce Springsteen ("Wreck on the Highway").
The two CDs of previously unreleased music starts with Lofgren's pre-Grin days with Paul Dowell and the Dolphin, and also features never-before-heard nuggets from Grin. Lofgren says, "The piece de resistance for me was finding an old master tape of Neil Young singing and playing piano on 'Keith Don't Go' with Grin, and getting his permission to use it after we remixed it."
After the jump, we have much, much more on Nils, including the complete track listing and pre-order links!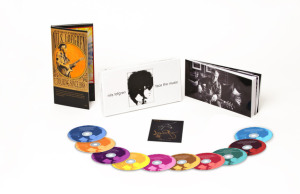 Face the Music boasts a comprehensive 136-page booklet with an introduction by journalist Dave Marsh plus Lofgren's own detailed track-by-track commentary and personal reflections designed to offer fans a "deeper insight" into his career. The set also contains testimonials to Lofgren by artists such as Bonnie Raitt, Joe Walsh, Sting, Bono, and Paul Rodgers.
Lofgren comments, "We were just grateful to play our faces off, anywhere and everywhere. To look back 45 years and to hand-pick this music and to hear it all together is pretty stunning. I'm really grateful that Concord gave me the creative license to put it together. It's something I've never done before, and had given up hope of doing, and I'm very excited about it." If you're excited, too, you can pick up Face the Music from Concord/Fantasy on May 27. Pre-order links are active just below!
Nils Lofgren, Face the Music (Concord/Fantasy FAN-34731-02, 2014) (Amazon U.S. / Amazon U.K.)
CD 1 (Grin years 1971-1973):
See What a Love Can Do 5:01
Everybody's Missin' the Sun 2:44
Like Rain 3:40
Outlaw 4:02
If I Were a Song 3:10
We All Sung Together 3:43
Take You to the Movies Tonight 1:45
White Lies 3:28
Slippery Fingers 4:00
Moon Tears 2:18
Lost a Number 3:09
Soft Fun 5:40
Hi, Hello Home 2:29
Love or Else 3:40
Sad Letter 3:11
Ain't Love Nice 2:09
She Ain't Right 3:27
All Out 3:01
Rusty Gun 2:20
Beggar's Day (Eulogy To Danny Whitten) 4:18
One More Time 5:10
CD 2 (Solo years 1975-1977):
One More Saturday Night 3:06
If I Say It, It's So 3:03
Can't Buy a Break 3:15
Back It Up 2:23
I Don't Want to Know (Live Bootleg Version) 3:48
The Sun Hasn't Set on This Boy Yet 2:48
Rock and Roll Crook 2:53
Two by Two 3:04
Cry Tough 5:06
It's Not a Crime 4:12 (Nils Lofgren & Tom Lofgren)
Share a Little 5:13
Can't Get Closer (WCGC) 3:43
Mud in Your Eye 2:40
I Came to Dance 4:30
Home Is Where the Hurt Is 4:12
Rock Me at Home 4:30
You're the Weight (Live/1977) 5:09
Goin' South (Live/1977) 4:59
Incidentally… It's Over (Live/1977) 4:08
CD 3 (Solo years 1979-1983):
No Mercy 4:06
Shine Silently 3:34 (Nils Lofgren-Dick Wagner)
Steal Away 4:05 (Nils Lofgren-Dick Wagner)
I Found Her 3:33 (Nils Lofgren-Lou Reed)
You're So Easy 6:00 (Nils & Tom Lofgren-Bob Ezrin-Dick Wagner)
A Fool Like Me 3:09 (Nils Lofgren-Lou Reed)
Night Fades Away 4:23
Ancient History 4:51
Sailor Boy 3:55
Empty Heart 3:03
Don't Touch Me 4:02
I Go to Pieces 2:53 (Del Shannon)
Across the Tracks 2:52
Daddy Dream 4:53
Wonderland 3:32
Room Without Love 3:03
Confident Girl 3:06
Into the Night 3:45
Deadline 4:09
Everybody Wants 3:42
CD 4 (Solo years 1985-1992):
Secrets in the Street 4:33
Big Tears Fall 6:07
Dreams Die Hard 3:32
Girl in Motion 5:51
Walkin' Nerve 3:53
Trouble's Back 5:20
Bein' Angry 5:54
Valentine 6:13
A Child Could Tell 4:20
You 3:30
Shot At You 5:48
Crooked Line 4:55
Someday 5:32
New Kind of Freedom 3:41
Drunken Driver 6:28
CD 5 (Self-released 1993-1998):
Alone 6:08
No Return 3:54
Tender Love 8:37
Dreams Come True 4:23
Out of the Grave 8:09
Lion's Wake 2:16
Damaged Goods 3:43
Only Five Minutes 5:27
Setting Sun 3:42
Life 3:07 (Nils Lofgren-Lou Reed)
Nothin's Fallin' 5:06
Little On Up 5:02
Blue Skies 4:02
Black Books 5:24
Man in the Moon 3:19
Believe 3:46
CD 6 (Self-released 1997-2001):
Delivery Night 5:01
Code of the Road 8:20
New Holes in Old Shoes 5:10
Puttin' Out Fires 6:22
I Found You 4:35
Love a Child 2:57
Driftin' Man 3:06 (Nils Lofgren-Lou Reed)
Without You 3:43
Heaven's Answer to Blue 4:17
Seize Love 5:30
Open Road 3:13
Speed Kills 3:11
I'm Buyin' 2:52
The Wind 4:27
We Got Guys 1:07
Hard Lines 1:02
Tears on Ice 4:46
Misery 4:43
CD 7 (Self-released 2002-2011):
Like Rain 4:52
The Star-Spangled Banner 2:39 (Francis Scott Key)
In Your Hands 3:19
Mr. Hardcore 5:07
Tried and True 1:56
Frankie Hang On 3:43
Fat Girls Dance 4:37
I Am a Child 3:13 (Neil Young)
Mr. Soul 4:21 (Neil Young)
World on a String 3:16 (Neil Young)
Old School 3:12
60 Is the New 18 3:02
Miss You Ray 2:39
Amy Joan Blues 2:42
Dream Big 4:31
Irish Angel 5:10 (Bruce McCabe)
Ain't Too Many of Us Left 4:41
When You Were Mine 4:33
Why Me 4:24
Wreck on the Highway 4:37 (Bruce Springsteen)
CD 8 (Previously unreleased):
Keith Don't Go 3:33
Try 3:36
Sing for Happiness 3:15
Duty 3:28
Sweet Four Wings 3:48
Just to Have You 2:17
I'll Arise 2:51
Some Must Dream 4:46
Stay Hungry 3:41
Heaven's Rain 3:36
Whatever Happened to Muscatel 2:49
You In My Arms 2:48
Here for You 3:37
Hide My Heart 4:22
Love Is. . . 4:28
Awesome Girl 3:36
When You Are Loved 2:55
Bullets Fever 3:06
Message 11:20
CD 9 (Previously unreleased):
Beauty and the Beast 3:42
You Are the Melody 3:24
Tears Inside 3:32
Face the Music 4:48
I Don't Stand a Chance 3:28
What Is Enuf?!! 4:02
London 4:03
Go Away 4:09
Heart Like A Hammer 4:11
True Love Conquers Legends 3:40
Yankee Stadium 3:02
Sad Walk 5:23
Dalmatian 4:05
I'm Coming Back 3:59 (Tom Lofgren)
Mad, Mad World 3:31
Jhoon Rhee Ad :28
It's Better to Know You 2:43
Last Time I Saw You 2:03
Mist and Morning Rain 2:49
Miss You "C" 2:38
Oh Holy Night (Strings, Choir Arranged & Conducted by Kevin Stoller) 2:58 (Adams-Dwight)
DVD:
Windy (Flip Combo) 2:03
Dream Big 5:18
Too Many Miles 7:35
Keith Don't Go 7:13
Bein' Angry 4:45
Shine Silently 7:03
Big Tears Fall 5:18
I Found You 6:10
No Mercy 4:24
Gun and Run 8:03
See What Love Can Do 8:03
If I Were a Song 3:03
Slippery Fingers 4:23
Like Rain 4:12
Moon Tears 5:25
I Came to Dance 11:42
Everybody's Missin' the Sun 3:29
Ain't Love Nice 2:35
I'll Arise 3:04
Nils Lofgren: The Art of Adapting 8:11