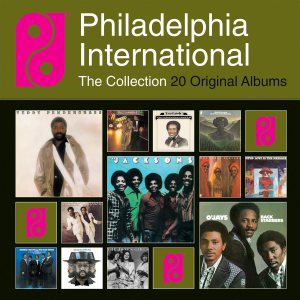 UPDATED 4/9 WITH NEW INFORMATION, LINKS AND IMAGES: The love train is pulling back into the station.
Kenneth Gamble and Leon Huff's Philadelphia International Records, distributed by CBS Records, began life in 1971 with the release of Billy Paul's Going East on LP and The Ebonys' "You're the Reason Why" on 45.  (Trivia fans, take note: Gideon Smith's single "Arkansaw Wife" – yes, you read that right – has an earlier catalogue number, but the quintessentially Philly track by The Ebonys appears to have been released first.)  The R&B empire, which had built a catalogue of some of the most iconic soul music of all time, continued to be distributed by CBS until 1984.  At that time, control of the label's post-1975 masters went to Gamble and Huff, with initial reissues (as well as new albums) coming under the EMI umbrella.  Pre-1976 recordings remained with CBS successor Sony Music Entertainment.  In 2007, Sony's Legacy Recordings announced regained rights to the post-1975 recordings, and now, Sony and PIR have come full circle with the announcement that Sony has gained global ownership of all post-1975 PIR masters.
What this means for Sony is clear: the music industry giant now adds key titles to its roster from artists including Lou Rawls, Teddy Pendergrass, Jean Carn, The Jones Girls, The Stylistics, Archie Bell and the Drells, Jerry Butler, Phyllis Hyman, and others who began recording for PIR in 1976 and beyond.  What does this mean for fans and collectors?  In 2014, Legacy will launch a series of new physical and digital releases created from the combined PIR catalogue including "a definitive Philadelphia International Records box, budget single artist anthology titles, 12-inch and 7-inch vinyl replica collectibles and more." 
In recent years, numerous PIR album reissues have arrived from Cherry Red Group's Big Break Records (drawing on the pre-1976 recordings controlled by Sony) and Demon Music Group (the post-1976 recordings controlled by Gamble and Huff).    In early 2012, Legacy thrilled fans with the archival release of Golden Gate Groove, a Don Cornelius-hosted concert that brought together many of the label's biggest and brightest stars, from the O'Jays to Harold Melvin and the Blue Notes featuring Teddy Pendergrass.  In 2013, Demon's Harmless imprint issued a comprehensive (if oddly arranged) 10-CD box set drawing on the entire discography plus rare recordings from Gamble and Huff's pre-PIR labels including Neptune, Gamble and North Bay and sister labels like TSOP, Golden Fleece, Tommy and Thunder.
The new catalogue activity from Sony starts in May!  What can you expect?  Hit the jump!
The first batch of these new PIR titles will be released in the U.K. on May 5, 2014 and will include single CD, budget-priced best-of collections from Teddy Pendergrass, Lou Rawls, The Three Degrees, The Intruders, The O'Jays, Billy Paul and Harold Melvin and The Blue Notes to be issued on the Camden label.
These compilations will be followed by a new 20-CD box set containing twenty original Philadelphia International albums spanning the period 1972-1983, from artists including Billy Paul, The O'Jays, The Jacksons, Harold Melvin and the Blue Notes, The Intruders, The Three Degrees, Lou Rawls, The Jacksons, Teddy Pendergrass and Patti LaBelle.  This box restores The Intruders' Save the Children to CD in its original album configuration, makes Edwin Birdsong's 1979 self-titled album available on CD for the first time outside of Japan, and premieres Bunny Sigler's 1974 Keep Smilin' on a pressed (non-CD-R/Made on Demand) CD.  The lift-top box set will include every album in a mini-LP sleeve with original artwork.  It also arrives on May 5.
Undoubtedly future releases will arrive on both sides of the Atlantic to celebrate the upcoming 50th Anniversary of Gamble and Huff's long, enduring musical partnership.  Two-thirds of Philadelphia's Mighty Three with publishing partner, longtime friend and songwriter-arranger-conductor extraordinaire Thom Bell, Gamble and Huff plan on marking the landmark anniversary beginning in Fall 2014.  Sony' press release indicates future projects such as the "projected release of their Autobiographical Book and the 2015 launch of their Theatrical Play on their historic Life Story and creation of one of America's great music catalogues known as 'The Sound of Philadelphia.'"
What would you like to see emerge from the united Philadelphia International catalogue?  Sound off below!  You'll also find a list of the complete contents of the upcoming PIR box set, below!  All of the single-disc anthologies can be pre-ordered at the links above, and track listings can also be viewed at those links.
Various Artists, Philadelphia International Box Set (PIR/Legacy U.K., 2014) (Amazon U.K.)
Harold Melvin & The Blue Notes - Harold Melvin & The Blue Notes (1972)
Back Stabbers – The O'Jays (1972)
360 Degrees of Billy Paul – Billy Paul (1972)
 Save The Children – The Intruders (1973)
The Three Degrees - The Three Degrees (1973)
Ship Ahoy – The O'Jays (1973)
Love Is The Message – MFSB (1973)
Keep Smilin' - Bunny Sigler (1974)
Wake Up Everybody – Harold Melvin & The Blue Notes (1975)
All Things In Time – Lou Rawls (1976)
Life On Mars - Dexter Wansel (1976)
The Jacksons – the Jacksons (1976)
Teddy Pendergrass – Teddy Pendergrass (1976)
Jean Carn – Jean Carn (1976)
The Jones Girls – The Jones Girls (1979)
Edwin Birdsong - Edwin Birdsong (1979)
McFadden and Whitehead – McFadden and Whitehead (1979)
When You Hear Lou You've Heard It All – Lou Rawls (1977)
I'm In Love Again – Patti LaBelle (1983)
Life is A Song Worth Singing – Teddy Pendergrass (1978)