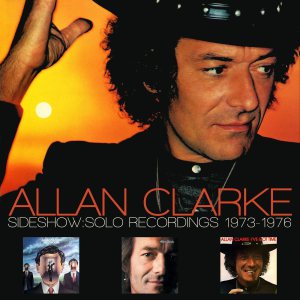 RPM Records, an imprint of Cherry Red Group, continues to leave no stone unturned in its explorations of every corner of the British pop-rock map with three recent collections from Hollies leader Allan Clarke, "Pied Piper" Crispian St. Peters and beat combo The Scorpions. Today, the spotlight is on Sideshow from Allan Clarke, who began singing in Manchester as a youth with his pal Graham Nash and never looked back.
Sideshow: Solo Recordings 1973-1976 collects three early solo albums from Allan Clarke on two CDs. The Hollies had not only survived the departure in late 1968 of founding member Nash, but had thrived thanks to singles like "Sorry, Suzanne" and the international smash "He Ain't Heavy, He's My Brother." But soon, Clarke felt the same urge that Nash had, to explore life outside of The Hollies. His songwriting partnership with Roger Cook on the Hollies hit "Long Cool Woman in a Black Dress" inspired him to leave the band in late 1971, to be replaced by Mikael Rickfors. Following a debut solo effort for RCA in the U.K. and Epic in the U.S. (My Real Name is 'arold), Clarke returned to the band's home base of EMI for the three albums included in this set.
Headroom was released in 1973, just prior to Clarke's return that year to The Hollies. Almost entirely written by Clarke and guitarist Ray Glynn, Headroom found Clarke joined by a band including Tony Newman on drums, Elton John Band member Dee Murray on bass and Kirk Duncan on keyboards. In addition to the clutch of original songs, Clarke revisited "Would You Believe" from The Hollies' Butterfly album. He also recorded a fine version of Mentor Williams' "Drift Away" after having heard it on a demo. But by the time of the album's release, Dobie Gray had already scored the hit record.
Ensconced in The Hollies once again, Clarke persevered with another solo set. The self-titled Allan Clarke reteamed him with Roger Cook (of the Cook and Greenaway team behind such pop favorites as "You've Got Your Troubles") as well as with Glynn and Newman. Herbie Flowers assumed bass duties and Peter Robinson took over piano, while future Nashville transplant Cook also added the great B.J. Cole on steel guitar for a country-rock flavor. Flowers and Cook also welcomed their Blue Mink bandmate Madeline Bell to the album sessions. Clarke's compositions were curiously absent from the LP, but Cook contributed five songs, three co-written with Flowers. In John Reed's liner notes, Clarke confesses, "I felt a little like I should have had some of my songs on the album, but...Roger had other ideas about how to showcase me. [Allan Clarke] was Roger's baby." Clarke did bring a song by the young, pre-Fleetwood Mac team of Lindsey Buckingham and Stevie Nicks to the project ("Baby Don't Let Me Down Again," from the infamously out-of-print Buckingham Nicks LP). It also featured songs by Randy Newman ("I'll Be Home"), Little Richard ("Send Me Some Lovin'") and Bruce Springsteen ("If I Were the Priest"). Clarke was an early champion of the future Boss's, also recording "Fourth of July Asbury Park (Sandy)" with The Hollies in 1975.
There's more on Allan Clarke after the jump, including the full track listing and order links!
Another Springsteen song opened the final album in this set, 1976's I've Got Time. The song was "Blinded by the Light," and as with "Drift Away," a competing version of the song became the iconic hit – in this case, Manfred Mann's recording from August of that year. Recorded in Los Angeles with producer-arranger Spencer Proffer and arrangers Jimmie Haskell and Robbie Buchanan, I've Got Time was named after "We've Got Time" by Melissa Manchester and Carole Bayer Sager (and also recorded by Manchester). Janis Ian's "Light a Light," Dan Fogelberg's "The Long Way" and David Pomeranz' "If You Walked Away" also took places on the LP, but Clarke's fourth solo LP still didn't yield any hits.
RPM's reissue is rounded out by both sides of Clarke's 1975 single of Springsteen's "Born to Run" b/w his own "Why Don't You Call." (The three albums and same two bonus tracks were previously issued on CD by BGO in 2005 on a long out-of-print 2-CD collection.) Following We've Got Time, Clarke recorded for Polydor, Aura and Elektra, all the while remaining committed to The Hollies. The singer-songwriter-guitarist retired in 1999, but recently reunited with Nash to perform at The Hollies' induction to The Rock and Roll Hall of Fame in 2010. He also surprised fans with an appearance at a Nash/David Crosby concert in 2011 to reprise "Bus Stop" with his old friend.
Sideshow: Solo Recordings 1973-1976 features new remastering by Simon Murphy at Another Planet Music in addition to liner notes by John Reed. It is available now from RPM Records, and can be ordered at the links below!  Watch this space for the full story on RPM's releases for The Scorpions and Crispian St. Peters!
Allan Clarke, Sideshow: Solo Recordings 1973-1976 (RPM Retro D942, 2014) (Amazon U.S. / Amazon U.K.)
CD 1
Complete Controllable Man
People of That Kind
Fishin'
Who?
Drift Away
Shift Lovin' Lady
I Look in your Eyes
Give Us a Song
Would You Believe (Revisited)
Don't Let Me Down Again
Can't Get On
I'll Be Home
I Wanna Sail Into Your Life
Sideshow
If I Were the Priest
New Americans
Love, Love, Love
Send Me Some Lovin'
CD 2
Blinded by the Light
Light a Light
We've Got Time
Stand by Me
The Long Way
Hallelujah Freedom
If You Think You Know How to Love Me
If You Walked Away
Sunrise
Living in Love
Finale
Born to Run
Why Don't You Call
CD 1, Tracks 1-9 from Headroom, EMI EMA 752, 1973
CD 1, Tracks 10-18 from Allan Clarke, EMI EMC 3041, 1974
CD 2, Tracks 1-11 from I've Got Time, EMI EMC 3130, 1976
CD 2, Tracks 12-13 from EMI single 2352, 1975