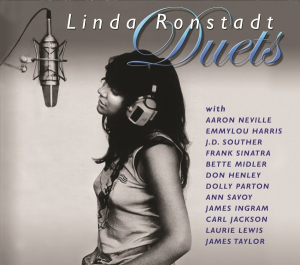 Tonight, Linda Ronstadt receives her long-overdue recognition into The Rock and Roll Hall of Fame. But rock and roll, of course, played only a small - if key - role in Ronstadt's career. The breadth of that career is revealed on Rhino's new release of Linda Ronstadt - Duets (Rhino R2 542161), containing fourteen tracks originally released between 1974 and 2006 plus one previously unreleased performance. While there are no duets here from Ronstadt's Tony-nominated turn in Gilbert and Sullivan's operetta The Pirates of Penzance or her Mexican recordings , her immersions into the realms of country, folk, jazz, R&B, and of course, Southern California rock are all here. She's joined by a "Who's who" of artists including Frank Sinatra, James Taylor, Bette Midler, Emmylou Harris, Dolly Parton, Aaron Neville, James Ingram, and J.D. Souther.  Ronstadt won't be attending tonight's ceremony, but her music speaks for itself.
Compiled and remastered by her longtime manager, John Boylan, Duets is a reminder of just how catholic Ronstadt's tastes were. From her earliest days as a member of country-rock band The Stone Poneys ("Different Drum"), she refused to be pigeonholed in one genre. On Duets, the songs of Irving Berlin and Warren Zevon are performed with the same sympathetic understanding and respect for the art of the song. Boylan has neatly sequenced the compilation as a musical travelogue from folk to country to rock to standards, both modern and vintage.  The sound changes along with the style of song, building and growing from acoustic to orchestral.
Three selections from Ronstadt's final studio recording, 2006's Adieu False Heart with Cajun singer Ann Savoy, open Duets. Their tight harmonies on the low-key opening cut, "Adieu, False Heart," are adorned with light acoustic flourishes, and the already-poignant song takes on additional meaning when placed in context as likely the concluding chapter of Ronstadt's career as a vocalist. Of the three Savoy duets, however, the most revelatory is their reinvention of The Left Banke's "Walk Away Renee." This folk reinterpretation of Michael Brown's song can't help but bring to mind Ronstadt's famous recasting of "oldies" from Motown to Buddy Holly and The Everly Brothers into her own style.
Though Bette Midler is the partner on the fun, Barry Manilow-arranged recording of Irving Berlin's "Sisters," Ronstadt's truest sisters in song might be Emmylou Harris and Dolly Parton. Though there are no recordings here from their Trio recordings, each is represented on one track. On the traditional "I Never Will Marry," accompanied by just acoustic guitars (Waddy Wachtel and Ronstadt) and dobro (Mike Auldridge), Ronstadt and Parton's voices blend with a beautiful simplicity. More boisterous is the delightfully bright bounce of Ronstadt and Harris' take on Hank Williams' familiar "I Can't Help It (If I'm Still in Love with You)." Peter Asher's clean production, featuring the tireless Andrew Gold on guitar, piano and ukelele along with "Sneaky" Pete Kleinow on steel guitar and David Lindley on fiddle, made no concessions to the sound of rock circa 1974. Ronstadt's affinity for classic country recurs throughout her catalogue, and she blends exquisitely with Carl Jackson on a 2003, fiddle-and-dobro-flecked rendition of The Louvin Brothers' chestnut "The New Partner Waltz."
Keep reading after the jump!
Ronstadt and James Taylor might not be the most obvious candidates to revive Ike and Tina Turner's "I Think It's Gonna Work Out Fine," but they dial the funk up with help from a band including Wachtel and Dan Dugmore on electric guitars, Bob Glaub on bass and Jim Horn on sax, on a loose, Asher-produced duet from 1982. (Taylor and Ronstadt famously harmonized together behind Neil Young on his Harvest hit "Heart of Gold.") Other Laurel Canyon music-makers naturally appear here, too.
Don Henley subtly harmonizes on the title track of Ronstadt's 1976 album Hasten Down the Wind. They captured the poetry in the sensitive, smartly observant lyrics from the idiosyncratic Warren Zevon: "She's so many women/He can't find the one who was his friend /So he's hanging on to half her heart/ He can't have the restless part/So he tells her to hasten down the wind..." Another original voice from the SoCal scene was J.D. Souther, with whom Ronstadt shared a personal and creative relationship. Souther's darkly probing "Prisoner in Disguise," like Zevon's "Hasten," lent one of Linda's albums its title, and makes a welcome reappearance here.
Of course, no Ronstadt duets set would be complete without her mega-hit ballads "Somewhere Out There" from the 1986 animated film An American Tail and "Don't Know Much" from 1989's Cry Like a Rainstorm, Howl Like the Wind. The former, a duet with James Ingram, and the latter, with Aaron Neville, both were the work of Brill Building veterans Barry Mann and Cynthia Weil. (James Horner co-wrote "Somewhere" and Tom Snow shares the credit on "Don't Know Much.") Asher and his production associate Steve Tyrell outdid themselves on these tracks which were both radio-friendly but touchingly heartfelt. Neville, with whom Ronstadt made some of the sweetest music of her career, also soars on "All My Life" from the pen of Karla Bonoff.   (Bonoff's songs also featured prominently on Hasten Down the Wind.) "Somewhere Out There" and "Don't Know Much" have become modern standards, but the closing cut here dates back even further. John Blackburn and Karl Suessdorf's "Moonlight in Vermont" was introduced in 1944 and recorded by Frank Sinatra with Ronstadt for his 1994 Duets II. Nelson Riddle veteran Ronstadt was up to the challenge of the art song, complementing Sinatra's occasionally rough delivery with her pure, rich tone.
For the lone unreleased track on Duets, Ronstadt and Laurie Lewis tackle Hazel Dickens' "Little Bird" (in Lewis' own arrangement) a cappella style. (Recording dates and other information for this track aren't given on this package.) Ronstadt's unvarnished, unaccompanied, pristine and expressive vocals just might bring chills to longtime fans.
Though Parkinson's disease has robbed Linda Ronstadt of her ability to sing, her catalogue remains one of the most compelling in modern pop-rock and beyond.   This Duets package is a simple but worthy one. Unfortunately, there are no liner notes, though the digipak does contain source and personnel information for each song.  And these fifteen included tracks are just the tip of the iceberg. Over the years, the deliciously chameleonic Ronstadt has teamed in song with Brian Wilson, Ruben Blades, Rodney Crowell, Rosemary Clooney, k.d. lang, Ned Doheny, George Jones, Nicolette Larson, Maria Muldaur, Andrew Gold, Randy Newman, Paul Simon, Carly Simon, Jimmy Webb, Paul Williams, Neil Young, and even Kermit the Frog, just to name a few! But even as fans eagerly await a future trawl through the vaults for additional unheard material,Duets' songs represent an entertaining and affecting cross-section of Ronstadt's collaborative musical works with many of her peers, friends and colleagues - as well as a look at her growth, craft, and steadfast devotion to her artistry, even in the face of adversity.
You can order Duets at Amazon U.S. and Amazon U.K.!