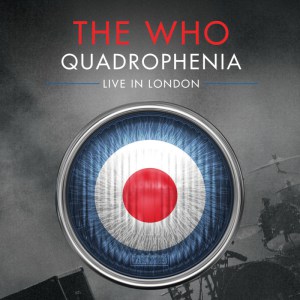 For fans of The Who, Christmas is coming early this year. The band has taken, in recent years, to marking the holidays with super-sized box sets dedicated to such classic albums as Live at Leeds, Tommy and Quadrophenia. The latter, Pete Townshend's 1973 mod rock opera, was celebrated in 2011 via a multitude of releases including a 4-CD/1-DVD box set with the original album, two discs of demos, and a DVD of selected songs in surround sound. This June, Townshend and Roger Daltrey will follow up that box with the multi-format (that's seven different formats, for those keeping count!) release of Quadrophenia: Live in London. And what's most exciting is that this campaign, centered on The Who's Quadrophenia 40th Anniversary tour, will premiere the full, original 1973 album in 5.1 on Blu-ray.  In the past, only selections from the album have been made available in surround.
After Tommy, there was Jimmy. He's the protagonist of Quadrophenia, first a 2-LP studio album by The Who, then a 1979 film and most recently a 2009 musical. Never one for small ideas, Townshend intended Quadrophenia as his way to explore the relationship between the band and its fans by telling the story of a prototypical Mod Who fan. The album yielded some of the most beloved songs ever recorded by Townshend, Daltrey, John Entwistle and Keith Moon: "The Real Me," "Love Reign O'er Me," "5:15."
In 2012 and 2013, Townshend and Daltrey revisited the material in an acclaimed international series of concerts featuring the original Quadrophenia album sequence and a tight encore set of six Who favorites. That tour wrapped up at London's Wembley Arena on July 8, 2013, where it was preserved for this audiovisual presentation. Following in the footsteps of other artists including The Beach Boys, The Who used the concerts as an opportunity to reunite with their late bandmates, too. Keith Moon was heard on "Bell Boy" and John Entwistle on "5:15." Conceived in large part by Daltrey, the concerts (and the film) featured archival footage of The Who as well as images of the historical events that informed the original album and beyond. Appropriately enough for Quadrophenia, the concerts merged rock and theatre into a singular experience.
After the jump, we'll explore all of the various Live in London releases! Plus: full track listings and pre-order links!
On June 10, Quadrophenia: Live in London will become available in various formats, the centerpiece of which is a deluxe metal box set with the concert film in both BD and DVD formats, and the concert audio on 2 CDs, plus the BD release of the original album in 5.1 surround. Extra swag includes a 6-inch Mod Headlight sticker, a Mod Headlight button, and a booklet with liner notes and photos, all housed in a 10-inch metal container embossed with the familiar bullseye logo painted on a Vespa SG scooter headlight.
If you're in the market for something less expansive (and expensive!), you can still obtain all of the individual components of the metal box piecemeal. The Live in London concert film will be released on the same date separately on Blu-ray, standard DVD, and as a downloadable Digital Concert Video. The complete audio (23 tracks) from the film will be released as a two-CD set and as a digital download. The 5.1 remix of the original Quadrophenia (1973) will arrive as a single-disc Blu-ray Audio release as part of Universal's Blu-Ray Pure Audio series.
All of these editions of Quadrophenia: Live in London are due in the U.K. on June 9 and in the U.S. one day later on June 10. You can pre-order below, and non-active links will be updated as soon as they become available!
The Who, Quadrophenia: Live in London (UMe, 2014)
Tracks are identical for all formats except Blu-ray of original 1973 album.
I Am The Sea
The Real Me
Quadrophenia
Cut My Hair
The Punk And The Godfather
I'm One
The Dirty Jobs
Helpless Dancer
Is It In My Head?
I've Had Enough
5:15
Sea And Sand
Drowned
Bell Boy
Doctor Jimmy
The Rock
Love Reign O'er Me
Bonus Performances (Encore)
Who Are You
You Better You Bet
Pinball Wizard
Baba O'Riley
Won't Get Fooled Again
Tea & Theatre
Quadrophenia: The Original Album Blu-ray Pure Audio (Amazon U.S. / Amazon U.K. )
I Am The Sea
The Real Me
Quadrophenia
Cut My Hair
The Punk And The Godfather
I'm One
The Dirty Jobs
Helpless Dancer
Is It In My Head?
I've Had Enough
5:15
Sea And Sand
Drowned
Bell Boy
Doctor Jimmy
The Rock
Love Reign O'er Me
Deluxe Metal Box Set: (Amazon U.S. / Amazon U.K. )
10-inch Round Metal Mod Headlight Container
1 Blu-ray Disc: Concert Film
1 standard DVD: Concert Film
1 Blu-ray Audio Disc Format: Quadrophenia (1973) 5.1 Album Mix
2-CD Soundtrack: Concert Audio
Mod Headlight Button
6" Mod Headlight Sticker
Booklet with photos and liner notes
Single-Disc Blu-ray: (Amazon U.S. / Amazon U.K. )
Quadrophenia: Live In London – Concert Film
Single Disc DVD: (Amazon U.S. / Amazon U.K. )
Quadrophenia: Live In London – Concert Film
Digital Video Download:
Quadrophenia: Live In London – Concert Film
2-CD Soundtrack to the Concert Film: (Amazon U.S. / Amazon U.K. )
Quadrophenia: Live In London – Concert Audio
Digital Download of Concert Audio:
Quadrophenia: Live In London – Concert Audio