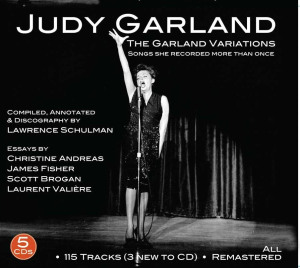 Like so many of the great vocalists of her day, Judy Garland frequently revisited repertoire over the years. An arrangement might vary, in great or small ways, and so, of course, would the interpretation. Garland's unparalleled interpretive gifts, apt for wringing as much authentic emotion out of a song as possible, are front and center on the latest box set of the late artist's recordings from JSP Records. The Garland Variations – Songs She Recorded More Than Once is a new 5-CD collection, set for arrival on October 27.  Produced by JSP founder John Stedman and compiled by Lawrence Schulman, the same team behind such past Garland treasure troves as Creations: Songs She Introduced and Smilin' Through: The Singles Collection 1936-1947, the new box will gather songs Garland recorded in the studio on multiple occasions between 1937 and 1962. With 115 tracks and over 6-1/2 hours of music, it will place the spotlight on the songs Garland re-recorded over a 25-year period. These tracks include such signature songs as "The Man That Got Away," "Have Yourself a Merry Little Christmas," and of course, "Over the Rainbow," which is included in five distinct renditions.  Of course, some of the most renowned composers and lyricists in American popular song are represented, such as Harold Arlen, E.Y. "Yip" Harburg, George Gershwin, Ira Gershwin, Richard Rodgers, Oscar Hammerstein II, Hugh Martin, Ralph Blane, Johnny Mercer, and Harry Warren.
Garland's first long-lasting recording affiliation was with Decca Records. Following some abortive test records made in 1935 by the twelve-year old singer (released by JSP on the stellar Lost Tracks set), Decca released two sides by Garland in 1936 and signed MGM's up-and-coming star the following year. Garland remained at Decca through 1947, and her tenure there yielded 90 recordings from 30 sessions between 1936 and 1947. Her departure from Decca coincided with MGM's entering the young soundtrack LP market, and so she no longer had the need to re-record movie favorites for Decca. With MGM having first right of refusal for her work, she didn't make any further studio recordings until after her departure from the Hollywood giant in 1950.
In 1953, Garland appeared on the Columbia label with four single sides, and the following year the label released the landmark soundtrack to her film A Star is Born. In 1955, she was back in Hollywood signing with Capitol Records. She remained at the Capitol Tower until 1966, recording a series of stellar studio albums with top-tier arrangers including Nelson Riddle and Gordon Jenkins – not to mention the Grammy Award-winning, record-breaking Judy at Carnegie Hall. JSP's set concludes in 1962, the year of her final studio LP released in her lifetime, The Garland Touch. (The record was actually a compilation, drawing on Capitol outtakes, a recent single, and tracks from her 1960 London recording sessions which weren't released in full until the compact disc era.)
At Judy Garland News, compiler Schulman eloquently illuminates the raison d'être behind this fascinating compilation: "The set's target demographic is not so much Garland collectors who have all of her recordings, but rather the general public who would be interested in hearing Judy's evolution musically speaking. To take but one example, her 1945 'You'll Never Walk Alone' and her 1960 interpretation of the same song, heard back to back, offer a unique glimpse of how her artistry evolved. Her two versions of 'By Myself,' the first done at Capitol in 1957, the second in 1962 for I Could Go On Singing, heard back to back is a magnificent revelation in orchestrations and singing style. The difference between her MGM and Decca recordings of the same song is often minute, but often not, as is the case of her initial 1945 MGM recording of 'On the Atcheson, Topeka and the Santa Fe' and her Decca New York session that same year at which she did a lower-keyed 'chamber' version of the number. Fascinating listening. No back to back MGM/Decca/Columbia/Capitol set has ever been released, and I thought it was about time."
After the jump, we have more information on the box set as well as the complete track listing!
The Garland Variations draws on recordings from the Decca, MGM, Capitol and Columbia labels, all of which currently reside in the U.K. public domain. Peter Rynston has remastered, and Andrew Aitken has designed the box set. It features new essays by James Fisher of the University of North Carolina at Greensboro; The Judy Room founder Scott Brogan; Broadway's Christine Andreas (who has portrayed Garland onstage); and Laurent Valière, a journalist at Radio France and producer/host of the program 42nd Street.
The Garland Variations – Songs She Recorded More Than Once is scheduled to arrive on October 27 and can be pre-ordered below!
Judy Garland, The Garland Variations: Songs She Recorded More Than Once (JSP, 2014) (Amazon U.S. TBD / Amazon U.K.)
CD 1
Everybody Sing – MGM
Everybody Sing – Decca
(Dear Mr. Gable) You Made Me Love You – MGM
(Dear Mr. Gable) You Made Me Love You – Decca
Zing! Went The Strings Of My Heart – MGM
Zing! Went The Strings Of My Heart – Decca
Zing! Went The Strings Of My Heart – Capitol
It Never Rains But What It Pours – MGM
It Never Rains But What It Pours – Decca
In Between – MGM
In Between – Decca
Ten Pins In The Sky – MGM
Ten Pins In The Sky – Decca
The Jitterbug – MGM
The Jitterbug – Decca
Over The Rainbow – MGM
Over The Rainbow – Decca
Over The Rainbow – V-Disc
Over The Rainbow – Capitol
Over The Rainbow – Capitol
Figaro – MGM
Figaro – Decca
I'm Just Wild About Harry – MGM
I'm Just Wild About Harry – Decca
Swanee – Decca
Swanee – Capitol
CD 2
Embraceable You – Decca
Embraceable You – MGM
Embraceable You – Decca
I'm Nobody's Baby – MGM
I'm Nobody's Baby – Decca
Buds Won't Bud – MGM
Buds Won't Bud – Decca
Our Love Affair – MGM
Our Love Affair – Decca
It's A Great Day For The Irish – MGM
It's A Great Day For The Irish – Decca
It's A Great Day For The Irish – Capitol
A Pretty Girl Milking Her Cow – MGM
A Pretty Girl Milking Her Cow – Decca
A Pretty Girl Milking Her Cow – Capitol
Danny Boy – MGM
Danny Boy – Capitol
I'm Always Chasing Rainbows – MGM
I'm Always Chasing Rainbows – Decca
How About You? – MGM
How About You? – Decca
F.D.R. Jones – MGM
F.D.R. Jones – Decca
For Me And My Gal – MGM
CD 3
For Me And My Gal – Decca
After You've Gone – MGM
After You've Gone – Capitol
After You've Gone – Capitol
I Got Rhythm – MGM
I Got Rhythm – Decca
But Not For Me – MGM
But Not For Me – AFRS
But Not For Me – Decca
Bidin' My Time – MGM
Bidin' My Time – Decca
Could You Use Me? – MGM
Could You Use Me? – Decca
Boys and Girls Like You And Me – MGM
Boys and Girls Like You And Me – Decca
The Trolley Song – MGM
The Trolley Song – Decca
Meet Me In St. Louis – MGM
Meet Me In St. Louis – Decca
Skip To My Lou – MGM
Skip To My Lou – Decca
The Boy Next Door – MGM
The Boy Next Door – Decca
Have Yourself A Merry Little Christmas – MGM
Have Yourself A Merry Little Christmas – Decca
CD 4
It's A Great Big World – MGM
It's A Great Big World – Decca
On The Atchison, Topeka And The Santa Fe – MGM
On The Atchison, Topeka And The Santa Fe – Decca
On The Atchison, Topeka And The Santa Fe – Decca
In The Valley (Where The Evening Sun Goes Down) – MGM
In The Valley (Where The Evening Sun Goes Down) – Decca
March Of The Doagies – MGM
March Of The Doagies – Decca
Swing Your Partner Round And Round – MGM
Swing Your Partner Round And Round – Decca
You'll Never Walk Alone – Decca
You'll Never Walk Alone – Capitol
I Wish I Were In Love Again – Decca
I Wish I Were In Love Again – MGM
Last Night When We Were Young – MGM
Last Night When We Were Young – Capitol
The Man That Got Away – Columbia
The Man That Got Away – Capitol
Rock-A-Bye Your Baby (With a Dixie Melody) – Capitol
Rock-A-Bye Your Baby (With a Dixie Melody) – Capitol
Judy's Olio – Capitol
CD 5
Judy's Olio – Capitol
Judy At The Palace – Capitol
Judy At The Palace – Capitol
Happiness Is A Thing Called Joe – Capitol
Happiness Is A Thing Called Joe – Capitol
Lucky Day – Capitol
Lucky Day – Capitol
Come Rain Or Come Shine – Capitol
Come Rain Or Come Shine – Capitol
By Myself – Capitol
By Myself – Capitol
I Can't Give You Anything But Love – Capitol
I Can't Give You Anything But Love – Capitol
Do It Again – Capitol
Do It Again – Capitol
It Never Was You – Capitol
It Never Was You – Capitol
It Never Was You – Capitol