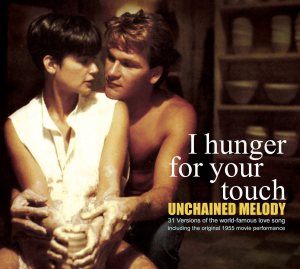 It began life as the theme to a 1955 B-movie that asked, "No locks!  No walls!  In the prison without bars!  What keeps men like these from crashing out?"  The film was Unchained, and the song was "Unchained Melody" with music by Alex North (A Streetcar Named Desire, Spartacus) and lyrics by Hy Zaret ("Dedicated to You").  Though the movie - in which just a brief snippet of the song was sung by Porgy and Bess' original Porgy, Todd Duncan – is hardly remembered today, the intensely romantic ballad  is anything but.  As such, it's the subject of a new CD from Bear Family.  I Hunger for Your Touch: Unchained Melody offers 31 renditions of the song recorded between 1955 and 1985.  It joins the rare club of single-song CDs; other songs to have received similar treatment include "Rudolph, the Red-Nosed Reindeer" from Bear Family, and "Louie, Louie" from labels including Rhino, Ace and Jerden.
"Unchained Melody" received an Oscar nomination, losing out to "Love is a Many-Splendored Thing" from the movie of the same name.  But on the sales charts, it was an instant winner.  In addition to presenting Duncan's original recording from Unchained, the new anthology includes many of the song's earliest covers.  Les Baxter's choral rendition on Capitol hit No. 2 on the U.S. pop chart, and not long after, Al Hibbler's vocal version reached No. 3.  Mining the soulful potential of the North melody, Roy Hamilton took it to No. 1 R&B as well as No. 6 Pop.  "Unchained" was unstoppable.  Other early versions here are from rockabilly trailblazer Gene Vincent, vocalist Harry Belafonte (who sang it at the Academy Awards), and country legends Eddy Arnold and Chet Atkins.
Yet despite a steady stream of recordings continuing into the 1960s, "Unchained" didn't achieve true immortality until producer Phil Spector and The Righteous Brothers (more specifically, Bobby Hatfield) brought it to No. 4 on the U.S. Pop chart in 1965.  It was first the B-side of the Carole King/Gerry Goffin song "Hung on You," but DJs flipped the record, and the rest is history.  Over the years, this version kept "Unchained" on the radio, influencing nearly every version that followed and culminating in the song's appearance in the 1990 blockbuster Ghost.  Upon its inclusion in the movie, the original 1965 recording and the Brothers' new re-recording simultaneously resided in the Hot 100 for eight weeks!
Hit the jump for much more, including the track listing with discography and order links!
Bear Family's CD kicks off with the majestically dramatic 1965 Righteous Brothers recording for its non-chronological skip through "Unchained Melody."  (It closes with a version from "Sea of Love" singer Phil Phillips.)  There's something for everybody here.  If you're looking for "Unchained Melody," country-style, you'll find versions by Marty Robbins, Hank Snow, Charlie Rich, Waylon Jennings, Willie Nelson and even David Allan Coe.  There's a doo-wop take from Vito and the Salutations which also famously appeared in a 1990 motion picture: Martin Scorsese's Goodfellas.  Ray Conniff, The Lettermen and Pat Boone take the song to the "middle of the road," and Diana Ross and the Supremes bring the Sound of Young America to it.  Canadian vocalist Gisele MacKenzie, Britain's Matt Monro (oddly misspelled numerous times as "Monroe") and Frankie Vaughan, Australian singer Frank Ifield and German bandleader Max Greger are among the international artists who saw to it that "Unchained" became a standard outside the U.S., as well.  (Jimmy Young's U.K. No. 1 version from 1955 isn't included, however.)  Even The King was susceptible to the charms of "Unchained Melody," and gives it his all in a bombastic 1977 live recording.
As per the label's custom, I Hunger For Your Touch includes a lavish 32-page color booklet.  It features a lengthy (and often, rather acerbic) essay including track-by-track notes by the set's producer Hank Davis.  Surprisingly for the historically-minded record label, there is no discographical annotation in the booklet.  Eight songs have been licensed from Sony Music and Universal; the other tracks appear to be included via current European public domain law applying to pre-1962 recordings.  The collection is issued in a digipak.
Davis' notes indicate that "it has been estimated that more than 1,000 different recordings [of the song] exist in a variety of languages.  Presently, iTunes contains 6,337 files of 'Unchained Melody' available for download."  That's no small accomplishment for North and Zaret's little song from a forgotten movie.  I Hunger for Your Touch is available now at the links below!
Various Artists, I Hunger for Your Touch: Unchained Melody (Bear Family BCD 17128 AH, 2014) (Amazon U.S. / Amazon U.K. Link TBD)
All tracks are of "Unchained Melody" by Alex North and Hy Zaret
The Righteous Brothers (Philles 129, 1965)
Roy Hamilton (Epic 5-9102, 1955)
Marty Robbins (from Just a Little Sentimental, Columbia CS 8466, 1961)
The Fleetwoods (from Mr. Blue, Dolton BLP 2061, 1959)
Ricky Nelson (Imperial IMP-158, 1958)
Harry Belafonte (from Belafonte, RCA Victor LPM 1150, 1956)
Pat Boone (from Moonglow, Dot LP 25270, 1960)
Todd Duncan (from the film Unchained, 1955)
Chet Atkins (RCA Victor 47-6108, 1955)
Gisele MacKenzie (from Gisele, RCA Victor LSP 1790, 1958)
Willie Nelson (from Stardust, Columbia LP JC 35305, 1978)
Al Hibbler (Decca 9-29441, 1955)
Charlie Rich (included on Lonely Weekends: The Sun Years 1958-1962, Bear Family BCD 16152 CI, 1998)
Elvis Presley (RCA single PB 11212, 1978)
Matt Monro (from From Hollywood with Love, Liberty LP 3356, 1964)
Les Baxter (Capitol F-3055, 1955)
Vito and the Salutations (Herald H-583, 1963)
Waylon Jennings (rec. 1964)
The Blackwells (Jamie 1157, 1960)
Frankie Vaughan (Columbia U.K. single DB 9027, 1974)
Gene Vincent (from Gene Vincent and the Blue Caps, Capitol LP T 811, 1957)
Eddy Arnold (from Top Hits Round-Up, RCA Victor EPA 624, 1955)
The Lettermen (from Jim, Tony and Bob, Capitol LP ST 1761, 1962)
David Allan Coe (from Unchained, Columbia FC 40195, 1985)
Hank Snow and Chet Atkins (from Reminiscing, RCA Victor LSP 2952, 1964)
Frank Ifield (Columbia U.K. DB 4464, 1960)
Diana Ross and the Supremes (from I Hear a Symphony, Motown MS 643, 1966)
Max Greger (TBD)
The Dials (indicated as previously unissued Cousins Records recording)
Ray Conniff (from Memories Are Made of This, Columbia LP CS 8374, 1960)
Phil Phillips (indicated as previously unissued Mercury recording)