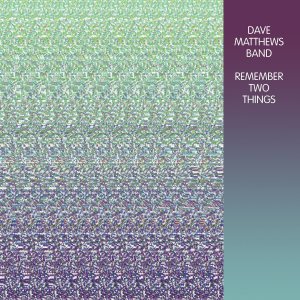 For many, it's just not summer without a Dave Matthews Band tour, and on May 16, the favorite sons of Charlottesville, Virginia will kick off their latest U.S. trek on which fans can expect to hear band favorites in freshly improvised style. While the tour will likely feature contemporary and vintage material, the group will revisit where it all began on June 17 with the Bama Rags/RCA/Legacy Recordings expanded reissue of Remember Two Things. The 1993 album, primarily consisting of music recorded live at three venues, was the first official release on the group's own Bama Rags label, and paved the way for DMB's 1994 major label breakthrough Under the Table and Dreaming.
Remember Two Things, certified platinum in 2002, introduced singer/guitarist Dave Matthews, drummer Carter Beauford, saxophonist LeRoi Moore, violinist Boyd Tinsley and bassist Stefan Lessard, plus special guest guitarist Tim Reynolds on four tracks. The LP was recorded live at three clubs, two of which were located in the band's native Virginia: Trax in Charlottesville, VA, Flood Zone in Richmond, VA and The Muse in Nantucket, MA. Two studio tracks, "Minarets" and "Seek Up" were recorded at Flat Five Studios in Salem, VA. Remember introduced listeners to live versions of "Ants Marching" and "Satellite," both of which would be featured on the Steve Lillywhite-produced Under the Table.
After the jump: what extras will you find on the new reissue? Plus: the full track listing and pre-order links!
The upcoming reissue will arrive on CD as well as via digital download and as a 2-LP set. The new 180-gram double vinyl set marks the first time that Remember has been available on vinyl. It will be cut from new lacquers prepared by Chris Bellman at Bernie Grundman Mastering and will feature the original album packaged in an individually numbered gatefold jacket. The vinyl release will be accompanied by an eight-page booklet with full lyrics and rare and previously unpublished photos of the band. A download card will feature the full album plus two previously unreleased bonus tracks recorded during the album sessions at Flat Five Studios: early studio versions of "Pay For What You Get" and "Typical Situation," newly mastered by original album engineer David Glasser. Both of these songs would appear in reworked form on Under the Table. The bonus tracks are included on all formats (CD, DD, LP).
Remember Two Things is due in stores from Bama Rags, RCA and Legacy on June 17. You can pre-order at the links below!  Inactive links will be updated as soon as possible.
Dave Matthews Band, Remember Two Things (originally released as Bama Rags BAMA001, 1993 - reissued Bama Rags/RCA/Legacy 88843 06424-1 (LP) 88843 07472-2 (CD), 2014)
Vinyl: Amazon U.S. / Amazon U.K.
CD: Amazon U.S. / Amazon U.K.
Ants Marching
Tripping Billies
Recently
Satellite
One Sweet World
The Song That Jane Likes
Minarets
Seek Up
I'll Back You Up
Christmas Song
Pay for What You Get (Flat Five Studios Version) *
Typical Situation (Flat Five Studios Version) *
* previously unreleased bonus track - available on CD and with LP digital download card