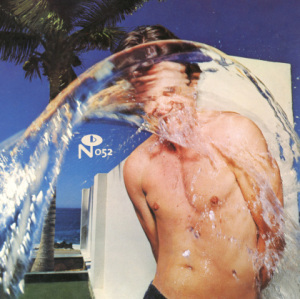 Despite the history behind it, singer/songwriter Ned Doheny's last name might be the least interesting thing about him. Yes, Los Angeles native Doheny is descended from the family for whom Doheny Drive is named, a family marked by triumph (patriarch Edward L. Doheny was at one time the second richest oil tycoon in America, second only to John D. Rockefeller) and tragedy (Edward's son, the first Ned Doheny, died in a headline-making murder-suicide). But Ned Doheny, the musician, has blazed a trail all his own. His career might not have brought him superstardom, but it's been filled with genre-defying songs that have attracted the ears of David Geffen, Jackson Browne, "Mama" Cass Elliot and so many others. Tomorrow, Numero Group celebrates the music of cult favorite Ned Doheny with Separate Oceans, the first major retrospective of the troubadour's diverse, all too under-the-radar work. The 19-track anthology, available on CD, DD and LP, draws on the first ten years of Doheny's career during which time he recorded three well-received albums flirting with folk, pop, blue-eyed soul, soft rock and even disco.
Though Doheny once observed "I never thought I was part of the 'California sound,'" he's often spoken of in the same breath as Browne, The Eagles, Linda Ronstadt, J.D. Souther, and their Laurel Canyon brethren. While still a teenager, he joined Browne and Jack Wilce at the behest of Elektra Records' Barry Friedman, a.k.a. Frazier Mohawk, at northern California's Paxton Lodge in the label's attempt to create a productive musical community. Though that grand experiment didn't pan out as planned, Doheny was on his way. He toured with jazz hero Charles Lloyd, was asked to join a group with Dave Mason and Cass Elliot, and back in LA, he joined his old friend Jackson Browne on the roster of David Geffen's Asylum Records.
His own tastes weren't as country-rock-leaning as many of his California contemporaries; in 2011, he commented, "I had my father's love of jazz combined with a fascination for rhythm and blues. I also loved the songs of Irving Berlin, Cole Porter, and Bacharach and David." At 22 years old and signed to Asylum, he released his 1972 debut album Ned Doheny on which he was joined by Graham Nash. The album has a melodic yet highly individualistic quality that might remind some of Philadelphia's Todd Rundgren; sure enough, Doheny admitted "I always liked Todd Rundgren - a talented fellow," even if Rundgren wasn't an influence as Doheny was creating his music at the same time Rundgren was carving his own path.
Columbia/CBS snapped up Doheny, and with producer (and Stax legend) Steve Cropper, he released Hard Candy (1976) and the Japan-only Prone (1979). Two songs from the former, "A Love of Your Own" and "Get It Up for Love," were covered by the Average White Band and Tata Vega, respectively. Hard Candy featured David Foster, Linda Ronstadt, Don Henley, Glenn Frey and the Tower of Power horn section, but never took off commercially. Still, Chaka Khan, George Benson, Melissa Manchester, David Cassidy and Johnny Rivers were among those who recorded Doheny's smart, incisive and, yes, catchy songs. The Cropper-produced Prone was only released in Japan, and since then, he has had great success catering to an appreciative and large audience in Japan.
There's more on Separate Oceans after the jump including the complete track listing and pre-order links!
Doheny hasn't exactly been a prolific artist, releasing just a handful of albums since the late seventies. But his small catalogue has endured, with his three major-label albums on Asylum and Columbia having received numerous reissues over the years. Numero's lavish new Separate Oceans combines eight album cuts with eleven previously unreleased demo recordings including three tracks on which he's joined by Don Henley and Glenn Frey. An 8,000-word essay puts the music in perspective, and the booklet is illustrated with photographs from the likes of the great Henry Diltz and others.
You'll want to get it up for Ned Doheny's Separate Oceans, which arrives on CD, LP and DD from Numero Group tomorrow, May 13. You can pre-order just below!
Ned Doheny, Separate Oceans (Numero Group NUM052, 2014) (Amazon U.S. / Amazon U.K.)
Get It Up For Love
Each Time You Pray
What Cha' Gonna Do For Me
To Prove My Love (Vocal version)
Labor Of Love
A Love Of Your Own
I've Got Your Number (Demo)
If You Should Fall (Demo)
When Love Hangs In The Balance (Demo)
Fineline (Demo, featuring Glenn Frey and Don Henley)
On And On (Demo, featuring Glenn Frey and Don Henley)
I Can Dream (Demo, featuring Glenn Frey and Don Henley)
I Know Sorrow
Standfast
A Love of Your Own (Demo)
On The Swingshift (Demo)
The Devil In You
Love's A Heartache (Demo)
Get It Up For Love (Demo)
Tracks 1-2 & 6 from Hard Candy, Columbia PC 34259, 1976
Tracks 3, 7, 12, 15-16, 18-19 previously unreleased
Track 4 from Sony Japan CD edition of Prone, 1991, originally released on LP as CBS Japan 25AP 1359, 1979
Tracks 5 & 17 from Prone, CBS Japan 25AP 1359, 1979
Tracks 13-14 from Ned Doheny, Asylum LP SD 5059, 1972