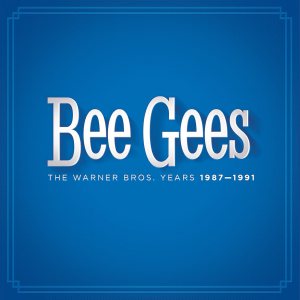 Tonight, Barry Gibb's Mythology tour continues making its way through the United States, as the surviving member of The Bee Gees celebrates his family's legacy in song. From humble beginnings in Australia (1965's The Bee Gees Sing and Play 14 Barry Gibb Songs) through international stardom and a final studio farewell (2001's This is Where I Came In), Barry, Robin and Maurice Gibb mastered an ever-shifting array of styles. Baroque, lightly psychedelic pop/rock ceded to tough funk-infused R&B, which informed the brothers' infectious brand of mainstream disco. When the eighties came around, the Gibbs kept their pulse on current radio, taking a break from the band but churning out hits for Barbra Streisand, Dionne Warwick, Diana Ross, Kenny Rogers and Dolly Parton like a mini-Brill Building. The Bee Gees finally followed up 1981's Living Eyes with another full studio album in 1987, their first for Warner Bros. Records. That release, E.S.P., showcased a synth-pop style that would inform all three of the LPs made at Warners between 1987 and 1991. Over the years, those three albums have been lost in the shuffle, taking a backseat to the group's first hitmaking records, and of course, the disco years. But they've returned, bolstered by a never-before-released live recording, in Rhino's new 5-CD box set The Warner Bros. Years 1987-1991.
E.S.P. fused the Bee Gees' traditional melodic sensibility with thick, metallic production, drum machine beats and electronic instrumentation, and the stomping, majestic "You Win Again" proved that the group's harmonies could flourish in such a setting. Every song on E.S.P. bore a shared songwriting credit for Barry, Maurice and Robin – the same would go for both of its Warner Bros. follow-ups included here. Lyrically, the album returns time and again to themes and imagery of resilience, togetherness and camaraderie in the face of darkness and adversity, altogether appropriate for the band's first album in years. To helm E.S.P., Barry, Robin and Maurice turned to producer Arif Mardin, who had guided them to an artistic rebirth years earlier with Mr. Natural and Main Course, and assembled a band of rotating musicians including Robbie Kondor, Will Lee, Marcus Miller, Greg Phillinganes, and Brian Tench.
Perhaps unsurprisingly, Barry Gibb dominates the album with eight solo or shared lead vocals, followed by Robin on four tracks and Maurice on two. Barry and Robin share the lead on the driving, catchy title track; Barry and Maurice share "Live or Die (Hold Me Like a Child)" on which Barry's falsetto soars à la "Too Much Heaven."   The busy, contemporary production distracts from the sheer beauty of the dreamy Barry Gibb ballad "Angela," but "Crazy for Your Love" succeeds with its bright, Motown-goes-eighties feel. Barry also has a couple of the least successful tracks on the album with "Backtafunk" and the frenetic "This is Your Life." The latter takes in a rap section referring to ten-plus Bee Gees classics (sample: "Jive talkin', more rap, less crap/Times are bad, money is tight/Ain't too much heaven on a Saturday night...") to strained results. Robin offers a strong lead on the burbling "Giving Up the Ghost," with Maurice joining on the chorus, and also has the lead on "The Longest Night," a mid-tempo ballad with an unconventional structure. The Maurice-led "Overnight" has the heaviest sound on the album. The Warner Bros. Years adds five bonus tracks including three alternates of "E.S.P." – the demo, the single edit and Arif Mardin's extended mix – plus the extended "You Win Again" and the single edit of "Angela." E.S.P. asserted the Gibbs' chart supremacy in Europe, but barely reached the Top 100 in the U.S., and even more shockingly, "You Win Again" – a U.K. No. 1 and Ivor Novello Award-winning song – didn't get any higher than No. 75 stateside.
Don't go anywhere!  Join us after the jump!
The Bee Gees returned two years later with One (1989). Co-produced by the band and Brian Tench, it finally rewarded Barry, Robin and Maurice with another U.S. Top 10 hit in its title track. But the success of One was bittersweet. While recording the album, youngest brother Andy Gibb died unexpectedly. Following a break in recording, Andy's siblings returned to the studio with "Wish You Were Here" and dedicated the album to him. The original U.S. release of One had a different track listing than its international counterpart, switching "Ordinary Lives" and "One" in the running order, and dropping CD bonus track "Wing and a Prayer" in favor of another appearance of "You Win Again" from E.S.P. (For those who hadn't yet switched to CD, "Wing and a Prayer" was the vinyl single B-side of "One.") The version in the box set restores the original, preferred international sequence. One is more introspective, more "soft rock" than its predecessor, and has a more unified sound thanks to the small band present. The Gibbs were joined by musicians including Nathan East on bass, Tim Cansfield on guitar, Steve Ferrone on drums and Peter-John Vettese on keyboards. Longtime guitarist Alan Kendall also returned to his role.
Barry, with his uncanny pop instincts, was most strongly represented on the album with eight lead vocals (one shared with Robin, one shared with Maurice) this time out. "Ordinary Lives," still a staple of Barry's live performances, has a bit of the stomping spirit of "You Win Again," but with a subtler touch befitting its lyrical ruminations: "There was one small dream/Incredible highs and lows/What little we knew living ordinary lives..." and most touchingly in light of Andy's passing, "The clock on the wall keeps moving/Time stands still/No matter how the dice may fall/Someone else always gets to call the number..." Introducing the album, it augured for a sleeker, more subtle approach to the contemporary production. "One" melodically recalls "Jive Talkin'," but clearly that track was one Americans were ready to revisit, as "One" made it to the top ten of the U.S. Hot 100. Similarly, "It's My Neighborhood" is very nearly a sideways rewrite of Michael Jackson's "Beat It," but surely the King of Pop would have been flattered. The song had a second life when it was used in the stage adaptation of Saturday Night Fever alongside the Gibbs' vintage disco material. The dance sound of the Barry-led "Will You Ever Let Me" is the closest track on One to channel the style of its predecessor.
Robin has the lead on "Bodyguard," a gleaming, lusty blue-eyed soul ballad that's one of the album's highlights. Barry's "Tears" has a similarly soft vibe and a wistful melody: "There will be nights of love, and yes, there will be tears..." Robin also handles leads on the intriguingly dramatic but not fully developed "Tokyo Nights" and the soulful "Flesh and Blood." For his one lead, Maurice again delivers a rock-oriented cut with the pulsating "House of Shame." He also plays all of the instruments, save sequencers, on "Wing and a Prayer."
The most affecting track on One, however, is "Wish You Were Here," dedicated to Andy Gibb. With its simple, plain-spoken sentiment ("I lost everything in losing you...They were good times and I wish you were here...") and reference to Andy's hit "Don't Throw It All Away (Our Love)" ("I tried to throw our love away and I can't let go"), it even renders Barry's familiar falsetto cry a wail of pain and love. It's far from easy listening, but lends an emotional gravity and resonance.
The Warner Bros. Years edition adds four bonuses to One, including the single remix/edit, 12" Club Mix and 12" Dance Version of the title track. (Like "E.S.P.," Warners issued numerous remixes of "One," only a handful of which are reprised here.) The fourth bonus track is the optimistic, urgent "Shape of Things to Come" from 1988 Summer Olympics Album: One Moment in Time. It's a fine addition to One, even if its verses recall, of all things, "The Logical Song" by Supertramp!
After the mature, quieter One, The Bee Gees returned to hone a modern, electronic and danceable sound for their final Warners collection, High Civilization. The album again featured just a small band alongside the brothers, with Alan Kendall on guitar, Tim Moore on keyboards, George "Chocolate" Perry on bass and Lenny Castro on percussion. Its sound, emphasizing beats and heavy percussion at the expense of the brothers' vocals, was even more of a departure for longtime fans than E.S.P. had been. Barry has every lead except for the "token" Maurice track ("Dimensions") and Robin's "When He's Gone," with Barry and Robin sharing the lead on the title song, "Secret Love" and "Ghost Train."
The title track is one of the Gibbs' darkest compositions. Its steely electronic beats drive home the disconcerting lyrics ("Dyin' in the streets/Your number, your name/All that which keeps us together/Is bringing us the pain") Though it opens the album on a bleak note, it's followed quickly by "Secret Love," a U.K. Top 5 hit that should have fared better stateside. "Secret Love" takes the beat of the Gibbs' "Chain Reaction," a hit for Diana Ross, as its jumping-off point, but updates its sound effectively. "When He's Gone," the sole U.S. single, is almost as good as "Secret Love," with a clean production and a stirring, romantic lead from Robin assuring that "I will be someone you lean upon when he's gone." The rueful ballad "The Only Love," with its big chorus, is another melodic highlight. But if "The Only Love" is quintessential Barry, he hardly sounds like himself growling "Let's get started/Move in for the kill!" on the slick R&B-funk of "Party with No Name."
Maurice's lone track this time out is "Dimensions," a risqué paean to a spellbinding, troublesome lady. The beat-heavy "Human Sacrifice" and "True Confessions" are two more portrayals here of rather desperate love, the latter with Barry insisting in unusually ominous falsetto, "My gun is loaded and I'm ready for war/I come and I get you and I kick down the door/There's no way, I can't let you leave..." An earlier sequence of the album positioned the songs as part of a loose "concept" narrative; the finished running order shrugs off these notions but there are definite threads of an often tortured relationship running through the songs. On the album's final track, "Evolution," The Bee Gees sing, "There's a law in what we do/We got a quest for something new." They certainly achieved that with High Civilization. Unfortunately, no additional material has been added to the album.
As of 1989, The Bee Gees had only released one live album, 1977's Here at Last...Bee Gees...Live. One For All would have been The Bee Gees' second live album had it been released by Warner Bros. during the group's tenure there. The 2-disc set, premiering as part of this box, was recorded at Melbourne, Australia's National Tennis Centre on November 17 and 18, 1989, just months after the release of One. In addition to all of the expected classics, it featured a number of songs from both E.S.P. ("Giving Up the Ghost," "You Win Again") and One ("Ordinary Lives," "One," "Tokyo Nights," "It's My Neighborhood," "House of Shame"). It's a rare chance to hear the then-current songs in a relatively lean setting thanks to the Gibbs' crack band of six musicians (led by Alan Kendall) and three backing vocalists. Barry, Robin and Maurice are in top form throughout, making One for All a perfect addition to the group's catalogue.
The Warner Bros. Years follows the format of other recent albums collections from Rhino. It's housed in a nondescript, small but sturdy flip-top box, with each individual album housed in a mini-LP replica jacket. Alas, as per the usual for these sets, no booklet is included. As a result, there are no liner notes, credits, personnel or discographical information beyond that which was contained on the original back covers. This is a particular loss here, as this period of the group's history is one which has long been overlooked. There are no remastering credits, either, but the audio quality sounds upgraded, particularly on the post-E.S.P. albums. One for All is pristine and crisp as mixed by Barry Gibb and John Merchant, and mastered by Adam Ayan. There is still other material that could have been appended to this collection including Arthur Baker's remixes for E.S.P., the dub version of "One," and single edits of "Happy Ever After" from High Civilization, to name a few. But the box is a happy, unexpected treat that is one more testament to the timeless harmonies and tremendous versatility of The Bee Gees. Make no mistake – you should be, and will be, dancing.
You can order The Warner Bros. Years 1987-1991 at Amazon U.S. and Amazon U.K.!