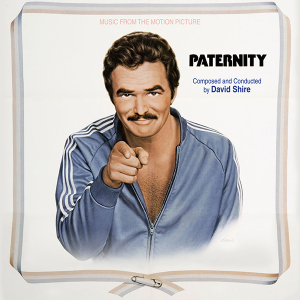 Kritzerland is back this month with a pair of new releases premiering three film scores on CD for the very first time!
First up is the music from the 1981 Burt Reynolds comedy Paternity, composed by David Shire.  No stranger to stage (Closer Than Ever, Big) or screen (Norma Rae, The Taking of Pelham One Two Three), Shire supplied director David Steinberg's film (also starring Beverly D'Angelo, Paul Dooley, Norman Fell, Lauren Hutton and Elizabeth Ashley) with charming, light and romantic melodies.  Kritzerland premieres the original, never-issued album master created by Shire at the time of the film's release, and adds additional bonus cues.  The score also incorporates Shire's songs "Love's Gonna Find You" and "Baby Talk," the latter with lyrics by the witty jazz pianist Dave Frishberg, plus a couple of standards.
Kritzerland also has a two-for-one release from the pen of composer Leigh Harline ("When You Wish Upon a Star") – one comedy, one drama.  The former, director Martin Ritt's No Down Payment (1957) examined the dark underbelly of suburbia, and featured an impressive cast including Joanne Woodward, Tony Randall, Jeffrey Rush and Pat Hingle.  The latter, 1959's lighthearted The Remarkable Mr. Pennypacker, starred Clifton Webb in the title role of a bigamist (!) with 17 children (!!), supported by Dorothy McGuire, Jill St. John, Ron Ely and Richard Deacon.  Harline supplied two very different yet equally effective scores, presented by Kritzerland in stereo.  Both releases are limited to 1,000 copies only and are due from the label by the last week of June, though pre-orders placed directly at Kritzerland typically arrive three to five weeks early.
After the jump: the complete press releases plus track listings and pre-order links!
Paternity: Music composed and conducted by David Shire
Paternity was a 1981 Burt Reynolds comedy – back then he was at the apex of his popularity, and regularly split his focus between drama and comedy.   In addition to Reynolds, first time director David Steinberg assembled a wonderful cast – Beverly D'Angelo, Lauren Hutton, Norman Fell, Paul Dooley, Elizabeth Ashley and Juanita Moore.  The film's poster and ad campaign were fun – a big image of Reynolds with the tag line, "He wants you to have his baby."  The film received middle-of-the-road reviews and did only decently at the box office.  But as with so many films of that era, it found a new and appreciative audience on TV, cable and home video, with people discovering the film was charming, funny, and endearing.  And one of the reasons for that is the wonderful score by David Shire.
By 1981, David Shire was likewise well-established and in-demand – as a composer for film and TV. He had already written several classic scores (including The Conversation, The Taking of Pelham One Two Three, Farewell, My Lovely, The Hindenburg, All the President's Men, Norma Rae and others) and in 1980 he'd received his first two Academy Award nominations – both in the Best Song category –for The Promise and for Norma Rae (the latter of which took the prize).
In Paternity, Shire's gift for melody is evident from the first notes of the main title, which introduces the film's two main themes – "Love's Gonna Find You" and "Baby Talk."  There are several variations of each throughout the film (in addition to some beautifully arranged source music cues), resulting in a score of great charm, beauty and fun.
With this CD we happily present the world premiere of the complete score.  At the time of the film's release, Shire prepared an album master that never saw the light of day. To that master, we've added the few cues he didn't include (for time reasons, as usual in the days of LPs), plus some bonus tracks – all in beautifully recorded stereo.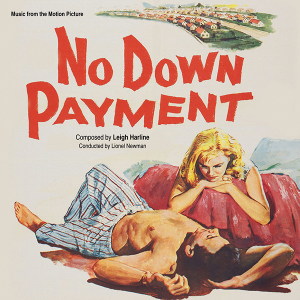 No Down Payment and The Remarkable Mr. Pennypacker - Music composed by Leigh Harline
The Twentieth Century Fox film No Down Payment takes a look at life in California suburbia circa 1957, both its surface and its underbelly.  No Down Payment was Martin Ritt's second movie directorial effort – he assembled a great cast, including Joanne Woodward, Sheree North, Tony Randall (in an atypical unsympathetic role), Jeffrey Hunter, Cameron Mitchell, Barbara Rush and Pat Hingle.  The screenplay was credited to Philip Yordan, even though it was actually written by then-blacklisted writer Ben Maddow.  The movie is a beautifully acted slice of post World War II drama, well directed by Ritt and wonderfully scored by composer Leigh Harline.
Beginning with a bustling main title filled with the promise of suburban living, it introduces us to the world of Sunrise Hills.  But soon Harline begins introducing undercurrents into his score, undercurrents that will soon turn from idyllic to dramatic.  It's a superb score from a master composer who really understood the film medium.
Two years later, Fox released The Remarkable Mr. Pennypacker.  Directed by Fox regular Henry Levin and shot in Cinemascope by Milton Krasner, the film starred Clifton Webb, Dorothy McGuire, Charles Coburn, Jill St. John, Ron Ely, David Nelson, Larry Gates and Richard Deacon.  Once again, Leigh Harline was the composer.  For Pennypacker, Harline created a delightful and tuneful score, never pandering to the comedy and helping to give the film a dramatic underpinning.  It's a charming score and a Harline highlight from a career filled with wonderful scores, including Pickup on South Street, Broken Lance, Black Widow, House of Bamboo, The Girl in the Red Velvet Swing, Good Morning, Miss Dove, The Bottom of the Bottle, 23 Paces to Baker Street, The Wayward Bus and many others.
This is the world premiere release of these two Harline scores.  They have been restored from the original elements in the Fox vault and both are in that great Fox stereo.  While every effort has been made to make this release as good as possible, there are a handful of cues with minor damage, but nothing that would warrant leaving them off the CD.
You can pre-order both titles below at Kritzerland's website!
David Shire, Paternity: Music from the Motion Picture (Kritzerland, 2014)
Baby Talk – Main Title †*
Crappy Birthday *
Isn't It Romantic? (Richard Rodgers/Lorenz Hart)
The Buddy System *
Follow that Cab *
The Nearness of You (Ned Washington/Hoagy Carmichael)
Conception Sequence †
Exer-Cycle †
Park Scene *†
Remembrance Montage *†
I Love You – Finale and End Title †
Main Title (instrumental version) *
Baby Talk (unused) *
Stella by Starlight (Ned Washington/Victor Young)
It's Easy to Remember (Richard Rodgers/Lorenz Hart)
End Title (alternate) †
Love's Gonna Find You (kids chorus overdub) †
* Includes "Baby Talk" (Shire/Frishberg)
† Includes "Love's Gonna Find You" (Shire)
All tracks previously unreleased.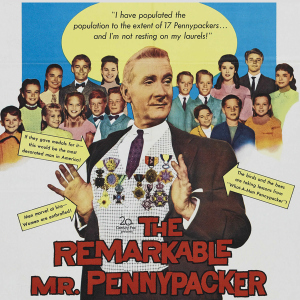 Leigh Harline, No Down Payment / The Remarkable Mr. Pennypacker (Kritzerland, 2014)
Sunrise Hills (Main Title)
New Home
Poisoned Cattle / Matt's Death
No Down Payment
New Day Coming / Frustration
Isabel's Despair
Escape
Criminal Attack
Jean's Story
David and Jean
Leola's Bitterness / Finale
Main Title (alternate)
Tucson (Hugo Friedhofer)
No Down Payment (reprise)
Mr. Pennypacker (Main Title)
Harrisburg / Young Love
Marriage Plans
The Letter / Progress
At the Station
Introduction / Mr. Pennypacker
Double Vision
Philadelphia Visit
Skating / The Jurors
Denial
Mr. Pennypacker (End Title)
Tracks 1-14 from No Down Payment
Tracks 15-24 from The Remarkable Mr. Pennypacker
All tracks previously unreleased.