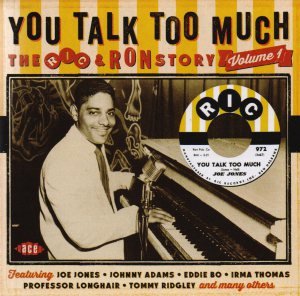 While Ric and Ron Records were not the first little labels to make big noises out of New Orleans, Louisiana, they certainly were among the most influential. Between 1958 and 1963, Joe Ruffino's labels boasted some of the Crescent City's greatest artists – Professor Longhair, Irma Thomas, Chris Kenner, Eddie Bo, and Johnny Adams, to name a few. The U.K.'s Ace Records label has recently begun a new series chronicling The Ric and Ron Story, kicking off with Volume 1, You Talk Too Much. The compilation is so named for Ric single 972 by Joe Jones, the label's only major nationwide hit – and perhaps, ironically, a side that was acquired on its way to the Top 10 by Morris Levy's Roulette Records. This initial volume covers the period of 1958-1960 with 24 spirited, soulful R&B tracks in non-chronological order. All songs are in their original mono mixes.
Ric and its sister label Ron were founded in 1958 by New Orleans-based Joe Ruffino, and named for his sons. Though the labels were only active for a short period, some of the city's greatest talents passed through the company's doors. Ruffino founded Ric armed with masters from New Orleans' Ace label (namesake for the current Ace Records) and went on to sign guitarist Al Blanchard in an A&R capacity and Al Johnson as an artist. When Blanchard moved on from the label, he was succeeded by Harold Battiste and Mac Rebennack, a.k.a. Dr. John, two gentlemen who would fill chapters in any book of N'awlins musical history. This illustrious team gave a break to the now-legendary Soul Queen of New Orleans, Irma Thomas, who recorded her first single "(You Can Have My Husband but) Don't Mess with My Man" for the Ron label. Thomas is featured on two sides here, the aforementioned "Don't Mess with My Man" and the B-side of her follow-up single "I May Be Wrong."
Al Johnson, Ruffino's first artist, is represented with two songs, "You Done Me Wrong" and "Carnival Time." Along with title track "You Talk Too Much," Johnson's "Carnival Time" may be the signature song here. Recorded at Cosimo Matassa's renowned studio, it reflects the joyous mood we still associate with the resilient city of New Orleans to this very day. And although it's still a well-known song around Mardi Gras time, the story of Big Easy native Johnson is one of as much darkness as light. Drafted into the U.S. Army after recording the song, he returned in 1964 to find himself in dire financial straits. (His sole discography consists of two singles released on Ric in 1958 and 1960.) But Johnson continued to persevere and perform. A refugee of the devastation left by Hurricane Katrina in 2005, Johnson became a resident of Harry Connick Jr.'s Musicians Village project. He still can be found today, rousing appreciate audiences with "Carnival Time."
Another New Orleans native, piano man Eddie Bo first made his name in traditional jazz circles before "defecting" to R&B. Apparently he was as dexterous with carpentry as with piano-playing; legend has it that Bo even built the Ric studio, coming from a long line of carpenters, bricklayers and shipbuilders! Also affected by the ravages of Katrina, Bo used his carpentry skills to help rebuild his neighborhood before his 2009 death. He's heard here on 1959's "You Got Your Mojo Working" and 1960's "Tell It Like It Is" (not the same song that another famous son of New Orleans, Aaron Neville, took to the No. 2 spot on the Hot 100 in 1966).
Johnny Adams (you guessed it: a New Orleans native!) had his biggest successes in the late 1960s but began his recording career at Ric, where he worked with Mac Rebennack a.k.a. Dr. John as well as Eddie Bo. The future Dr. John produced "I Won't Cry," Adams' first single for Ric, heard here in both its original version and a rare demo performance with guitar accompaniment. Adams arrived at Ric with a dramatic delivery (which inspired Aaron Neville, among others) and a big vocal style. Possessed with a great range, he could transition to a falsetto with ease. He's also heard on "Come On," also from 1959. Adams experienced a late-career resurgence when he signed with Rounder Records in 1983; he remained with the label until his death in 1998.
Edgar Blanchard was one of the most well-known session guitarists in New Orleans and had been a bandleader since the 1940s. Although he played on sessions for labels including Atlantic and Specialty, he actually recorded Ric's first issued single. One side of that 45, "Let's Get It," is included here. Blanchard died in 1972. Like Blanchard, Professor Longhair, a.k.a. Henry Roeland "Roy" Byrd (1918-1980), was already an established name when he joined Ruffino's labels. The good Professor's piano style, it's fair to say, shaped what is today thought of as the sound of New Orleans, and influenced Dr. John, Allen Toussaint, Harry Connick, Jr., and countless others. He's featured here with his definitive 1959 recording of "Go to the Mardi Gras" (which he first recorded in 1950) as well as with "Cuttin' Out (Hey Now Baby)." Both tracks hail from his lone session for Ruffino. A special bonus here is a previously unreleased demo of Professor Longhair's signature "Tipitina" recorded for Ric in 1959.
We have more after the jump, including the full track listing with discography, and order links!
Chris Kenner ("I Like It Like That," "Land of 1,000 Dances") also spent only a brief time with Ruffino, releasing just one single for the Ron label. From that sole single, "Rocket to the Moon" is featured here. Like Kenner, Joe Jones remains a presence on today's oldies radio. Unlike Kenner, his popularity is due to a song recorded for Ruffino: "You Talk Too Much." Unfortunately for Ruffino, Jones had recorded the song first for Roulette Records – and when Roulette boss Morris Levy got wind that Jones' Ric re-recording was making noise on the charts, he "arranged" for it to become a Roulette release. "You Talk Too Much" closes out the main portion of The Ric and Ron Story Volume 1; its flipside, "I Love You Still," is also here.
This anthology has been remastered by Duncan Cowell, and the 16-page color booklet features liner notes by Tony Rounce in the form of mini-essays about every artist. You Talk Too Much is available now from Ace Records, and can be ordered below. Watch this space for news on the release of Volume Two, which will spotlight another 24 tracks from Joe Ruffino's little labels that could!
Various Artists, You Talk Too Much: The Ric & Ron Story Volume 1 (Ace CDCHD 1390, 2014) (Amazon U.S. / Amazon U.K.)
Go to the Mardi Gras – Professor Longhair (Ron 329, 1960)
I Won't Cry – Johnny Adams (Ric 961, 1959)
Tell It Like It Is – Eddie Bo (Ric 969, 1960)
You Done Me Wrong – Al Johnson (Ric 956, 1958)
Don't Lie to Me – Mercy Baby (Ric 955, 1958)
Let's Get It – Edgar Blanchard (Ric 954, 1958)
Come On – Johnny Adams (Ric 963, 1959)
Tootles – Lenny Capello and the Dots (Ric 960, 1958)
Cuttin' Out (Hey Now Baby) – Professor Longhair (Ron 326, 1959)
I Love You Still – Joe Jones (Ric 972, 1960)
Easy Rockin' – Eddie Lang (Ron 320, 1959)
You Got Your Mojo Working – Eddie Bo (Ric 964, 1959)
Rocket to the Moon – Chris Kenner (Ron 335, 1960)
She's Mine, All Mine – Eddie Lang (Ron 324, 1959)
You Call Everybody Darling – The Gondoliers (Ric 957, 1958)
All Nite Long, Pts. 1 & 2 – Robert Parker (Ron 327, 1959)
Don't Mess with My Man – Irma Thomas (Ron 328, 1959)
Let's Try and Talk It Over – Tommy Ridgley (Ric 968, 1960)
Nobody Knows (How I Feel About You) – Martha Carter (Ron 336, 1960)
Carnival Time – Al Johnson (Ric 967, 1960)
I May Be Wrong – Irma Thomas (Ron 330, 1960)
You Talk Too Much – Joe Jones (Ric 972, 1960)
Tipitina (Demo) – Professor Longhair (previously unissued, recorded 1959)
I Won't Cry (Demo) – Johnny Adams (first issued on Rounder box RICBOX 16, 2013)