On the first side of his fifth LP, Todd Rundgren proclaimed, "A man would simply have to be as mad as a hatter/To try and change the world with a plastic platter..."  Yet forty years on, Rundgren is still "trying to make a living off an elpee's worth of toons."  As such, he's accumulated quite a back catalogue, for which Demon Music Group's Edsel label has been the most recent steward.  In 2011, Edsel began reissuing Rundgren's Bearsville catalogue, both solo and with Utopia, and continued onto his Warner Bros. years.  Those titles were largely delivered in multi-album sets combining two or three LPs in one package.  Now, Edsel is revisiting the early Rundgren catalogue as standalone CDs in the label's deluxe casebound book format (previously utilized for reissues by Everything But the Girl, Bananarama, Belinda Carlisle and others), with discs enclosed in a lavish hardbound book.  Rundgren's groundbreaking third, fourth and fifth albums have received this top-notch treatment: Something/Anything (1972), A Wizard, A True Star (1973) and Todd (1974).
Though Something/Anything was Rundgren's third proper album, it was the first to herald his singular, wholly original voice.  His first two solo efforts, Runt and Runt: The Ballad of Todd Rundgren, positioned him as a purveyor of sweet soul (he was from Philadelphia, after all) and piano-driven, Laura Nyro-influenced pop.  (Both albums were released by Edsel in 2011 on one stellar set which added a complete, alternate version of debut Runt.)    Something/Anything, on the other hand, was, and is, unlike any other album in the rock canon. The multi-hyphenate artist recorded three of the album's four sides himself, playing all instruments and singing all vocal parts. The fourth side was a mock autobiographical operetta, aided by a rock ensemble.  Rundgren, the producer as studio auteur, had arrived.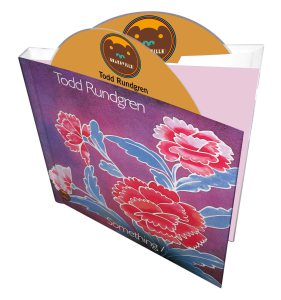 Something/Anything would have been an instant classic if only for its two enduring hit singles, the Carole King-inspired "I Saw the Light" and the ebullient remake of the Nazz track "Hello, It's Me," which replaced its dirge-like tempo with a new, more upbeat sound. But those popular tunes were just the tip of the iceberg. The impossibly lush ballad "It Wouldn't Have Made Any Difference" rests comfortably alongside the heavy metal anthem "Black Maria," while "Cold Morning Light," "Couldn't I Just Tell You" and "It Takes Two to Tango" show off the singer/songwriter's effortless mastery of the pop song form. Comic relief was also in abundance, with "I Went to the Mirror," "Piss Aaron" and theatrical, Gilbert and Sullivan-style "Song of the Viking." All of these styles would be revisited, and deconstructed, on Rundgren's subsequent releases – but never would they feel more effortlessly fresh, vital and remarkably inventive as on Something/Anything.  By 1975, it had earned Rundgren a gold record – and a legion of loyal fans.
As in 2011, Edsel's 2-CD reissue is bolstered by the inclusion of a demo of "It Wouldn't Have Made Any Difference" plus six radio spots for the original album.  (A resequenced Deluxe Edition was announced by Rhino Records in the U.S. in 1999, to have included Rundgren's hour-long promotional radio show from 1972, the radio spots and "Difference" demo, and a single version of "Wolfman Jack" with the Wolfman on vocals.  It was scuttled at the last minute due to legal issues with the radio show, and has unfortunately never resurfaced on CD.)
Rundgren's follow-up to the Top 30-placing Something/Anything was, naturally, eagerly anticipated.  Like clockwork, it arrived one year later. But nobody could have predicted the modestly-titled A Wizard, A True Star! Rundgren responded to his commercial breakthrough by rebuffing it.  Though it was a lengthy single-LP (56 minutes), it was more expansive than its predecessor.  Use of the psychedelic drug DMT had led Rundgren to attempt to bring to records the "musical chaos" he heard in his head, and the resulting album more than succeeded.  For the LP, he was joined by musicians including The Brecker Brothers, Mark "Moogy" Klingman, Ralph Schuckett, John Siegler, David Sanborn and Rick Derringer.
A Wizard was a psychedelic aural stew of electronica, metal, jazz, pop, soul and showtunes, and though many of those styles had been heard on Something/Anything, they were deployed in very different fashion here.  A Wizard was pure stream-of-consciousness from a mind moving in many different sonic directions, with the only interruption coming from having to turn the LP over.  It was a true album in every sense of the word, designed to be played in one sitting and with far less extractable material than Something/Anything.   Rundgren tipped his hat to some of his musical heroes while pushing his own art forward.  So "Never, Never Land" from the stage musical Peter Pan is joined by a soul medley of Thom Bell, Smokey Robinson and Curtis Mayfield oldies and a frenzied reworking of The Capitols' "Cool Jerk."  The ghost of Al Jolson is channeled on the irreverent "Just Another Onionhead," and coexists with the clattering, noisy hard rock of "You Need Your Head" and "Rock and Roll Pussy."  But if A Wizard is short on ballads – with "I Don't Want to Tie You Down" a notable exception - there are moments of ravishing pop beauty via the bona fide Rundgren classics "Just One Victory" and "Sometimes I Don't Know What to Feel." If the audience didn't know what to feel, either, Todd seemingly didn't care. In "Onionhead," he opined, "You want the obvious/You'll get the obvious" before launching into anything but.  No additional material has been added to Edsel's reissue.
After the jump: a look at Todd and more!
How to follow something as radical as A Wizard, A True Star?  1974's Todd took the avant garde approach even further, placing more emphasis than before on synthesizers and electronic effects, often as bridging material between the more traditional songs.  It's a slightly less free-form album than A Wizard, but in the same mind-altering vein with heavier guitars and synths, plus jazz and progressive rock-leaning instrumentals that augured for his work with Utopia.  Again, some songs were completely played by Rundgren, and on other tracks, he enlisted musicians including Klingman, Schuckett, Siegler, The Brecker Brothers, Kevin Ellman, and John Miller to bring his musical fantasia to life.  This time around, the result was a double-LP, although unlike Something/Anything, Edsel has opted to present Todd on one CD.
The shimmering return to pop form on "A Dream Goes On Forever" and the soulful "The Last Ride" are undoubtedly the high points of Todd, but humorous commentary "An Elpee's Worth of Toons," hard-rocking "Heavy Metal Kids" and another theatrical showstopper, Gilbert and Sullivan's "Lord Chancellor's Nightmare Song" from Iolanthe, are all oddball delights from an artist who refused to be pigeonholed in one genre. As on the 2011 Edsel disc which paired Todd with A Wizard, A True Star, the label has added previously released live performances of "Ooh Baby Baby" from 1971 and "A Dream Goes On Forever" and The Move/ELO's "Do Ya" from 1974 to this packed collection of inspired dementia.
The 2014 casebound editions, coordinated by Edsel's Val Jennings and featuring Peter Rynston's masterings, all boast excellent liner notes from Paul Myers adapted from his definitive Rundgren study A Wizard, A True Star: Todd Rundgren in the Studio.  Full lyrics are also present for each album, and all of the packages retain most of the original artwork elements as presented on the LPs including Bearsville labels.  As Edsel's 2011 remasters of these three titles are still readily available, one might ask: other than completists, for whom are these intended?  Those acquiring the Rundgren catalogue for the first time might rather turn to these standalone editions than the combined releases; so might the purists in Rundgren's audience.  If you already own the 2011 editions, the classy, attractive packaging is the main attraction.  As there's no additional audio material, it's simply a matter of taste and preference.
In any packaging, Something/Anything, A Wizard, A True Star and Todd make for a compelling entrée into the music of one of rock's true visionaries – an ever-changing artist whose only constant has been that he remains true to himself.  These handsome new editions honor Todd Rundgren's still-growing legacy well.
Todd Rundgren, Something / Anything…Plus (originally issued as Bearsville LP 2066, 1972 – reissued Bearsville/Edsel, 2014) (Amazon U.S. / Amazon U.K.)
CD 1
I Saw The Light
It Wouldn't Have Made Any Difference
Wolfman Jack
Cold Morning Light
It Takes Two To Tango (This Is For The Girls)
Sweeter Memories
Intro
Breathless
The Night The Carousel Burned Down
Saving Grace
Marlene
Song Of The Viking
I Went To The Mirror
CD 2
Black Maria
One More Day (No Word)
Couldn't I Just Tell You
Torch Song
Little Red Lights
Overture: My Roots: Money (That's What I Want) / Messin' With The Kid
Dust In the Wind
Piss Aaron
Hello It's Me
Some Folks Is Even Whiter Than Me
You Left Me Sore
Slut
It Wouldn't Have Made Any Difference [Demo, Bearsville Sound Studio B]
Something/Anything Promos, # 1 – 6
Tracks 13-14 are bonus tracks
Todd Rundgren, A Wizard, A True Star (originally issued as Bearsville LP 2133, 1973 – reissued Edsel, 2014) (Amazon U.S. / Amazon U.K.)
International Feel (In 8)
Never Never Land
Tic Tic Tic It Wears Off
You Need Your Head
Rock And Roll Pussy
Dogfight Giggle
You Don't Have To Camp Around
Flamingo
Zen Archer
Just Another Onionhead
Dada Dali
When The Shit Hits The Fan
Sunset Blvd
Le Feel Internacionale
Sometimes I Don't Know What To Feel
Does Anybody Love You?
Medley – I'm So Proud / Ooh Baby Baby / La La Means I Love You / Cool Jerk
Hungry For Love
I Don't Want To Tie You Down
Is It My Name?
Just One Victory
Todd Rundgren, Todd (originally issued as Bearsville LP 6952, 1974 – reissued Edsel, 2014) (Amazon U.S. / Amazon U.K.)
How About A Little Fanfare?
I Think You Know
The Spark Of Life
An Elpee's Worth Of Toons
A Dream Goes On Forever
Lord Chancellor's Nightmare Song
Drunken Blue Rooster
The Last Ride
Everybody's Going To Heaven /King Kong Reggae
No. 1 Lowest Common Denominator
Useless Begging
Sidewalk Café
Izzat Love?
Heavy Metal Kids
In And Out The Chakras We Go (formerly – Shaft Goes To Outer Space)
Don't You Ever Learn?
Sons Of 1984
Ooh Baby Baby [live broadcast on WMMR-FM,30th June 1971]
A Dream Goes On Forever [live in St. Louis, 9th November 1974]
Do Ya [live in St. Louis, 9th November 1974]
Tracks 18-20 are live bonus tracks from original radio broadcasts