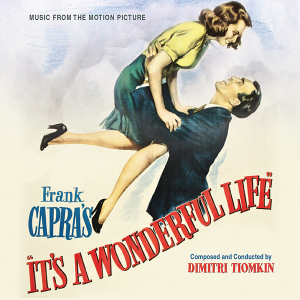 "You see, George, you've really had a wonderful life.  Don't you see what a mistake it would be to throw it away?"
Each year, director Frank Capra's 1946 film It's a Wonderful Life continues to lend a note of hope and inspiration to those discovering it for the first time.  The story of suicidal George Bailey (James Stewart) and the guardian angel (Henry Travers) who shows him what life would have been like had he never been born, It's a Wonderful Life has transcended its modest origins to become an all-time staple of American cinema.  Yet curiously, the music to Capra's beloved film, composed by the legendary Dimitri Tiomkin (High Noon, The Alamo), has never before appeared on an authentic soundtrack release.  The Kritzerland label has come to the rescue with a landmark release: the first-ever Original Soundtrack Recording for It's a Wonderful Life.
Though nominated for five Academy Awards and recipient of one special Oscar for technical achievement, Capra's film (based on a short story by Philip Van Doren Stern and featuring a screenplay by Capra, Frances Goodrich and Albert Hackett with contributions by Jo Swerling) was not a box office success upon its initial release.  It's said to have lost more than half a million dollars for its distributor, RKO, despite placing 26th in box office revenues for 1947 out of over 400 movies.  The reputation of It's a Wonderful Life was burnished in the era of television, when the movie became a staple of each holiday season.
When enlisted to provide the score for the picture, Russian-born composer Dimitri Tiomkin (1894-1979) was in the midst of an illustrious career that would net him four Academy Awards and 22 nominations.  Tiomkin's original score for the fantasy blended original themes with quotes of popular music, but underwent great alterations at the hands of the master director Capra.  He cut several cues, preferring those scenes to play without music, and rearranged the sequence of other cues.  Furthermore, Capra edited sections of cues, and even added cues from the scores of other films.  Though the end result was still memorable, it didn't represent the composer's original vision.  Kritzerland producer Bruce Kimmel describes the effect of hearing the newly-restored complete score as "a special treat...filled with Tiomkin's wonderful sense of film and character and drama."
After the jump, we have more details plus the full track listing and pre-order link!
This world premiere release, a limited edition of 1,200 units, has been derived from Dimitri Tiomkin's own acetates.  Some of these were in better condition than others; some included partial and aborted takes, others had complete takes.  The Kritzerland team (including restoration pro Chris Malone) was able to piece together fifty minutes of the original score; Kimmel states, "While a handful of cues are still a little problematic in terms of acetate noise, the majority of them have been cleaned up without sacrificing any musical or recording qualities and are quite stunning to hear."  Six bonus tracks with alternate and/or additional material have also been appended.  As the label points out, "Do not be fooled by any other CDs that purport to be the original soundtrack for this film - they are all bootlegs and contain dialogue, sound effects and music right off the film itself. This is the first release of the real deal."
It's a Wonderful Life will ship by the last week of July, but those ordering from Kritzerland can expect it to arrive even earlier.  Kritzerland has been averaging three to five weeks early in terms of shipping ahead of the official ship date.  You can pre-order below!
Dimitri Tiomkin, It's a Wonderful Life: Music from the Motion Picture (Kritzerland, 2014)
Main Title / Heaven
Ski Run
Death Telegram
Gower's Deliverance
George and Dad
Father's Death
Love Sequence
Wedding Cigars
George Lassoes Stork
Dilemma
Bank Crisis
Search for Money
Potter's Threat
Dankgebet / This Is the Army, Mr. Jones
Uncle Billy's Blunder
Clarence's Arrival
George Is Unborn
Haunted House
Pottersville Cemetery
Wrong Mary Hatch / The Prayer
A Wonderful Life (original finale)
Auld Lang Syne / End Title
It's a Wonderful Life (vocal) (Bonus Track)
Wedding March / Big Band (Bonus Track)
Father's Death (alternate) (Bonus Track)
Haunted House (alternate take) (Bonus Track)
Pottersville Cemetery (without chorus) (Bonus Track)
Auld Lang Syne (extended take) (Bonus Track)
All tracks previously unreleased.