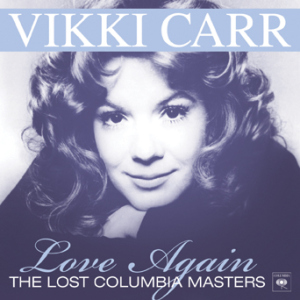 I recently had the great pleasure of providing the liner notes for Real Gone Music's first-ever CD reissue of Vikki Carr's Columbia Records album The First Time Ever (I Saw Your Face).  That title arrived in stores last week joined by a collection of previously unreleased material from the great vocalist.  Love Again: The Lost Columbia Masters is a major find for fans of Carr and in large part presents her voice in a new, contemporary country setting.-  JM
Have forty years really passed since the release of One Hell of a Woman, Vikki Carr's final all-English-language studio album to date?  Since 1974, Carr – always one hell of a singer – has largely concentrated on her commercially and artistically successful Spanish-language recordings.  Her most recent such effort, 2012's Viva La Vida, was yet another chart success for a legendary singer who has been charting hits since 1962.  So it's a pure pleasure in 2014 to finally hear a "new" English studio album from Vikki Carr.  Love Again: The Lost Columbia Masters has arrived from Real Gone Music, rescuing seventeen prime cuts from the label's vault.
At the heart of Love Again is a country-flavored LP recorded by Carr in Nashville in 1975.  It would have followed Hoy, the Spanish LP that proved to be her last original album released by Columbia.  Unlike Carr's earliest Columbia albums which found her covering popular songs of the day, the untitled Nashville project featured several lesser-known tracks which Carr could truly make her own – in addition to a couple of classics.  These ten songs about love and loss, lovers and liars, cheaters and ne'er-do-wells feature mature, sultry vocals from Carr.  Her instrument is a versatile one, capable of brassy belting or smooth, creamy vocalizing, with a touch of authentic grit at the ready.  The countrypolitan pop feel suited Carr well on these sessions produced by the Nashville-based Columbia executive Ron Bledsoe, and country music itself afforded her a chance to employ her considerable interpretive gifts.  The album also reunited Carr with Bledsoe with whom she had collaborated at Liberty Records on projects including her earlier foray into country pop, Nashville by Carr.  Though it remained unreleased, the resulting album is a compelling collection featuring many stark, burnished vocals from the artist.
Hit the jump for a closer look at Love Again!
A stately, almost baroque feel meets country in the arrangement of "Lyin' in My Arms," with Carr seemingly savoring the double meaning of the title verb: "You've been lyin' in my arms/And morning always brings the naked truth/How I wish fairy tales were true..."  Duplicitous lovers are, of course, part and parcel of the traditional country song, and on Marie Cain's "The Prettiest Face," Carr confronts the "kind of guy who would take my heart and make it bleed."  Gloria Gaynor would also record the song for her Experience LP.  "I Got It Right This Time" by the team of Steve Pippin and Larry Keith was a recent hit for B.J. Thomas, and Carr offered a winsome female take.
Far more dramatic is "Will We Ever Make Love in Love Again" ("...or have we reached the beginning of the end?") which the singer tackled with a poignant tear in her voice, speak-singing the lyrics.  Barbara Mandrell would record the song in 1976, shedding its ballad tempo in favor of an uptempo approach.  Another heartbreaker rendered with crystalline intention and a sheer vulnerability by the singer is "It's Me and You" ("It's not the love that fails...it's me and you").  Chuck Howard's "A Thing Called Sadness" had scored for Ray Price on Columbia more than a decade earlier; alas, Bledsoe didn't tailor it anew for Carr, saddling the twangy, retro throwback with tinkling piano and choir.  "Ain't It Worth the Price You Pay," too, channels the vintage Nashville Sound.
Bledsoe and engineer Ron Reynolds oversaw a contemporary sound for "I Didn't Get to Stay."  Another entry in the "It's better to have loved..." department, it boasts a riff that's a bit reminiscent of Bread's "The Guitar Man."  A sweeter pop-country fusion was "Who in the World," with an easygoing lope worthy of Burt Bacharach and a charmingly light vocal from Carr.  But her most stunning moment here comes on the Nashville album's most familiar cover – Willie Nelson's "Night Life."  There's beauty in the simplicity of the recording with just Carr's smoky voice joined by a lonesome steel guitar.   It's atmospheric and understated, and makes an essential addition to any Carr collection.
Love Again is rounded out by a selection of the artist's other unreleased Columbia masters.  From the Dick Glasser sessions that yielded Columbia debut Vikki Carr's Love Story, Real Gone has unearthed four tracks.  Galloping rhythm, blasts of brass, crashing strings and ubiquitous background singers create an unusual uptempo version of Bob Gaudio and Bob Crewe's majestic "The Sun Ain't Gonna Shine Anymore," previously associated with both Frankie Valli and The Walker Brothers.  Arguably even more offbeat is the modern take on the Arthur Davis/Sylvia Dee hit for Skeeter Davis, "The End of the World" which lacks the vulnerability and melancholy of the original.  "If Only You Will Wait For Me," however, shows off Carr at full power, delivering a theatrical showstopper in her boldest voice.  Like "Night Life" from the Nashville sessions, it's a mystery how this track remained on the shelf for so long.  "Loving in My Soul" surprisingly finds the singer in a pleasant country bag nearly five years before the Nashville sessions.
A couple more cuts have surfaced from the sessions helmed by Steve Binder, who produced "The Hands of Time (Brian's Song)" for The First Time Ever I Saw Your Face, an album otherwise produced by Snuff Garrett.  If only Vikki's cover of Neil Young's "I Believe in You" had made the cut for The First Time, which was dominated by familiar material that had already hit big for other artists.  Young's song is a far from obvious choice for the Carr treatment, but it's a superbly comfortable match for the vocalist.  She found the innate pop tunesmith in Young, de-emphasizing any bitterness and caressing the lyrics in an irony-free manner.  Binder also brought Carr a song by Wrecking Crew guitarist Mike Deasy.  "Spending All My Now Lovin' You" is a sweet, straightforward slice of MOR in Vikki's inimitable style, enhanced by strings in Binder's recording.
One Spanish-language track also makes its first appearance here.  "Che Sera" was produced by Jack Gold, a Columbia veteran who would team with Carr throughout the 1970s and into the next decade on both English and Spanish material.  The song was arranged by Bob Florence, well-known for his work with the label's artists including Andy Williams.  It's a worthy outtake from Carr's first Spanish album for Columbia, En Español.
This exciting package, mixed and mastered by Ted Carfrae, also features new, detailed liner notes from David St. Mark.  The rare and varied treats on Love Again: The Lost Columbia Masters might well have been called Another Side of Vikki Carr.  Unexpected and frequently delightful, they shed light on an all-too-often overlooked period of the singer's career.  Nashville by Carr – Part Deux – is a rather enjoyable way to travel!
You can order Love Again: The Lost Columbia Masters at Amazon U.S. and Amazon U.K. !