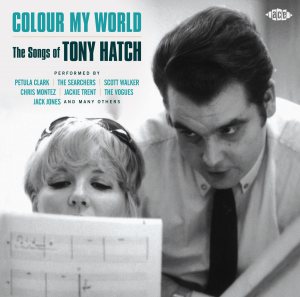 Ace Records' latest addition to its Songwriters Series, Colour My World: The Songs of Tony Hatch, should come with a warning label – CAUTION: THESE SONGS WILL MAKE YOU HAPPY.   A composer, lyricist, producer, arranger and A&R man (whew!), Hatch was a hitmaker par excellence, and one of no small skill for imparting joy through his music. Petula Clark's bright 1964 single "Downtown" alone would likely have assured Hatch a place in the Book of Pop, Swingin' Sixties chapter. But listening to a whopping 25 of his best pop confections back-to-back, it's apparent how this versatile craftsman deserves a place at the top of the pantheon. It's also clear just how central the beat is to his work. A Tony Hatch song pulsates with energy, vibrancy, urgency and above all else, abundant heart. That throbbing thump is often surrounded by punchy brass or majestic strings, and always in service of a catchy melody that's determined to lodge itself in your brain and never leave. Drawing on the period between 1960 and 1974, when Hatch was at his most active, Colour My World is a stunning and effervescent compendium from a songwriter who hasn't always gotten his full due.
Two women figure prominently in the Tony Hatch story and on Colour My World: Petula Clark and Jackie Trent. Hatch, a key producer and A&R man at the U.K.'s Pye label, recorded enough songs with Clark between 1963 and 1970 to fill a 3-CD box set. About half of those songs featured lyrics by Jackie Trent. A prolific composer-lyricist, Hatch forged a partnership in early 1965 with Pye artist Trent, who would become his wife. In short order, "Hatch/Trent" would become as familiar a credit as "Tony Hatch" and the couple would record a number of successful albums together. Colour My World gives Hatch's work with both ladies ample time.
Petula Clark was already a star when she began working with Tony Hatch, but 1964's "Downtown" – written, produced and arranged by Tony - returned her to the U.K. Top 20 (only her first single since 1961 to do so) and earned her not just her first American hit, but a bona fide Number One. It's one of four Clark/Hatch collaborations here. In two minutes and seventeen seconds, the song has it all: one of the best piano introductions ever, a compelling, inviting vocal, a killer hook, and a universal lyric with which anybody could, and did, identify. "Downtown" hits its ebullient stride with a powerful instrumental break just under the two-minute mark, but its liberating call had already proved irresistible. Though Hatch had scored hits prior to "Downtown," the time was right for his breakthrough. The Tony Hatch sound was youthful, vibrant and hip enough for the kids, but smart and "safe" enough for the adults.
"Downtown" is joined by three tunes from 1966: Hatch and Trent's "Colour My World," with its sitar ornamentation; their more reflective "Who Am I;" and Tony's solo composition "A Sign of the Times." The latter was even bigger and bolder than "Downtown," a euphoric anticipation of a stronger romance and a clarion call to the dancefloor.   It seemed as if there was nothing Hatch could write that Clark couldn't sing with passion, conviction and a sweetly winsome effortlessness. (As a special treat, a few moments of session chatter are heard before "A Sign of the Times.") Another big hit for Clark, the "Downtown" follow-up and de facto sequel "I Know a Place," is heard in a 1966 rendition by Sarah Vaughan. It's not the most natural fit for the jazz chanteuse known as Sassy, whose mannered vocals occasionally seem to be fighting the rhythm. But it's a fun, offbeat choice here in true Ace style; Sammy Davis, Jr.'s hard-swinging cover with Buddy Rich would have been an equally wonderful inclusion.
Nine songs on this collection feature lyrics from Jackie Trent; two of her own recordings have made the cut. One of them might be the most sublime cut on Colour My World, the 1965 ballad "Where Are You Now." It's the kind of song that might well have led some to call Hatch "the British Bacharach." A 1965 U.K. chart-topper, "Where Are You Now" transcended its origins on the TV series It's Dark Outside. Trent beautifully sings her evocative lyric of love lost over one of Hatch's most mature and sweepingly dramatic melodies. Jackie is more boisterous on 1968's "7:10 from Suburbia," in which she and Tony manage to make a suburban commuter train sound exciting: "The 7:10 from suburbia/People crushing to get on/The 7:10 from suburbia/Don't be late, you'll find it gone!"   The lyrics also take a more incisive turn, however, with Trent desperately hoping to be noticed in the bustle; this style of mini-drama would augur for the husband and wife team's stage musicals The Card and Rock Nativity.
In his wonderful track-by-track liner note recollections, Hatch accurately describes Julie Grant's "Lonely Without You" as "shades of Bacharach and David." But unlike many of the other pastiches of the Bacharach/David style, Hatch didn't channel their sound merely by, say, grafting flugelhorns onto a track. "Lonely" is low-key, classy, and heartfelt. This elegant gem doesn't feel derivative, but rather like the work of one master paying homage to another.
Hatch's stylistic versatility is also evident via the collection's more rock-oriented tracks. He wrote and produced a British Invasion staple via The Searchers' "Sugar and Spice," which is of course included here. Later, he tried to launch a career at Pye for the Birmingham band The Montanas, but only to moderate success. With its atypically grungy electric guitar and psychedelic effects, the group's brassy "A Step in the Right Direction" showcases Hatch and Trent at their most rocking, but the easygoing "You've Got to Be Loved"(a minor U.S. hit in 1967) is the group's quintessential tune. American band The Remains took Hatch out of the supper clubs and into the garage with their aggressive 1966 recording of "Heart," co-written by Hatch and Petula Clark. If the stripped-down arrangement was likely not what Hatch envisioned, there's no doubt that it worked well, much like Love's reinvention of Bacharach and David's "My Little Red Book." Hatch and Clark's most successful joint composition, "You're the One," is featured here in its U.S. Top 5 version by The Vogues.
One of Hatch's most adaptable songs is "Call Me." Petula Clark, naturally, released the first, perkiest version, although Keely Smith actually recorded it earlier. Of the many released versions – including Frank Sinatra's eternally cool rendition seductively arranged by Nelson Riddle – Ace has opted for the hand-clapping West Coast treatment from A&M Records' Chris Montez as produced and arranged by Herb Alpert. Montez's charming recording made the American Top 25 in 1965.
For years Hatch was a go-to composer in the U.K. for television themes, and he also recorded a number of albums in the so-called "easy listening" vein. Three instrumental tracks showcase these facets of his career. "Man Alive," from 1965, opened the BBC's current-affairs program of the same name, and Hatch's sly and slinky musical introduction certainly allowed for a lot of intrigue to follow! "Sportsnight" hit the airwaves in 1968; Colour My World includes Hatch's 1974 recording of his groovy newsroom-style theme. "Sounds of the 70s" was the title track of the 1970 album by "Tony Hatch and the Satin Brass." Despite its title, it's rooted in the sixties, with James Bond-esque flair. Matt Monro, the smooth-voiced vocalist who performed the very first Bond theme with "From Russia with Love," represented Britain in the 1964 Eurovision Song Contest with Hatch's lightly swinging "I Love the Little Things."
No Ace compilation would be complete without its share of rarities. Jack Jones' RCA recording of Hatch and Trent's big ballad "If You Ever Leave Me" makes its CD debut. (One singer influenced early in his career by Jones was Scott Walker. Considering his ravishing, resonant performance of "Joanna," one can't help but feel regretful that he's largely turned his back on such traditionally melodic fare.) Another treat is the infrequently-anthologized "Love Found a Way to My Heart" from the London quartet The Sands of Time. The Sands emulated the vocal blend of The Beach Boys; Hatch and Trent provided them with this winning West Coast-Meets-London pop nugget.
Colour My World features a lavishly-illustrated 32-page booklet. It boasts a lengthy and detailed essay by the set's compiler, Mick Patrick, as well as track-by-track annotations. Both benefit greatly from the participation of Tony Hatch, who has been all too quiet as a music-maker since the 1980s. Despite the wealth of riches here, there's still plentiful material for a Volume Two including tracks by the diverse likes of Buddy Greco, Jim Dale, Julie Budd, Keely Smith, Sweet Sensation and countless others on both sides of the Atlantic. (Not to mention Hatch's stage musicals – The Card has such pleasures as "Opposite Your Smile" and "Movin' On," and Rock Nativity offers the sweetly hopeful "Make a New Tomorrow.")  Colour My World is the first volume of Ace's Songwriter Series to focus on a U.K. tunesmith; it's difficult to think of a better inaugural choice to help you forget all your troubles, forget all your cares, and lose yourself in an hour-plus of pure pop.
Don't miss Joe's review of Cherry Red/él's Look for a Star: 1959-1962 collecting Tony Hatch's earliest songs!  And you can find order links for Colour My World just below!
Various Artists, Colour My World: The Songs of Tony Hatch (Ace CDCHD 1399, 2014) (Amazon U.S. / Amazon U.K.)
Colour My World – Petula Clark (Pye single 17218, 1966) (*)
A Step in the Right Direction – The Montanas (Pye single 7N 17499, 1968)
You're the One – The Vogues (Blue Star single 229, 1965)
Call Me – Chris Montez (A&M single 780, 1965) (*)
That's How It Goes – The Breakaways (Pye single 7N 15618, 1964)
A Sign of the Times – Petula Clark (Pye single 7N 17071, 1966) (*)
Sounds of the 70s – Tony Hatch and the Satin Brass (Pye LP NSPL 18335, 1970) (*)
I Know a Place – Sarah Vaughan (Mercury LP SR 61069, 1966) (*)
Heart – The Remains (Epic LP BN 26214, 1966) (*)
You've Got to Be Loved – The Montanas (Pye single 7N 17394, 1967)
Love is Me, Love is You – Connie Francis (MGM single 1282, 1965)
Who Am I – Petula Clark (Pye single 7N 17187, 1966) (*)
Love Found a Way to My Heart – The Sands of Time (Pye 7N 17341, 1967)
Where Are You Now – Jackie Trent (Pye single 7N 15776, 1965)
If You Ever Leave Me – Jack Jones (RCA single 9441, 1968)
Joanna – Scott Walker (Philips single BF 1662, 1968) (*)
Lonely Without You – Julie Grant (Pye single 7N 15884, 1965) (*)
Downtown – Petula Clark (Pye single 7N 15722, 1964) (*)
7:10 From Suburbia – Jackie Trent (Pye single 7N 17623, 1968)
Man Alive – The Tony Hatch Sound (Pye single 7N 17972, 1965)
I Love the Little Things – Matt Monro (Parlophone single R 5103, 1964) (*)
Look for a Star – Garry Mills (Top Rank single JAR 336, 1960)
Forget Him – Bobby Rydell (Cameo Parkway single C 108, 1963)
Sugar and Spice – The Searchers (Pye single 7N 15566, 1963)
Sportsnight – The Tony Hatch Orchestra (Pye single 7N 45326, 1974) (*)
All tracks mono except (*) denotes those in stereo