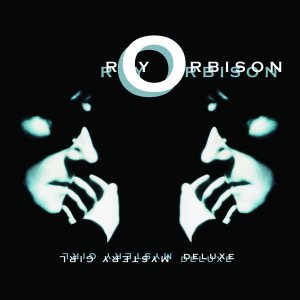 Roy Orbison never intended Mystery Girl to be an epitaph.  Yet The Big O never had the chance to enjoy the overwhelming success of the 1989 album, as he passed away almost two months to the day prior to its release.  Still, as far as epitaphs go, Mystery Girl was – and is – a stunner, a parting gift from one of the most distinctive and resonant voices in rock and roll.  Roy's Boys, the company formed by Orbison's sons, and Legacy Recordings have teamed for a 25th anniversary reissue of Orbison's grand farewell, and the CD/DVD set adds a wealth of never-before-heard or seen material to what was already a rich experience.
Mystery Girl featured Orbison with a little help from his friends – and what friends they were, including fellow Traveling Wilburys Jeff Lynne, Tom Petty and George Harrison, plus Bono, The Edge, T-Bone Burnett, The Heartbreakers, and Elvis Costello.  There's such vibrancy to the original album's ten tracks that it's almost impossible to believe that Orbison didn't live love enough to see their release.   The centerpiece, of course, is its opening track and biggest hit, "You Got It."  Orbison threw his heart and soul into the sublimely, deceptively simple Wilbury-style composition with a hook to die for and plenty of room for his trademark full-throated vocal attack.  It's a remarkable piece of pure pop songcraft from producer Jeff Lynne, and songwriters Lynne, Tom Petty and Orbison.  "You Got It" is one of three tracks benefiting from former ELO frontman Lynne's production.  While it sounds very much of a specific time, it doesn't sound at all "dated" as many other LPs of the era, relying on synthesizers and electronic textures, now do.
"California Blue" likewise emanated from the Lynne/Petty/Orbison team.  Though it has an easygoing shuffle reminiscent of "You Got It," it also calls to mind Orbison's other famous "blue" song, "Blue Bayou."  Here, Orbison is "doing all I can to get back to you," but the despair of being away from his loved one is also tempered with a faint ray of hope and Orbison's steely determination ("One sunny day I'll get back again/Somehow, someway/But I don't know when...")  ELO collaborator Louis Clark's strings add to the rather beautiful anguish.  Often it seemed as if Orbison drew on all of the tragedies he had survived, pouring his grief into his music.  But there was also a sense of hope and liberation in the survivor's powerful voice.  Lynne also produced "A Love So Beautiful" which he co-wrote with Roy.  The singer brought his emotional vibrato to the dramatic, rueful ballad, which was embellished with acoustic guitar from George Harrison.
T Bone Burnett was at the helm of "All I Can Do is Dream You," Billy Burnette and David Malloy's taut little rocker with a virile lead vocal.  T Bone joined with his fellow Coward Brother, Elvis Costello, to produce Costello's majestic "The Comedians," a wonderfully withering, wordy ballad with a martial beat provided by Keltner.  It's one of the richest tracks on the album thanks to Costello's pitch-perfect evocation of the classic Orbison style with his own signatures lyrical flourishes.  Like Costello, Bono seized the opportunity to write a "Roy Orbison song."  The album's title derives from the dark "She's a Mystery to Me," penned by Bono and The Edge, produced by Bono, and featuring Benmont Tench and Howie Epstein of The Heartbreakers with studio veteran drummer Jim Keltner.
The ballad "In the Real World," from the Richard Kerr/Will Jennings team ("Looks Like We Made It," "I'll Never Love This Way Again") and co-producer Mike Campbell of The Heartbreakers, returns to the theme of dreams that play such a key role in Orbison's early career.  Orbison's tender, fragile vocal rests in the upward reaches of his range.  Campbell is the most represented producer on the set, working with Roy on four tracks.   (Barbara Orbison joined them to produce "In the Real World.")  "Windsurfer" from the classic "Oh, Pretty Woman" team of Orbison and Bill Dees is a breezy tune with a mordant twist; the production is in the sonic spirit of the Lynne-produced tracks, and Jeff even joins in on background vocals with Rick Vito supplying Harrison-esque slide guitar lines. There was likely more than a flash of paternal pride when Orbison recorded "The Only One," co-written by his son Wesley.  The biting track is bolstered by presence of the Memphis Horns arranged by Stax great Steve Cropper. Orbison and Campbell teamed with more surprising compatriots, the hitmaking team of Diane Warren and Albert Hammond, for the pop ballad "Careless Heart" which closed the original Mystery Girl sequence.  It's not in the overt power ballad mode one might have expected from Warren and Hammond, and the Heartbreakers keep the sound organic.
After the jump: what will you find on the deluxe CD/DVD edition?
Mystery Girl has been expanded with a delicious grab-bag of work-in-progress rarities from the album sessions.  These nine tracks (a smattering of which are included on the single-CD release) essentially add up to an alternate album.  The highlights are many but the centerpiece is the "new" song, "The Way is Love."  Orbison's vocal track – retrieved from a 1986 boom box recording - isn't in perfect shape, but then again, isn't it a rare treat to hear a new performance from Roy Orbison?  His sons, along with co-producer and guitarist John Carter Cash, have built a subtle new track around Roy's vocal.  The ballad isn't really of a piece with Mystery Girl, but however modest, its inclusion is ultimately a moving tribute.
"The Way is Love" begins the bonus section here; it's concluded with another never-before-heard Orbisong, "You Are My Love."  Co-written and sung here with Bill Dees, the song was never recorded in finished form.  It has a tender, lilting and hymn-like quality that's altogether touching.  Orbison and Dees also are duet partners on the demo of "Windsurfer," with its original, even more haunting lyrics.
There's a primitive, fly-on-the-wall quality to the work tape of "She's a Mystery to Me," with just Roy, its composer Bono and drummer Jim Keltner.  Today, the recording could very nearly pass as a finished product in the lo-fi style!  Similarly, the in-studio demo of "All I Can Do is Dream You" is tougher and less slick, emphasizing Rick Vito's guitar, than the finished version.  Orbison tears into the vocal with raw abandon.  The early demo of "In the Real World" has an alternate, equally impassioned vocal and utilizes prominent synthesized strings.  The version of "California Blue" heard here isolates Orbison's resonant voice and acoustic guitar for a stripped-down approach, and also features a different, "bigger" vocal ending than that of the final recording.  This "unplugged" treatment suits the song well.  (The standard edition has just four of the nine previously unissued tracks.)
Arguably even more integral to the deluxe package, however, is the Mystery Girl: Unraveled film which is included on DVD. Directed by Alex Orbison and written by Alex and Roy, Jr., the hour-long documentary takes a simple but effective approach, chronicling the making of the album song by song.  Nearly all of the album's key participants are represented in interviews, including Jeff Lynne, Tom Petty, Mike Campbell, Jim Keltner, Bono, Steve Cropper, Billy Burnette, the late Barbara Orbison and many others.  Roy Orbison is of course the star, featuring prominently in clips (some from the starry Black and White Night concert) and invaluable home movie-style footage of the numerous recording sessions – many of them held in Mike Campbell's garage with animals audibly squawking outside!
Tom Petty and Jeff Lynne recall the writing and recording process for "You Got It," and the segment features the song being assembled part by part.  It's fascinating to watch Orbison recording his amazing vocal while enjoying a cigarette (!) or the acoustic guitar parts being laid down.  What comes through most is how Orbison was both a figure of inspiration to the participants – Lynne calls him "my favorite singer in the world" – and just one of the guys.  The rapport and camaraderie between Orbison, Petty, Lynne and Harrison is evident whenever they're seen in this fly-on-the-wall footage.  There's even a chapter dedicated to Petty's album Full Moon Fever, on which Orbison supplied background vocals.  Petty quips, "It seemed like a terrible waste" having Roy Orbison just singing backup!
Orbison's sons Alex, Roy Jr. and Wesley add emotional heft to the film, as does Barbara Orbison, who passed away in 2011.    Bono tells a great, and by his own admission, unbelievable story about writing for Roy, and Billy Burnette is effusive describing writing "Dream You" for his hero.  As for Roy himself, his warmth, sense of humor and gentle personality are emphasized in the interviewees' warm remembrances.    Seven music videos round out the generous DVD: 2014 videos of "You Got It" and "California Blue" plus two videos for "She's Still a Mystery" and the vintage "You Got It," "California Blue" and "A Love So Beautiful."
The slipcased CD/DVD edition of Mystery Girl also includes a squarebound booklet containing full lyrics and a lengthy essay recounting the album's history.  Steve Marcussen has mastered the album proper, while Richard Dodd has handled the additional audio material.  With aural and visual treats plus a strong physical presentation (designed in the style of the original album), the 25th anniversary edition of Mystery Girl is a fitting tribute to an artist whose gifts were no mystery at all – with every note in his booming range, Roy Orbison imparted honesty as he sang from the heart.
Mystery Girl can be ordered at the links below:
CD/DVD Deluxe Edition: Amazon U.S. / Amazon U.K.
1-CD Expanded Edition: Amazon U.S. / Amazon U.K.
2-LP Deluxe Edition: Amazon U.S.  / Amazon U.K.