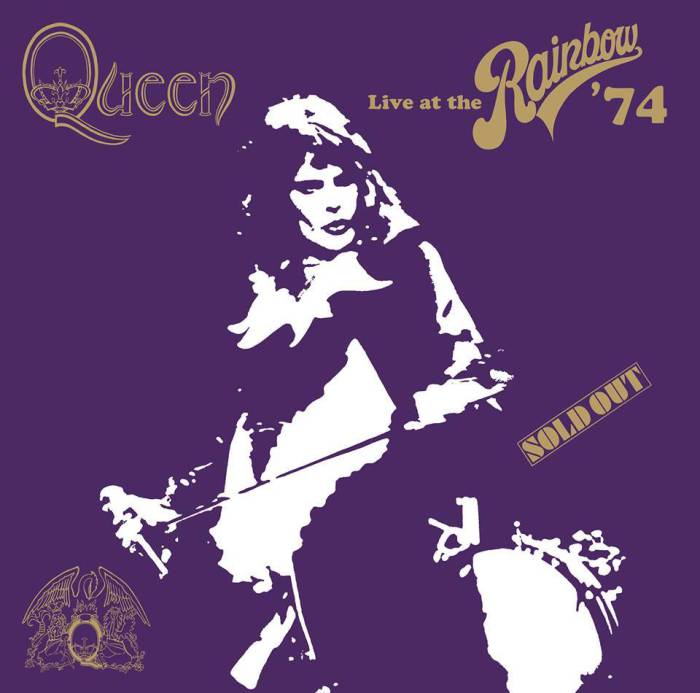 After a 40-year wait, a pair of pivotal early shows by Queen will see official release, it was announced yesterday.
1974 saw the British quartet release their second album, Queen II, earn their first U.K. Top 10 single ("Seven Seas of Rhye") and embark on their first headlining tour. While some critics found a headlining slot at The Rainbow a daunting challenge for such a new band, Freddie Mercury, Brian May, John Deacon and Roger Taylor sold even the most skeptical observer at their March date in the fabled venue. Queen would quickly record and release their third album, Sheer Heart Attack, that same year, and reappeared at The Rainbow in November, the same month the album was released.
Hardcore fans, of course, might know that the March 1974 show was recorded by producer Roy Thomas Baker with an intention to release a live album later that year. That never materialized, though the November show was filmed and released in part on VHS in the Box of Tricks set issued in 1992. Now, however, audio of both shows, as well as video from both sets, will be available on Live At The Rainbow '74. Together, they mark some of the earliest live Queen performances officially heard, with several tracks making their first appearances on a live release, making it quite the boon for collectors.
And the band, along with their distributing labels (Virgin in the U.K. and Hollywood in the U.S.) is going all-out in releasing this set. A single-disc edition features the November show in full, while the two-disc version features both the March and November shows. The November show (and four tracks from the March show) will be featured on DVD and Blu-ray Disc editions, to be released through Eagle Rock Entertainment. (A U.S. exclusive will pair the November show on CD with the Blu-ray.) Two vinyl packages will be available: a double-vinyl set that features "album presentations" from both shows and a quadruple-vinyl set with both shows in full. Finally, a super-deluxe box includes all the CD, DVD and Blu-ray content plus the following extra swag:
A 60-page hardback book featuring previously unseen photographs, and reproductions of vintage reviews and articles
Two replica tickets from the March concert (the seats, in fact, were that of Brian May's parents)
A reproduction of the tour itinerary folder for the March concert from promoter Mel Bush
A replica of the eight-page tour program
Two replica souvenir button badges
A tour poster
Reproduced photos from a shoot for The Telegraph
A replica sticker backstage pass for the March concert
The Live At The Rainbow '74 packages are available September 8 and 9, respectively. Amazon U.K. links are live, with additional information expected to follow. Hit the jump for a full track list!
Queen, Live At The Rainbow '74 (Hollywood (U.S.)/Virgin (U.K.), 2014)
1CD: Amazon U.K. / Amazon U.S. (TBD)
2CD: Amazon U.K. / Amazon U.S. (TBD)
DVD: Amazon U.K. / Amazon U.S. (TBD)
Blu-ray: Amazon U.K. / Amazon U.S. (TBD)
CD/Blu-ray: Amazon U.S. (TBD)
2LP: Amazon U.K. / Amazon U.S. (TBD)
4LP: Amazon U.K. / Amazon U.S. (TBD)
2CD/DVD/Blu-ray: Amazon U.K. / Amazon U.S. (TBD)
Disc 1: Live At The Rainbow Theatre - 3/31/1974
Procession *
Father to Son *
Ogre Battle *
Son and Daughter * **
Guitar Solo * **
Son and Daughter (Reprise) * **
White Queen (As It Began)
Great King Rat
The Fairy Feller's Master-Stroke
Keep Yourself Alive *
Drum Solo *
Keep Yourself Alive (Reprise) *
Seven Seas of Rhye *
Modern Times Rock 'n' Roll * **
Jailhouse Rock/Stupid Cupid/Be Bop a Lula (Medley)
Liar *
See What a Fool I've Been
Disc 2: Live At The Rainbow Theatre - 11/20/1974 (Disc 1 of standard edition)
Procession *
Now I'm Here *
Ogre Battle
Father to Son
White Queen (As It Began) *
Flick of the Wrist *
In the Lap of the Gods *
Killer Queen *
The March of The Black Queen *
Bring Back That Leroy Brown *
Son and Daughter
Guitar Solo
Son and Daughter (Reprise)
Keep Yourself Alive
Drum Solo
Keep Yourself Alive (Reprise)
Seven Seas of Rhye
Stone Cold Crazy *
Liar
In the Lap of the Gods…Revisited *
Big Spender
Modern Times Rock 'n' Roll
Jailhouse Rock
God Save The Queen
* denotes included track on 2LP edition
** denotes bonus highlight on DVD/BD