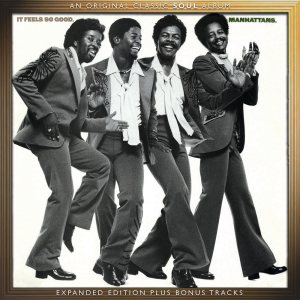 The Manhattans took their name from a New York borough, had their roots in New Jersey, and found their greatest success with The Sound of Philadelphia, Pennsylvania. But thanks to the enduring success of songs like "Kiss and Say Goodbye" and "Shining Star," the vocal quartet belonged not just to the Tri-State Area of the United States, but to the world. 1977's It Feels So Good, from The Manhattans' classic tenure on Columbia Records with Philly soul producer Bobby Martin, has finally arrived on CD in an expanded edition thanks to Cherry Red's SoulMusic Records imprint.
It Feels So Good immediately followed Manhattans, which wasn't the group's Columbia debut but rather The Manhattans' third album for the label. Edward "Sonny" Bivins, Winfred "Blue" Lovett, Kenneth "Wally" Kelly, George "Smitty" Smith and Richard "Richie" Taylor began singing together on the streets of Jersey City, New Jersey in the days of doo-wop. In 1963, Lovett, Bivins and Smith recorded a single as The Dulcets for the Sue label, but their trio days were short-lived. Soon, all five men reconvened, and they were signed – as The Manhattans – by saxophonist and entrepreneur Joe Evans to his Carnival label. At Carnival, The Manhattans reached a high of No. 12 R&B (Pop No. 68) with 1965's "I Wanna Be (Your Everything)," and went on to score numerous Top 30 R&B hits there.
From Carnival, the group migrated to King Records' DeLuxe imprint, and between 1970 and 1973, The Manhattans scored further chart successes such as "If My Heart Could Speak" (R&B No. 30, 1970) and "One Life to Live" (R&B No. 3, 1972). Tragedy struck in late 1970, however, with the death of Smith from a subdural hematoma. Gerald Alston, less than 20 years old and the nephew of The Shirelles' Shirley Alston Reeves, stepped in to replace him. Alston had befriended Smith when his group The New Imperials opened for The Manhattans, and the elder man actually gave the young singer his blessing to join The Manhattans. Alston's soaring lead vocal on "One Life to Live," in part, helped earn the group a spot on the Columbia Records roster. But just as The Manhattans were taking off on a national level at Columbia, Richard Taylor left the group. The four-person line-up made its debut with It Feels So Good, released on the heels of The Manhattans and its massive hit single "Kiss and Say Goodbye" (No. 1 Pop/No. 1 R&B, 1976).
The quartet had the good fortune of continuing its association with Philadelphia-based producer Bobby Martin, who had co-produced and arranged the group's first three Columbia long-players (and would continue through 1978's There's No Good in Goodbye, his fifth album with The Manhattans). Martin was a key arranger at Gamble and Huff's Philadelphia International label, and brought the group to Sigma Sound Studios, incubator for all of that label's hits. The services of MFSB – the studio's "house band" – were also enlisted. Norman Harris, Bobby Eli, Roland Chambers, Lenny Pakula, Vince Montana, Ronnie Baker, Jack Faith, Don Renaldo, Earl Young and Larry Washington all, at one time or another, played on The Manhattans' Philly-made records.
There's more after the jump including the complete track listing and order links!
Though It Feels So Good failed to build on the success of its gold-certified predecessor and its chart-topping single, it's a top-notch Philly soul record in every respect, thanks to the impeccably smooth vocals and lush, majestic and string-laden production – not to mention the smooth and distinctive, swoon-inducing harmonies. "Blue" Lovett, whose deep-voiced raps were an integral part of the album, wrote five songs including "I Kinda Miss You" which served as a de facto sequel to the smoldering "Kiss and Say Goodbye." (That chart-topper was also referred to in the opening rap of Sonny Bivins' "Let's Start It All Over Again.") The passionate "I Kinda Miss You" made the R&B Top 10 but peaked at a disappointing No. 46 on the Pop chart.  In addition to "Let's Start It All Over Again," Bivens also contributed the rueful "It Just Can't Stay This Way" and co-wrote "We Never Danced to a Love Song" with Alston. The latter is notable for its disco introduction which threatens to introduce a new sound to The Manhattans' playbook before it abruptly cedes to the familiar sound of soulful romance. The lyrics observe, "Disco music is fine sometimes, yes it is/I wanna dance to a love song…" The Manhattans were rewarded with another R&B Top 10 single.
It Feels So Good does have its share of uptempo material, however, such as Lovett's "I'll See You Tomorrow," a quintessentially soaring Philly groove with lightly Latin percussion. "Wally" Kelly's "Up on the Street (Where I Live)" is a rhythmic mid-tempo track with one of Martin's strongest arrangements, allowing for dramatic strings, crisp guitar lines and brief snatches of dark brass to bring to life Kelly's urban story. "Blue" also wrote "Mind Your Business," a doo-wop-meets-funk track that's the most startling track on the album, and "It's You," a sweet ballad that crosses "The Love I Lost" with "Oh, Girl." The nominal title song, "It Feels So Good to Be Loved So Bad" – one of the album's three Top 10 R&B 45s – was arranged not by Martin but by the great Teddy Randazzo ("Goin' Out of My Head," "Gonna Take a Miracle"). Randazzo, a major influence on Philly-soul architect Thom Bell, co-wrote the track with his wife/frequent collaborator Victoria Pike and Roger Joyce, and it sonically hewed close to Martin's work. Unfortunately, like "I Kinda Miss You" and "We Never Danced to a Love Song," Randazzo's song couldn't get into the upper reaches of the Pop chart, stalling at No. 66 (the best Hot 100 showing for any of the three 45s on It Feels So Good).
SoulMusic's reissue adds four bonus tracks: the single edits of "I Kinda Miss You," "It Feels So Good to Be Loved So Bad" and "We Never Danced to a Love Song," plus the non-LP B-side "Gypsy Man" which backed "I Kinda Miss You" on 45. Matt Bauer supplies a fine new essay drawing on fresh remembrances from Gerald Alston, Sonny Bivins, Blue Lovett and Mickey Eichner, who signed the group to Columbia. Alan Wilson has remastered It Feel So Good.
This slice of sweet yet streetwise soul fills in a major gap in The Manhattans' catalogue on CD; might 1978's There's No Good in Goodbye arrive next? Stay tuned for the next chapter of The Manhattans' story. In the meantime, It Feels So Good is available now from SoulMusic Records at the links below.
The Manhattans, It Feels So Good (Columbia PC 34450, 1977 – reissued SoulMusic SMCR 5121, 2014) (Amazon U.S. / Amazon U.K.)
I Kinda Miss You
Up on the Street (Where I Live)
Let's Start It All Over Again
It's You
I'll See You Tomorrow
It Feels So Good to Be Loved So Bad
It Just Can't Stay This Way
We Never Danced to a Love Song
Mind Your Business
Too Much for Me to Bear
I Kinda Miss You (Single Version) (Columbia single 3-10430, 1976)
Gypsy Man (Columbia single 3-10430, 1976)
It Feels So Good to Be Loved So Bad (Single Version) (Columbia single 3-10495, 1977)
We Never Danced to a Love Song (Single Version) (Columbia single 3-10586, 1977)