Today, the name of Tina Turner will be on everyone's lips.  The magnetic dynamo with the powerfully raspy voice, instantly identifiable stage moves, and indomitable spirit has died at the age of 83.  Yet, like most everything else in her extraordinary life and career, even her name was hard-won.  Born Anna Mae Bullock in Brownsville, Tennessee, she began singing with Ike Turner's Kings of Rhythm in 1957.  The volatile bandleader rechristened her Tina Turner, reportedly choosing the first name because of its similarity to a favorite fictional character, Sheena, Queen of the Jungle.  Though they wouldn't marry until 1962, Ike bestowed Tina with his own surname, but not for any benevolent reason.  "If I ran away, Tina was his name," she explained to Oprah Winfrey.  "It was patented, as you call it...So he could own me."  But while Herb could replace his Peaches or The Delrons could enlist a new Reparata, there was only one Tina Turner.  In 1978, she received ownership of her name as part of her divorce settlement with Ike.  The former Anna Mae Bullock never looked back.
Success on records came quickly to The Ike and Tina Turner Revue; how could it not with her distinctive pipes and force-of-nature energy?  Their debut single "A Fool in Love" not only went to No. 2 on the Billboard R&B chart but crossed over to the Pop charts.  For the rest of her career, Turner would make R&B, soul, pop, and rock styles her own; 1961's "It's Gonna Work Out Fine" earned Tina her first Grammy nomination.  (She and Ike would ultimately win one out of seven nominations.  Tina went on to win a further seven herself, as well as three Grammy Hall of Fame recognitions and the Grammy Lifetime Achievement Award in 2018.)  Ike and Tina's affiliation with New York's Sue Records was followed by stints on labels big and small, but one of their most beloved recordings is one that didn't feature Ike at all.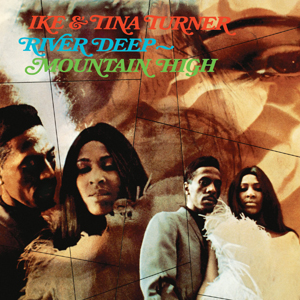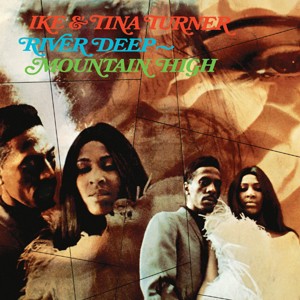 In 1966, Phil Spector had recently signed Ike and Tina Turner to Philles, but the male half of the duo was of little consequence to him. In Tina Turner's earth-shaking presence, the producer knew he had found the ideal voice for his increasingly majestic musical statements. "River Deep-Mountain High," co-written with Jeff Barry and Ellie Greenwich, was Spector's largest production ever.  With a massive arrangement by Jack Nitzsche, the cost was as extravagant as the sound.  But Tina Turner was never overwhelmed by the Wall of Sound.  Instead, she delivered one of her most pulse-pounding performances of all time, inspired to go bigger and bigger without losing an ounce of the authenticity on which she made her name.  The record might have been ahead of its time for U.S. buyers, but Beatle George Harrison knew exactly what he'd heard.  He described the song as "a perfect record from start to finish - you can't improve on it!" and it went Top 5 in Great Britain.
Ike and Tina steadily charted R&B hits on labels including Minit, Blue Thumb, and Liberty, but their biggest joint success was to come on United Artists Records with a stunning reinvention.  As recorded by Creedence Clearwater Revival, lead singer-songwriter John Fogerty's "Proud Mary" was a midtempo rocker with a clear pop hook and a strong R&B influence.  As sung by Tina Turner, the song was completely transformed.  She promised that she would start the song "nice and easy" and finish it "nice and rough," and did she ever.  With gospel fervor, soul fire, and a tempo that went from slow and sultry to frenetic and charged, Turner tore Fogerty's sturdy composition apart and put it back together as a Tina Turner song - vocals, choreography, and all.  Their first top ten Pop hit, "Proud Mary" won Ike and Tina a Grammy Award and remains one of the most recognizable of all pop anthems, often imitated but never duplicated.
It was Tina who had insisted on adding rock and roll into the Revue's repertoire.  They had been invited by The Rolling Stones to open for them on a British tour in 1966 and then in the U.S. in 1969, and the Stones' patronage had helped grow their audience.  She memorably portrayed The Acid Queen in director Ken Russell's film adaptation of The Who's rock opera Tommy, delivering a full-throttle performance with the kind of fire only she possessed.  She began her solo career in earnest in 1974 on United Artists with the (unbelievably still unavailable on official CD) album Tina Turns the Country On!  Reinterpreting the songs of Kris Kristofferson, Bob Dylan, James Taylor, Dolly Parton, and others, it proved that there was no style or sound Turner couldn't connect with it an authentic and honest manner.  Ike's compositions shared space with Townshend, the Stones, and Led Zeppelin on its follow-up, 1975's Acid Queen, but 1978's Rough would find her on her own and free at last, with nothing to prove.  She proved it anyway, electrifying on the likes of Elton John's "The Bitch Is Back" and Bob Seger's "Fire Down Below."
For an artist steeped in grit, it's somewhat surprising that she found her greatest triumphs in that glossiest of decades, the 1980s.  But Tina Turner never embraced the conventional, instead staying true to herself with resilience and determination.  When Private Dancer was released in May 1984, it was Turner's first album since 1979's Love Explosion.  Recorded in England with four different production teams, it marked a departure from the rhythm and blues that characterized her time with the Ike and Tina Turner Revue.  Private Dancer introduced a Tina Turner for the eighties - lithe, sexy, and ready to rock.  Emphasizing slickly shimmering new wave pop and rock, Turner's singular delivery remained: steamy, sexy, commanding, confident.  The album's material was diverse, including covers from The Beatles ("Help!"), Al Green ("Let's Stay Together"), and Ann Peebles ("I Can't Stand the Rain") all rendered anew.
Its two most enduring songs had checkered histories.  Mark Knopfler had penned "Private Dancer" for his band, Dire Straits, but the recording made for the group's Love Over Gold album was never completed.  Two years later, the members of Dire Straits re-recorded the track for Turner - sans Knopfler, whose lead guitar part was taken by none other than Jeff Beck.  Turner's sizzling version went to No. 7 Pop/No. 3 R&B in the United States, and to No. 26 in the United Kingdom.  Terry Britten and Graham Lyle originally offered "What's Love Got to Do with It" to Brit superstar Cliff Richard; when Cliff passed, it subsequently was passed on to Phyllis Hyman, Donna Summer, and the group Bucks Fizz.  The latter actually recorded it, but shelved their version when the song made its way to Turner.  (Their original recording eventually surfaced, in 2000.)  The song resonated deeply for Turner.  Upon its release as a single, it became her first and only U.S. No. 1 hit.  It also made it to No. 3 in England.  "What's Love" won three Grammys, including the trophies for Record of the Year and Song of the Year.  It lent its title to an acclaimed 1993 biopic starring Angela Bassett as Tina.  Mike Chapman, Nicky Chinn, and Holly Knight's "Better Be Good to Me" earned Turner another Grammy.
The hits kept on coming with 1986's incendiary Break Every Rule, featuring contributions from Bryan Adams, David Bowie, Phil Collins, Steve Winwood, and the returning Mark Knopfler, and 1989's Foreign Affair which introduced her rendition of Dan Hartman's "The Best."  It became another signature anthem for Turner.  In 1988, she performed before approximately 180,000 audience members in Rio de Janeiro, breaking a Guinness World Record for the largest paying audience for a solo artist.  She continued to break records.  In 2000, her Twenty Four Seven tour sold more than $100 million in tickets.  It was another world record for a solo performer.
Tina Turner retired in 2009, but her influence has never waned.  A two-time inductee into the Rock and Roll Hall of Fame and a Kennedy Center Honoree, she shattered the glass ceiling as the first black artist and first black woman to be featured on the cover of Rolling Stone.  She authored a pair of memoirs and a 2020 self-help-style book to share what she had learned about overcoming adversity in life and work.    The 2018 bio-musical Tina, shepherded by the superstar, is still running in London's West End.  It also enjoyed a 482-performance run on Broadway and continues to play around the world.
Tina Turner brought her life experiences to her music, allowing audiences to revel in her joys, empathize with her struggles, and see themselves reflected in her courage as she reclaimed her name and life and shimmied from triumph to triumph even in the face of repeated heartbreak.  What's love got to do with it?  Everything.  That sweet, old-fashioned notion sustained Tina Turner, and our love of her music will continue to sustain all of us who have been touched by it over the decades.  Thanks, Tina.  You were, and are, simply the best.