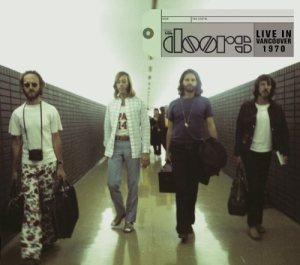 Fans of The Doors have two things to be happy about. First, outgoing Florida governor Charlie Crist is considering pardoning late frontman Jim Morrison for that little indecent exposure kerfluffle back in 1969. Second, Rhino's releasing an archival set by The Doors in two weeks.
Live in Vancouver 1970 is a two-disc set capturing the band's show at the Pacific National Coliseum on June 6, 1970. The set features one very special guest: blues legend Albert King, who opened for the set and sits in for much of the middle of the set.
Pre-order the set from Amazon and check out the track list after the jump. Live in Vancouver 1970 is released November 22.
The Doors, Live in Vancouver 1970 (Rhino R2 526291, 2010)
Disc 1
Start of Show
Roadhouse Blues
Alabama Song (Whisky Bar)
Back Door Man
Five to One
When the Music's Over
Applause/Jim Talks
Love Me Two Times
Applause/Jim Talks
Little Red Rooster (with Albert King)
Tuning
Money (with Albert King)
Tuning
Rock Me (with Albert King)
Tuning
Who Do You Love (with Albert King)
Disc 2
Tuning
Petition the Lord With Prayer
Light My Fire
Tuning
The End
Thank You & Good Night