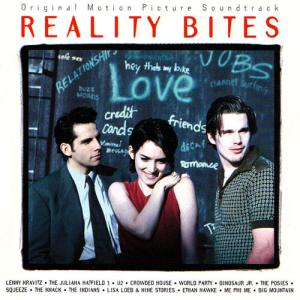 There are plenty of moviegoers in any given week who look at the films playing at their local theatre, shake their head and conclude that Hollywood is no longer making movies for "them." One only wonders how the winter of 1994 was for that crowd when Reality Bites was released.
One of the most explicitly Generation X movies ever created, Reality Bites follows the trials and tribulations of a group of twentysomethings in 1990s Houston. There's Leilaina (Wynona Ryder), a college valedictorian with dreams of being a documentarian and a strong aversion to working for "the man." Troy (Ethan Hawke) is a slacker musician even more opposed to being disenfranchised by the work force. The movie largely revolves around a love triangle between those two and Michael (Ben Stiller), an executive for an MTV-esque channel who treats Leilaina as nice as Troy treats her ridiculous.
The idiosyncrasies of the movie were crucial in both the visualization of '90s youth in mainstream culture and the successful career of Ben Stiller (who also directed). As someone who is the same age as the characters on screen, it's striking how, more than 15 years and some economic downturn, my friends and I almost all act the same way (minus the sexual dysfunction and ability to live away from home). What's kind of crazy and improbable about the movie, though, is the soundtrack. It's a seminal selection of music, to be sure, and it made at least one star in the process.
But there's no way that the Reality Bites soundtrack accurately conveys the audio sentiment of its time period. (This is where Singles, a similar if slightly less accurate Gen-X movie from 1992, excels; it features music and appearances from influential '90s rockers like Pearl Jam and Soundgarden.) Most casual music enthusiasts know the Reality Bites soundtrack as the album that broke Lisa Loeb into the mainstream. Her sweet, acoustic ballad "Stay (I Missed You)" was a No. 1 hit, even more impressive when one considers she was a musician friend of Ethan Hawke's and not a professionally-signed artist, making her the first and only artist to top the charts without a recording deal.
Outside of that, though? The album deals heavily in weird bursts of nostalgia. The Knack's "My Sharona" was remixed to sound like it was recorded in 1994, not 1979. Squeeze remixed and mostly re-recorded "Tempted" for the record. U2 and Crowded House – bands that were still relevant if not as hot in the 1990s – had two of their recent singles ("All I Want is You" and "Locked Out") given prime placement on the album. Even Big Mountain, one of the many '90s alternative acts on the compilation (alongside Juliana Hatfield, The Posies and Me Phi Me) struck Top 10 gold with a cover of Peter Frampton's "Baby I Love Your Way," a song nearly two decades old at the time.
It's perhaps more irony than even Gen-Xers can handle: a defining '90s movie punctuated by music that its core audience would consider dated even then. Still, it's a heck of a listening experience – and one that was reissued a decade later to further compound the nostalgia trip.
Various Artists, Reality Bites: Original Motion Picture Soundtrack (RCA 07863 66364-2, 1994 – reissued as RCA 88697 48927-2, 2004)
My Sharona (Remix) – The Knack
Spin the Bottle – The Juliana Hatfield Three
Bed of Roses – The Indians
When You Come Back to Me – World Party
Going, Going, Gone – The Posies
Stay (I Missed You) – Lisa Loeb & Nine Stories
All I Want is You – U2
Locked Out – Crowded House
Spinning Around Over You – Lenny Kravitz
I'm Nuthin' – Ethan Hawke
Turnip Farm – Dinosaur Jr.
Revival – Me Phi Me
Tempted '94 – Squeeze
Baby I Love Your Way – Big Mountain
Stay (I Missed You) (Living Room Mix) – Lisa Loeb
Add It Up – Ethan Hawke
Confusion – New Order
Disco Inferno (7″ Edit) – The Trammps
Give a Man a Fish – Arrested Development
Fools Like Me – Lisa Loeb
Tracks 15-20 are bonus tracks on the reissue
"Spin the Bottle," "All I Want is You" and "Locked Out" were already singles prior to their inclusion on the soundtrack. "Stay" (b/w the Living Room Mix) was released as a single (RCA 07863 62870-2, 1994). "Baby I Love Your Way" had a CD single (Giant 07863 62847-2, 1994) that included several remixes.