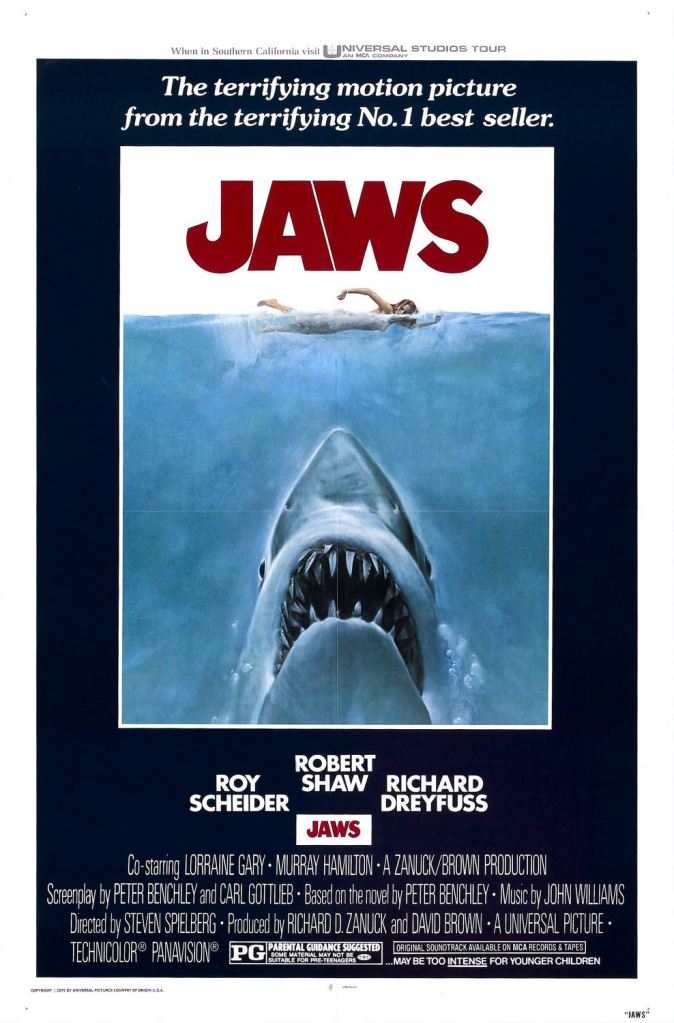 It wouldn't be summer without cold beers, meat on your barbecue, kids splashing in swimming pools...or a 25-foot-long, three-ton great white shark intent on devouring your local bustling summer community.
Okay, that last one's a stretch in literal practice, but the 1975 blockbuster film JAWS, based on Peter Benchley's best-selling novel, is a summertime staple, in fact kicking off the notion of huge crowd-pleasing flicks grabbing for audience members as the temperature heats up. The movie was an out-of-nowhere success for all involved, namely its director, a 29-year-old prodigy named Steven Spielberg.
With the film due to make a major comeback, debuting on Blu-Ray on August 14 with an assortment of great extras, now seems as good a time as any to revive our Friday Feature column with a look back at how JAWS defied all odds to become one of the most critically and commercially successful events of its time - and how a gripping soundtrack helped make that possible.
This shark'll swallow ya whole, after the jump.
"When I first hear the word 'JAWS,' I just think of a time when I was much younger than I am now, and because I was younger, I was more courageous...or I was more stupid. I don't know which. So when I think of JAWS, I think about courage and stupidity, and I think of both of those things existing under water."

-Steven Spielberg, 1995
The story of JAWS stretches further back than most might realize. Some say it began when fisherman Frank Mundus caught a 4,500-pound great white shark off the coast of Montauk, NY. Journalist Peter Benchley, a third-generation author but first-time novelist, was inspired by that story to craft a tale of a Long Island summer community terrorized by a killer great white. It became an instant best-seller, and was optioned for a film by producers Richard Zanuck and David Brown, whose The Sting (1973) had just won Universal Pictures its first Oscar for Best Picture in decades.
The book was read by Spielberg, a young director who'd just helmed a Zanuck/Brown production, The Sugarland Express (1974), for the studio. Seeing parallels between the project and his directorial debut, the TV-movie Duel (1971) about an anonymous diesel truck chasing a salesman down a stretch of highway, Spielberg successfully campaigned for the director's chair. With a bold location shoot in the Massachusetts beach resort of Martha's Vineyard and a strong cast anchored by Roy Scheider as Amity's beleaguered police chief, Richard Dreyfuss as a helpful shark expert and Robert Shaw as a grizzled, Ahab-esque hunter intent on defeating the beast, JAWS was ready to roll.
And then disaster struck.
Production on the film ballooned to nightmarish proportions, more than doubling its budget and nearly tripling its production schedule. Even the somewhat seasoned director was no match against nature; the sea shoot proved at times costly and dangerous, and the impressive mechanical sharks designed for the production by Robert Mattey (who'd designed the giant squid in 20,000 Leagues Under the Sea) were brutalized by the oceans they were supposed to stalk.
But Spielberg and his crew brilliantly turned those negatives into positives. With the help of editor Verna Fields' Oscar-winning cutting, JAWS transformed from a serial horror movie to a Hitchcockian exercise in suspense. Audiences were terrified ultimately by what they didn't see onscreen. The killer fish was represented either in point-of-view shots, a fleeting dorsal fin slicing through the water - or, most iconic of all, through an ominous musical theme.
[youtube=http://www.youtube.com/watch?v=ZvCI-gNK_y4]
John Williams was a known commodity in Hollywood when Spielberg hired him for JAWS, having won an Oscar for his adaptation of the musical Fiddler on the Roof for the big screen. Spielberg, in particular, loved his romantic scores to the Westerns The Reivers and The Cowboys and, after a successful partnership on The Sugarland Express, wanted him for virtually every film he directed. (Save for one picture in Spielberg's filmography, it's a vow the duo have upheld.)
But that's not to say the director and his composer immediately saw eye-to-eye. In an interview last year, Williams admitted he was somewhat flabbergasted by Spielberg cutting the film to a temporary soundtrack drawn heavily from Williams' score to Robert Altman's Images. "When John saw the movie, he called me up on the phone and said, 'This is like a pirate movie!'" Spielberg recalled in 1995. "'We need pirate music for this movie, something that's primal but very fun and entertaining.'"
Ultimately, Williams crafted a main theme based around two notes - a curt E and F alternating on lower strings. Spielberg didn't immediately know what he had:
When he finally played the music for me on the piano, he previewed the main JAWS theme, I expected to hear something kind of weird and melodic, tonal but eerie, of another world, almost a bit like outer space, inside inner space, under the water. What he played me instead, with two fingers on the lower keys…at first I began to laugh. He had a great sense of humor, I thought he was putting me on. And he said, 'No! That's the theme to JAWS!' And I said, 'Play it again.' He played it again, and he played it again...and it suddenly seemed right. But when I first heard it, it seemed wrong. Often the best ideas are the simplest ones, and John found the signature for the entire movie.
Williams' furthered his genius approach in several ways: first, he devised distinct leitmotifs (anticipating his Wagnerian work on Star Wars, Superman: The Movie and Raiders of the Lost Ark) for characters and situations. Amity was represented by several lyrical variants of sea chantey, while Quint and his trusty fishing ship, the Orca, received a rollicking adventure motif of their own. Then, for all the suspenseful cues in the score, Williams purposefully left certain scenes without music - particularly in the film's final third, when the danger is most obvious. By not playing the film's theme when the shark is definitely lurking underwater, it increases the shock when the toothy maw finally breaks through the waves.
Impressed by what they'd seen, Zanuck, Brown and Universal devised a unique plan to exhibit the picture, opening in a nearly-unheard of amount of theaters across the country (about 400 - imagine that today!) and promoted heavily through television advertisements and merchandising. Against all expectations, JAWS was a monster smash, ultimately grossing more than $100 million domestically - the first film to break such a record, and ultimately the highest-grossing picture of all time (until 1977, the year of Star Wars). The film was nominated for four Oscars, including Best Picture, and won three - Best Sound, Best Film Editing and Best Original Score for Williams' still-iconic contributions. (The score would also take home a BAFTA, a Golden Globe and a Grammy for the same achievements.) Williams would reprise his role as composer for 1978's JAWS 2, and use of the theme would be one of the few redeeming qualities of the further two sequels in 1983 and 1987.
The release history of JAWS sees some of the most satisfying discs representing Williams' body of work. As was common practice at the time, the JAWS soundtrack LP was not made of music heard in the film, but a half hour or so of suites based on the score but recorded anew. These arrangements sometimes deviated brilliantly from what was heard in the picture, from the epic main theme's "B" section of soaring strings to the extended fugue of "Preparing the Cage." In 1992, the album was released on compact disc and remained in print for many years.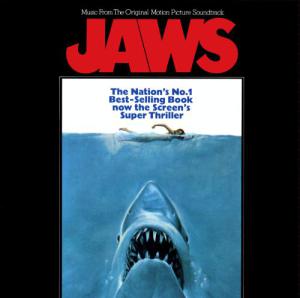 John Williams, JAWS: Music from the Original Motion Picture Soundtrack (MCA Records 2087, 1975 - reissued as MCA Records MCAD-1660, 1992)
Main Title (Theme from JAWS)
Chrissie's Death
Promenade (Tourists on the Menu)
Out to Sea
The Indianapolis Story
Sea Attack Number One
One Barrel Chase
Preparing the Cage
Night Search
The Underwater Siege
Hand to Hand Combat
End Title (Theme from JAWS)
In 2000, amid a marketing push for the film's 25th anniversary which saw the film become one of Spielberg's first to be released on the DVD video format, Universal released a new disc featuring nearly an hour's worth of music taken from the actual film soundtrack. Producer Laurent Bozereau, who'd produced exhaustive, director-approved documentaries on several of Spielberg's films, including JAWS and E.T. the Extra-Terrestrial, oversaw the production of the new soundtrack; while the score was released to satisfying completion, critics have taken the disc to task for its non-chronological presentation and less than ideal remastering.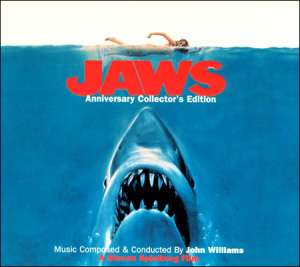 John Williams, JAWS: Anniversary Collector's Edition (Decca Records 467 045-2, 2000)
Main Title/The First Victim **
The Empty Raft *
The Pier Incident *
The Shark Cage Fugue
Shark Attack * +
Ben Gardner's Boat
Montage
Father and Son * +
Into the Estuary *
Out to Sea
Man Against Beast
Quint's Tale
Brody Panics *
Barrel Off Starboard *
The Great Shark Chase ** +
Three Barrels Under * +
Between Attacks * +
The Shark Approaches **
Blown to Bits
End Titles
The disc's credits indicate that * represents a previously unreleased cue, ** a cue with previously unreleased music and + as a cue with music not used in the film. While all of these are true, none of these tracks had technically been released, and Bozereau's notes compared to representative pieces on the original album.
That same year, Varese Sarabande issued an intriguing disc of their own: a new recording of the score by Joel McNeely and The Royal Scottish National Orchestra. (McNeely had worked in Williams' wheelhouses before, scoring episodes of The Young Indiana Jones Chronicles and the Star Wars multimedia project Shadows of The Empire.) While no one would mistake this re-recording for the original score, its fresh take on the music is a must for those who've fallen for the music through both CD releases. (Note: while this disc is presented and sequenced differently from the Decca expansion, there is nothing "new," per se, on this release.)
Joel McNeely and The Royal Scottish National Orchestra, JAWS: Original Motion Picture Score (Varese Sarabande VSD-302 066 078, 2000)
Main Title
The First Victim
The Empty Raft
The Pier Incident
Father and Son
The Alimentary Canal
Ben Gardner's Boat
Montage
A Tug on the Line
Into the Estuary
Out to Sea
Man Against Beast
Quint's Tale
Brody Panics
Barrel Off Starboard
The Great Shark Chase
Three Barrels Under
From Bad to Worse
Quint Thinks It Over
The Shark Cage Fugue
The Shark Approaches
The Shark Hits the Cage
Quint Meets His End
Blown to Bits
End Titles
Note: all quotes from Spielberg taken from Laurent Bozereau's The Making of JAWS (1995).