A special guest post comes to you during this oddly-scheduled week from Eric Luecking of Record Racks, a very well-executed music blog for your perusal. Here, he gives a Reissue Theory-style look at Coldplay's debut album, some ten years later.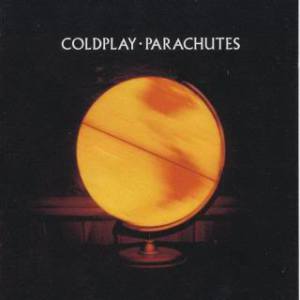 Depending upon your location, we've either passed the 10th anniversary of Coldplay's debut LP "Parachutes" (July 10, 2000 in the U.K.), or we haven't quite made it there yet (November 7 in the U.S.). The Second Disc wants to take the time to honor one of the bands who has been everywhere in the media since then.
They've been called everything, both good and bad. People have taken shots at them, such as the scene in The 40-Year Old Virgin with Seth Rogen and Paul Rudd's classic, "You know how I know you're gay?" exchange. The answer: "You like Coldplay." My brother, who was DJing at a Top 40 station when "Yellow" started blowing up, compared Chris Martin's vocals to that of a hyena (perhaps one of the most funny comparisons I've heard yet). However, people have also called them a great stadium rock band.
They've been compared to Radiohead, although they're much more in line with U2. The one thing they do share in common with Radiohead, though, is that they have a ton of B-sides. Their debut LP was no exception to that rule. So in putting together a mock-up of a deluxe edition reissue, we've assembled a gaggle of those B-sides. Please note that their EPs released around this time (Blue Room, Brothers and Sisters, Acoustic, Trouble: Norwegian Live, Don't Panic: Dutch Live) were not considered for inclusion unless tracks from them otherwise appeared on a single.
As an interesting side note, the rumor always had it that for the original LP the album order was changed prior to its release due to it initially sounding rather depressing.  They spruced it up, and thus the album as we know it was finalized.
Disc 1: Original LP (Parlophone (U.K.)/EMI America (U.S.) 7243 5 27783 2 4, 2000)
Don't Panic
Shiver
Spies
Sparks
Yellow
Trouble
Parachutes
High Speed
We Never Change
Everything's Not Lost
Life is for Living (hidden track)
Disc 2: B-sides and rarities
Careful Where You Stand
For You
Help is Around the Corner
No More Keeping My Feet on the Groundbreaking
Brothers and Sisters (Alternate Version)
Shiver (Jo Whiley Lunchtime Social)
You Only Live Twice (Live from Norway)
Don't Panic (Oui FM Session Acoustique)
Trouble (Live from Denmark)
Shiver (Live from Denmark)
Sparks (Live from Denmark)
Bigger Stronger (Live from Norway)
Disc 3: Live on Morning Becomes Eclectic (recorded live for KCRW-FM, 12/20/2000 – released on a bonus CD from Virgin Megastore)
Don't Panic
Spies
Shiver
Yellow
Trouble
Disc 2, Tracks 1-2 from "Shiver" CD single – Parlophone 7243 8 88511 2 1, 2000
Disc 2, Tracks 3-4 from Yellow CD single – Parlophone CDR 6538, 7243 8 88851 2 6, 2000
Disc 2, Tracks 5-6 from "Trouble" CD single – Parolophone CDRS 6549, 7243 889408 2 5, 2000
Disc 2, Tracks 7-8 from "Don't Panic" CD single – Parlophone 7243 8 79138 2 0, 2001
Disc 2, Tracks 9-11 from "Don't Panic" CD single – Parlophone 07243 879350 2 0, 2001
Disc 2, Track 12 from "Don't Panic" CD single – Parlophone 7243 8 79080 2 4, 2001