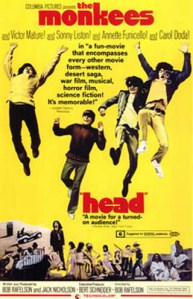 Hey hey! Attention all readers! We take a break from our regularly-scheduled coverage of audio reissues to bring you news of an important music-related video release: the Blu-Ray debut of the Monkees' 1968 surreal film odyssey Head! With the Criterion Collection's November 23 release as part of a massive box set dedicated to the films of BBS Productions, Head makes its eagerly-awaited appearance on Blu-Ray. (The box set will also be available in the DVD format.)
To call Head a trip is to put it mildly, as it's simply one of the wildest films ever made. Not for nothing did New York Times critic Renata Adler describe the film as "A movie for a turned-on audience!" For starters, how many motion pictures feature both Annette Funicello and Frank Zappa? (Others dropping by the set for a guest shot included Victor Mature, Teri Garr, Toni Basil, Dennis Hopper, Jack Nicholson and Sonny Liston!) The up-and-coming Nicholson also wrote and produced with Bob Rafelson.  Harry Nilsson contributed the ironic showstopper "Daddy's Song" to the score, while the team of Carole King and Gerry Goffin contributed their most psychedelic tune ever, "Porpoise Song." It opens the film musically and indeed sets its tone. King also teamed with Toni Stern, later to co-write some of her most famous hits including "It's Too Late," for Head's "As We Go Along."  The Monkees' performances of these indelible songs are among the film's finest moments, although the on-set atmosphere contributed to the band's breaking up shortly after its release. (Only one more completed project would involve all four Monkees post-Head: the 1969 NBC-TV special 33-1/2 Revolutions Per Monkee, in some respects a remake of Head.)
Intrigued?  Click on the jump for the full specs on the Criterion Collection's Head!
While Head was in some way an answer to the Beatles' phenomenally successful films (even engaging conductor/composer Ken Thorne, of Help!, to handle the instrumental score), it took the anarchy of those films a step further. Head was obviously a product of its time, and as such, didn't shy away from the darkness that clouded 1968, just one short year after the Summer of Love. While it's essentially a plotless film, its satirical, pointed vignettes touched upon topics such as the Vietnam War, and did so in a heightened, psychedelic style. Despite sharing much of the same production team, the film largely dispensed with the mainstream pop sound and goofy style familiar to viewers of the Monkees' television show, and as such may have alienated a large part of its potential audience. Unsurprisingly, Head was a not a commercial success, and even its soundtrack album suffered, reaching only No. 45 on the pop chart whereas previous Monkees releases had gone straight to the chart's upper reaches. The audience for the mind-blowing, offbeat film would come later, as Head achieved cult status as a curiosity for fans of psychedelia, the band, the era and Nicholson's oeuvre.
Head is being released as part of the America Lost and Found box set devoted to the films of BBS Productions (Bob Rafelson, Bert Schneider and Steve Blauner). Between 1968 and 1972, BBS turned out an impressive body of work that still stands today, infusing Hollywood with a youthful sensibility that clashed with the studio system and essentially changed the entire moviemaking landscape. (See Peter Biskind's Easy Riders and Raging Bulls for the definitive account of this era.) Other films in the set include Easy Rider (1969), Five Easy Pieces (1970), Drive, He Said (1970), A Safe Place (1971), The Last Picture Show (1971) and The King of Marvin Gardens (1972).
In addition to boasting a new high-definition transfer that should surpass Rhino's excellent, previous DVD release, Head will feature a 5.1 soundtrack in DTS-HD Master Audio and an uncompressed mono track, as well. Micky Dolenz, Peter Tork and Davy Jones all participated in the commentary track (with Michael Nesmith typically absent). Also present is a new video interview with director Bob Rafelson, and a new documentary about BBS. The other films all have copious special features, as well, and Easy Rider's new 5.1 soundtrack should be of special interest to music fans.
America Lost and Found, including Head, can be pre-ordered directly from Criterion here, and the link will also take you to a full list of special features for all of the films in the set. Perhaps the success of this set will inspire Rhino Handmade to revisit the Head soundtrack as a deluxe edition should its Monkees reissue program continue. (The 1994 Rhino CD reissue produced by Andrew Sandoval and Bill Inglot remains essential to any Monkees collection and indeed, any sixties pop/rock collection.) The 6-disc Blu-Ray box is due on November 23, while the 9-disc standard DVD edition will drop December 14, just in time for holiday gift-giving.