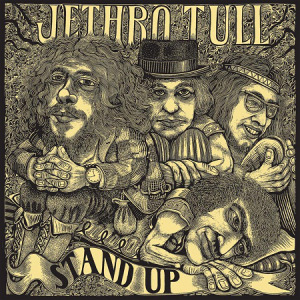 As if there weren't enough catalogue options on everyone's plates, here come three more hard-rock reissues - one from Jethro Tull and two from Rainbow.
EMI/Capitol is releasing a deluxe edition of Jethro Tull's sophomore LP Stand Up (1969). The first album of JT's in which Ian Anderson had total control over the musical direction was thus a departure from the band's bluesy debut, This Was, opting instead for more of a folk sound. This set will be an expanded three-disc set with a bonus live show at Carnegie Hall presented on both CD and DVD (in an audio-only surround mix). Look for that on September 28.
And on October 25, Universal's U.K. branch will release two deluxe reissues from Rainbow, the classic metal band that brought lead vocalist Ronnie James Dio to prominence. Rising (1976) and Down to Earth (1979) will each be bolstered by a bonus disc of rough mixes and outtakes, all previously unreleased.
Only a U.K. pre-order page currently exists for Stand Up; the Rainbow sets have wildly expensive pages on Amazon's U.S. branch, if you're inclined. Check all the tracks out after the jump.
Jethro Tull, Stand Up: Deluxe Edition (EMI/Capitol 50999 6 31248 2 8, 2010)
Disc 1: Original LP and bonus material
A New Day Yesterday – 4:10
Jeffrey Goes to Leicester Square – 2:12
Bourée – 3:46
Back to the Family – 3:48
Look into the Sun – 4:20
Nothing is Easy – 4:25
Fat Man – 2:52
We Used to Know – 3:59
Reasons for Waiting – 4:05
For a Thousand Mothers – 4:13
Living in the Past - 3:23
Driving Song - 2:44
Sweet Dream - 4:05
17 - 3:07 **
Living in the Past (Original Mono Single Version) **
Bouree (BBC Top Gear Radio Session - 6/16/1969) * **
A New Day Yesterday (BBC Top Gear Radio Session - 6/16/1969) * **
Nothing is Easy (BBC Top Gear Radio Session - 6/16/1969) * **
Fat Man (BBC Top Gear Radio Session - 6/16/1969) * **
Stand Up US radio spot #1 *
Stand Up US radio spot #2 *
Disc 1, Tracks 1-10 released as original LP (Island (U.K.)/Reprise (U.S.), 1969)
Disc 1, Tracks 11-12 and 15 released as "Living in the Past" single (Island (U.K.), 1969)
Disc 1, Tracks 13-14 released as "Sweet Dream" single (Chrysalis (U.K.), 1969)
Disc 2: Live at Carnegie Hall, New York City - 11/4/1970
Nothing is Easy
My God
With You There to Help Me/By Kind Permission Of
A Song For Jeffrey
To Cry You a Song
Sossity, You're a Woman/Reasons for Waiting/Sossity, You're a Woman
Dharma for One
We Used to Know
Guitar Solo
For a Thousand Mothers
Disc 2 previously released in part on Living in the Past (Chrysalis 1972) and in full on 25th Anniversary Box Set (Chrysalis, 1992)
Disc 3: Live at Carnegie Hall, New York City - 11/4/1970 (DVD - Surround Mix, Audio-Only/Same Order as Disc 2)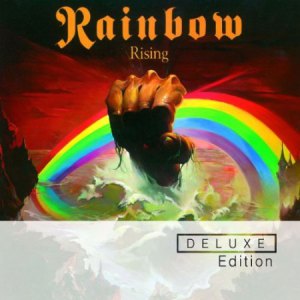 Rainbow, Rising: Deluxe Edition (Polydor/UMC, 2010)
Disc 1: Original LP (Oyster, 1976) in New York and Los Angeles Mixes
Tarot Woman (New York Mix) - 6:05
Run with the Wolf (New York Mix) - 3:43
Starstruck (New York Mix) - 4:08
Do You Close Your Eyes (New York Mix) - 3:00
Stargazer (New York Mix) - 8:31
A Light in the Black (New York Mix) - 8:11
Tarot Woman (Los Angeles Mix) - 6:04
Run with the Wolf (Los Angeles Mix) - 3:45
Starstruck (Los Angeles Mix) - 4:04
Do You Close Your Eyes (Los Angeles Mix) - 2:58
Stargazer (Los Angeles Mix) - 8:22
A Light in the Black (Los Angeles Mix) - 8:11
Disc 2: Rough Mixes and Rehearsals *
Tarot Woman (Rough Mix) - 6:06
Run with the Wolf (Rough Mix) - 3:49
Starstruck (Rough Mix) - 4:04
Do You Close Your Eyes (Rough Mix) - 3:04
Stargazer (Rough Mix) - 9:08
A Light in the Black (Rough Mix) - 8:12
Stargazer (Pirate Sound Tour Rehearsal) - 11:29
A Light in the Black (Pirate Sound Tour Rehearsal) - 9:49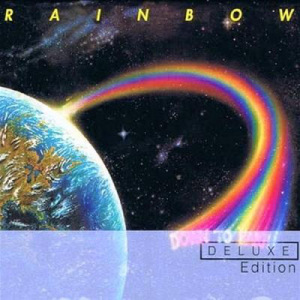 Rainbow, Down to Earth: Deluxe Edition (Polydor/UMC, 2010)
Disc 1: Original LP (Polydor, 1979) and B-sides
All Night Long - 3:52
Eyes of the World - 6:39
No Time to Lose - 3:42
Makin' Love - 4:36
Since You Been Gone - 3:17
Love's No Friend - 4:52
Danger Zone - 4:28
Lost in Hollywood - 4:51
Bad Girl (U.K. B-side to "Since You Been Gone" - Polydor, 1979) - 4:50
Weiss Heim (U.K. B-side to "All Night Long" - Polydor, 1979) - 5:14
Disc 2: Down to Earth: A Work in Progress *
All Night Long (Instrumental Outtake) - 4:41
Eyes of the World (Instrumental Outtake) - 6:50
Spark Don't Mean a Fire - 3:50
Makin' Love (Instrumental Outtake) - 4:44
Since You Been Gone (Instrumental Outtake) - 4:00
Ain't a Lot of Love in the Heart pf Me - 4:58
Danger Zone (Instrumental Outtake) - 5:29
Lost In Hollywood (Instrumental Outtake) - 4:01
Bad Girl (Instrumental Outtake) - 5:02
Ain't a Lot of Love in the Heart of Me (Alternative Outtake – Take 2 with mixed down vocal) - 5:22
Eyes of the World (Instrumental Outtake – Take 2) - 6:09
All Night Long (Cozy Powell Mix) - 3:54
* previously unreleased ** recorded in mono