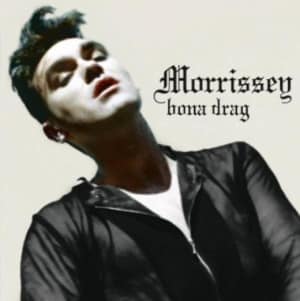 When discussing the increasing amount of catalogue projects and compilations surrounding one Steven Patrick Morrissey, it's easy to turn his words against him. "Reissue! Repackage!" he sings with derision on The Smiths' "Paint a Vulgar Picture." "Re-evaluate the songs/Double-pack with a photograph/Extra Track (and a tacky badge)."
Would the man who wrote and sang that song in 1987 have contempt for the man who, on this day, has reissued his first solo compilation, Bona Drag, 20 years on, with tracks long stored in a vault? Perhaps not; since the days of The Smiths, Morrissey was good not only at being the minister of Mancunian mope, but appending B-sides and non-album singles all over 7″ and 12″ vinyl, to compile them into albums not long afterward.
But perhaps that argument is too cynical. Much of Moz's most interesting work has ended up in the crevasses of a record store, and to some degree his fans should thank him for promoting such rabid completist behavior. It's certainly added to his worth and legend as one of Western music's most interesting, most verbose and most influential entertainers. Today, as Bona Drag sits anew on record store shelves with extra tracks (but no tacky badge), we revisit Morrissey's various reissues and compilations, as only Back Tracks can.
Viva Hate (HMV, 1988 – reissued EMI, 1997)
One of the double-edged swords about Morrissey's solo career was evident from the outset: it was, at first, not terribly different from the five-year tenure of The Smiths. With guitarist and songwriter Johnny Marr's tunes and Morrissey's lyrics, The Smiths became the center of a small revolution in the U.K., the effects of which would be seen on the world rock scene through the early-to-mid-1990s. Bands like Blur, Oasis, Radiohead and Pulp all owed some sort of sonic debt to The Smiths, and Morrissey served as the collection agent on that debt for much of the time leading up to the Britpop explosion.
That Morrissey's early solo output isn't terribly different from The Smiths was a blessing and a curse. Those who missed the unique voice and sonic quality of Morrissey, Marr, bassist Andy Rourke and drummer Mike Joyce had a quick replacement in Morrissey alone, with the help of former Smiths producer Stephen Street and Durutti Column guitarist Vini Reilly to provide challenging arrangements that stayed true to the rock-with-just-a-hint-of-dance formula of The Smiths. On the other hand, watching your musical savior tread such consistent waters is going to make some people balk. This led to a long, drawn-out war between Moz and the former beloved New Musical Express, who spent much of the '90s bashing him relentlessly.
Debut LP Viva Hate had some fantastic moments, however, like the churning and woeful "Suedehead" and the bitterly resigned "Everyday is Like Sunday," both of which remain two of Morrissey's best-loved songs (the latter was reissued last week as part of the Bona Drag reissue campaign). Even the B-sides were strong, like "Hairdresser on Fire" (added to U.S. copies of the album) and the humorous "Disappointed." Oddly, almost none of them were included on a 1997 reissue to commemorate EMI's 100th anniversary; the included tracks were previously-released B-sides from the early 1990s. The relevant B-sides would soon be collated in Moz's next solo LP.
Bona Drag (HMV, 1990 – reissued EMI/Major Minor, 2010)
After Viva Hate, Morrissey opted against another studio album so soon, instead releasing a clip of singles to close out 1989 and ring in a new decade. Those A-sides and a generous dose of B-sides made up Bona Drag, one of the strongest starting points for a new Morrissey fan. In addition to "Suedehead," "Sunday," "Disappointed" and others, you had "The Last of the Famous International Playboys," the pseudo-club track "November Spawned a Monster," and others, including the then-brand new "Picadilly Palare." Among the interesting factoids about most of those '89 singles was that many of them were recorded with almost all of The Smiths: Rourke, Joyce and second guitarist Craig Gannon were present on "Playboys" and the like. (Unsurprisingly, Marr was not, having dissolved the almost-perfect partnership between himself and Morrissey when The Smiths broke up.)
The new remaster of Bona Drag includes five outtakes from 1988 to 1990, plus an alternate mix of 1992 B-side "Let the Right One Slip In." These tracks are a boon for fans, having been sought after since they were almost let free from the vaults – but more on that in a bit.
Kill Uncle (HMV, 1991)
Morrissey's second proper solo album isn't weird for its lyrical content; in fact, that's the most consistent thing about it. The man's always been able to mix the negative with a sharp twist of wit and wordplay, and this one's no different. What is different, however, is the music which surrounds it; having handed the production duties over to Clive Langer and Alan Winstanley, best known for producing the Madness catalogue, they add overdubs, vocal effects and synthesizers that never would have worked on a Smiths record. That sound, coupled with the lack of any clear radio-friendly tracks, likely confused audiences, although its day could someday come.
Your Arsenal (HMV, 1992)
Another personnel shift was probably a fantastic decision in this case; Morrissey began writing and performing with Alain Whyte and Boz Boorer, two rockabilly guitarists who added a new edge to Moz's music. (Though some will never see them as anything more than imitators of Johnny Marr – much like how Sting's Dominic Miller is seen as a poor copy of Andy Summers – both write, record and perform with him to this day.) That edge also came through lyrically, with NME and other press outlets coming down hard on what was perceived as a hard-right-wing, nationalist lyrical bent. (The singer did nothing to help by seemingly embracing skinhead culture and playing live while draped in the Union Jack.)
Despite all those perceived setbacks, Your Arsenal was a hit with critics and was a fun listen thanks to crunchier rock tracks like "Glamorous Glue," "Certain People I Know" and "Tomorrow."
Live in Dallas (WEA, 1992) / Beethoven Was Deaf (HMV, 1993)
These two chronicles of the Your Arsenal tour – one VHS and one CD – are night and day in terms of quality. This is odd, since both stem from the last few months of the tour, when exhaustion usually runs rampant. (Earlier that year, Morrissey had been pelted with bottles while opening for Madness as a result of those supposed political beliefs, which didn't help.) Morrissey famously flees offstage in Live in Dallas after fans break through the barriers – to this day a constant staple of Morrissey shows. (They break through and embrace him, he continues being Morrissey.) Alain Whyte is left to finish the vocals for the show. Meanwhile, Beethoven is straightforward to a fault. Enough energy, but nothing to give it its own stamp of unique Mozziness.
Vauxhall and I (Parlophone, 1994)
Morrissey again updates his sound for the '90s (and, arguably, resets his sonic template for the rest of his career) with producer Steve Lillywhite. This disc finds the singer staring death in the face – he had recently lost Your Arsenal producer Mick Ronson, music video director Tim Broad and manager Nigel Thomas – and coming out swinging with a set of introspective, bittersweet songs. The single "The More You Ignore Me, The Closer I Get" became the first song with Morrissey's voice to ever chart in the U.S., finally making him a worldwide pop figure. But other tracks including "Used to Be a Sweet Boy" and the heartbreaking opener "Now My Heart is Full" are classic Morrissey, stretching literate pathos over sweet melodies by Boorer and Whyte. One could imagine Vauxhall and I, the closest thing to a Morrissey worldwide smash, as the next in his discography to be reissued.
Introducing Morrissey (WEA, 1995)
A sprightly show from the end of the Vauxhall tour is an increasing rarity since it has not yet received a DVD release, the only in Morrissey's videography (including video compilations) to have not been transferred to the format.
World of Morrissey (Parlophone, 1995)
Morrissey was about to retreat to a new label in 1995, but he recorded two final singles ("Interlude," a duet with Siouxsie Sioux, and "Boxers"), the latter of which was included on this semi-sequel to Bona Drag. It collated a fair amount of B-sides and non-LP tracks from 1991 to the present, but shied away from the hits in favor of some already-known album tracks like "Spring-Heeled Jim" from the Vauxhall and I album. As a result of this slightly more slapdash than usual compilation, it doesn't rank in the upper echelons of the man's work. (It is, however, the slimmest volume to include Moz's captivating take on the Breakfast at Tiffany's theme "Moon River.")
Southpaw Grammar (RCA, 1995 – reissued RCA/Sony BMG, 2009)
Morrissey again changed lanes with Southpaw Grammar, a record as hard-hitting as the boxing subculture Moz seemed to become fascinated with. While the pop sensibilities were still there, several tracks dabbled in new orchestration and borderline-progressive sounds; the opening and closing tracks each passed the 10-minute mark, an absolute rarity for the singer. Though the singles ("Dagenham Dave" and "The Boy Racer") sunk quicker than usual, fans and some critics applauded Morrissey for taking risks at a time and place where most singers his age would not.
Last year, not long after his most recent album was released, Sony reissued the album with a new cover and a rearranged track list which included one B-side, "Nobody Loves Us," and three unreleased tunes.
Maladjusted (Island, 1997 – reissued Polydor, 2009)
This record was yet another odd step for Morrissey: a step backwards. Maladjusted clearly took a lyrical and sonic debt from Viva Hate and Vauxhall and I, which translated into strong initial sales and critical reaction but not much of a memory past that – at least, not if you lived in England. That's because the U.K. edition of the album left off one of the most bilious songs the singer had ever performed. "Sorrow Will Come in the End" is a rare song that directly addresses a person who's gotten under Morrissey's skin – in this case, The Smiths' old drummer Mike Joyce, who took Morrissey and Marr to court over a royalty dispute. Though the high courts saw all four members present for the first time anywhere since 1987, it effectively destroyed any last remaining embers of a chance at reuniting. Perhaps this is where Moz's rage comes from, or perhaps he was upset at being so publicly shamed for his songwriting prowess and the earnings that came with it. Whatever the reason, Island dropped the tune from the album in Morrissey's home country, lest more legal actions ensue.
Polydor, however, did add the track back onto the expanded edition of the album, which also included many of the B-sides from the Maladjusted era. Oddly, the reissue left off two tracks from the original album, including one of the singles, "Roy's Keen." And the Morrissey completist parade continued.
Suedehead: The Best of Morrissey (Parlophone, 1997)
Morrissey's first proper hits compilation (which naturally features some rarities, including his cover of The Jam's "That's Entertainment" and the full version of "Interlude") is a pretty standard release, which is a shame, since it was not meant to be. Early promotional materials promised a bonus disc with at least four unreleased tracks: "Striptease with a Difference," from the Viva Hate era; a full version of B-side "Will Never Marry"; late-'80s outtake "Oh Phoney" and the long-speculated remix "November the Second," the closest thing to a dance track Morrissey ever considered releasing. The second disc was canned not from the singer's balking at the label, but for an even more unusual reason: the pressing plant allegedly couldn't make copies of the bonus disc because they were backlogged with pressing copies of "Candle in the Wind '97," Elton John's single released in tribute to the recently-deceased Princess Diana. (Whether that story's true or not, it's certainly captivating.) Half of the bonus cuts that never were are now out in the open; "Oh Phoney" is on the Bona Drag reissue and "November the Second" backs the newly-reissued "Everyday is Like Sunday" single to promote said compilation.
My Early Burglary Years (Reprise, 1998)
The trick of being an American Smiths/Morrissey fan was all the costs you'd incur importing the various singles and compilations. So Reprise (which, like Morrissey's longtime U.S. label Sire, was part of the Warner Music Group) issued this North America-only compilation of this and that. Singles, B-sides, album cuts and live tunes make up this compilation, which has value to fans back in the U.K., as it has two U.S. versions of tracks hard to find elsewhere (non-LP single "My Love Life" and "I've Changed My Plea to Guilty," a 1994 B-side).
The HMV/Parlophone Singles '88-'91 / '91-'95 (EMI, 2000 – reissued 2009)
Since the days of The Smiths, singles were an integral part of any fan's collection: the unique sleeves, the hard-to-find tracks – everything was a collector's dream. With these two box sets, Morrissey fans got all those tracks collated onto 19 CDs, with not a single U.K.-based track gone astray. Last year, the label collated those sets into one three-disc volume that was surprisingly cheap even when imported to America.
¡Oye Esteban! (Warner/Reprise, 2000)
While the U.K. has gotten DVD releases of the first two Morrissey video compilations (1990's Hulmerist and 1992's The Malady Lingers On), this is the only U.S. video set that's been released. Fortunately, it covers nearly everything that was on those two volumes and more, getting virtually all of the HMV/Parlophone video material onto one DVD.
¡The Best Of! (Rhino, 2001)
The first U.S. hits compilation is structured as greatly as any product in the U.K., with singles and B-sides mingling freely. It also is the most comprehensive of any Morrissey compilation, covering 1988 to 1997 with no slowdown.
You Are the Quarry (Attack, 2004)
Seven years. That's how long it was since Morrissey had any solo LP released in 2004. The world had changed so much since then: Britpop was done, bubblegum pop was done, terrorism was rampant and people sought comfort in the familiar. Bizarrely, they got it in the form of an angry, meat-avoiding, opinionated, high-coiffed Manchester native who was unapologetic for his past transgressions (including the most recent one of leaving England for – gasp! – Los Angeles) yet was happy to unite fans new and old with hooky, guitar-laden singles like "Irish Blood, English Heart" and "I Have Forgiven Jesus." All four singles hit the Top 10 in England; the album just missed the Top 10 in the America. Morrissey was back.
And with the new label (Attack, a former offshoot of the Trojan reggae label that was personally given to Moz by the Sanctuary Music Group for his own development and the cultivation of others) came a new way of doing business with the hardcore fans. By the end of the year, You Are the Quarry had already been expanded to cover all nine of the relevant B-sides that had been issued at the time (three more would follow). To Morrissey fans, this is as close to instant gratification as it gets.
Who Put the M in Manchester? (Attack, 2005) / Live in Earls Court (Attack, 2005)
Two separate recordings of stops on the You Are the Quarry tour (a DVD and CD, respectively), show Morrissey at his strongest as a live act – and, for the first time, record Morrissey singing songs by The Smiths in concert. (He had slowly begun to add latter-day Smiths material into shows since 1995, but these shows are among the first times favorites like "How Soon is Now?" and "Bigmouth Strikes Again" were played in years.) If you're going to add a live Morrissey record to your collection, Earls Court might be it.
Ringleader of the Tormentors (Attack, 2006)
With a new producer (Tony Visconti, made immortal for his work with David Bowie) and a new set of bold yet gentle tunes, Ringleader was yet another success for Morrissey on both coasts. With little hints of musical romance here and there (lead single "You Have Killed Me" reflects a growing love of Rome from the singer, and "Dear God Please Help Me" features string arrangements by film composer extraordinaire Ennio Morricone), the album proved that not only did Moz still have it, but he could keep it.
Greatest Hits (Decca, 2008)
Morrissey solidified his comeback with a victory lap; Greatest Hits combines the voluminous singles from You Are the Quarry and Ringleader of the Tormentors with the best-known solo songs from the early years ("Suedehead," "Everyday is Like Sunday," "The More You Ingore Me," etc.) and two new tracks produced by Jerry Finn (producer of You Are the Quarry) and later used on Moz's latest solo album, "That's How People Grow Up" and "All You Need is Me." Deluxe copies featured an eight-track (or nine-track, in the U.S.) disc of material from a 2007 performance at the Hollywood Bowl.
Years of Refusal (Polydor/Decca, 2009)
Moz's most recent solo album could've been a flop; he was very unhappy with the poor promotion of Greatest Hits by Decca and producer Jerry Finn (who'd produced and mixed albums by Green Day, Blink-182, MxPx, Sum 41 and other pop-punk acts) suffered a cerebral hemorrhage mere weeks after finishing the record and died shortly thereafter. But Morrissey continued his transformation into the U.K.'s Neil Young (singer of lively, risk-taking music years past what should have been his expiration date) with his third straight hit album. Tunes like "I'm Throwing My Arms Around Paris," "One Day Goodbye Will Be Farewell" and "It's Not Your Birthday Anymore" have all the usual wit and wisdom of Morrissey, combined with charging guitars and rhythmic perfection. Superfans will want to seek out the version with a bonus DVD, including one of the funniest interviews the singer has ever given, conducted by friend and fan Russell Brand, known for his comedic turns in American films like Forgetting Sarah Marshall (2007).
Swords (Polydor/Decca, 2009)
Morrissey completed his debt to Decca with another B-sides compilation, which suffered from being both hard-to-find and kind of expensive. (Morrissey was quick to complain about this.) Still, it's a strong collection of leftovers from a strong era of recording – although it doesn't gel as well as any of the last three albums themselves. And of course, there's a deluxe package featuring another live recording.
What is next for Morrissey? Not much, for now – he's label-less, as far as new material goes, and he has expressed doubts that he will continue performing for much longer. If nothing else, however, he can serve as the curator of his own catalogue, so future generations can have a listen at this most unusually satisfying musician.