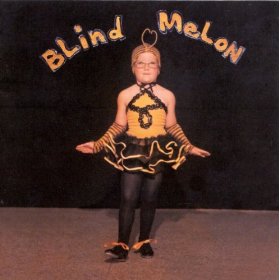 Welcome to another installment of Reissue Theory, where we reflect on well-known albums of the past and the reissues they could someday see. Today, on the anniversary of the death of a well-known alt-rock vocalist, we reflect on his band's first album, which would "bee" a treat if it were reissued.
"All I can say is that my life is pretty plain..." Those immortal opening lines to "No Rain," the biggest hit by alternative rock band Blind Melon, couldn't be any further from the truth.
The story of the California-based band involves drugs (tragically) and rock and roll. There's a girl in a bee costume, Guns N' Roses, and the death of a promising vocalist far too soon. Today, on the 15th anniversary of lead singer Shannon Hoon's death at age 28 of a cocaine overdose, we celebrate the band's self-titled debut album and the surprise hit it spawned. Our Reissue Theory continues after the jump.
Blind Melon began in the late 1980s with Hoon, guitarists Rogers Stevens and Chris Thorn, bassist Brad Smith and drummer Glen Graham. Their popularity in local clubs led to a contract with Capitol Records, but their first demo, released in 1991, didn't immediately lead to a proper LP. Then a funny thing happened: Hoon became friends with Axl Rose, lead singer for Guns N' Roses (both singers hailed from neighboring towns in Indiana), and would perform with the band live and in studio on the Top 10 hit "Don't Cry." The band became friendly with and opened shows for other members of the West coast alt-rock scene, including the band Soundgarden; frontman Chris Cornell famously wore a necklace made of a bent fork given to him by Hoon in several music videos.
Finally, in 1992, the band worked with producer Rick Parashar (who'd just produced another alt-grunge classic, Pearl Jam's Ten (1991)) on their self-titled debut. Despite local admiration and critical praise, it initially went nowhere. And then the band shot a video for "No Rain." The perky, neo-psych tune featured an unforgettable video starring Heather DeLoach, the young girl photographed on the cover of the album in her infamous bee costume. In the video, the "bee girl" sought refuge from those who mocked her appearance (heavyset, bespectacled and - let's face it - wearing a bee suit while tap dancing) and ultimately found it, a serene narrative to go with the serene sounds.
While "No Rain" catapulted the band to success (ultimately moving four million copies of the record), the next few years were anything but rosy. Hoon was a rampant drug user during the making of sophomore album Soup (1995), and the consumption ultimately took his life while on tour that same year. The band quickly assembled a posthumous album of outtakes (named Nico after Hoon's young daughter; proceeds from the album went to a trust fund for the girl) and slowly drifted apart through the '90s. In 2008, the band released a new album, For My Friends, with new vocalist Travis Warren, but dissolved again not long after the resultant tour had ended.
The band had potential that was cut so tragically short, but if nothing else, fans still have those memories of Blind Melon's early '90s successes - and the hope that, like the bee girl, Hoon has found peace and acceptance, wherever he is. To that end, we assemble a hypothetical track list of an expanded edition of Blind Melon featuring some bonus live material and some other obscurities.
A special shout-out to BlindMelon.org for its informative biographical and discographical information.
Blind Melon, Blind Melon (Originally released as Capitol CDP 7 96585 2 7, 1992)
Disc 1: Original LP
Soak the Sin
Tones of Home
I Wonder
Paper Scratcher
Dear Ol' Dad
Change
No Rain
Deserted
Sleepyhouse
Holyman
Seed to a Tree
Drive
Time
Disc 2: B-sides and live material
2 x 4 (Demo)

Wilt (Demo)

St. Andrew's Fall (Demo)

Time

Dear Ol' Dad

Deserted

Wooh G.O.D.

Change

No Rain

Seed to a Tree

Candy

Says
Wooh G.O.D. (Playground Version)
No Bidness (Triple Vision Version)
No Rain (Ripped Away)
Disc 1, Tracks 1-13 released on original LP
Disc 2, Tracks 1-3 released on Deep Cuts digital EP (Capitol, 2009). Originally recorded in 1991.
Disc 1, Tracks 4-10 recorded live at the Pershing Theatre, Kirksville, MO - 3/17/1994. Released as bonus disc with some copies of original LP.
Disc 2, Track 11 from The Cowboy Way soundtrack - Epic BK-64379, 1994
Disc 2, Track 12 from "Tones of Home" CD single - Capitol (exact cat. # unknown), 1994
Disc 2, Track 13 from "No Rain" 7" single - Capitol CLS 699, 1993
Disc 2, Track 14 from "Change" U.K. CD single - Capitol CDCL 717, 1994. Later released on Nico (Capitol, 1996).