And now, here it is: the catalogue titles coming to your local stores this week.
Various Artists including James Taylor, Billy Preston and Badfinger, The Apple Records remasters (Apple/EMI)
This year's Beatles remasters are remasters of albums on The Beatles' short-lived Apple label. There's a lot of great, varied stuff to be hand across many genres. There's 14 individual remasters plus a new compilation with some other hard-to-find tunes (Come and Get It: The Best of Apple Records), not to mention an indie sampler (10 Green Apples) and a 17-disc box set compiling all those discs alongside two more CDs of extra tracks only otherwise available through digital providers (those digital bonus cuts - as of this writing, which was penned several hours before it was posted - seem to have not been made available through online retailers). (Official site)
Miles Davis, The Genius of Miles Davis (Columbia/Legacy)
Did you miss all the out-of-print Miles Davis session box sets? Do you have $750 to spare? Do you like box sets packed with extra swag inside a trumpet case? Then this is the best day of your life. The Genius of Miles Davis is 43 discs of the trumpet legend, packed in 21 pounds of material possession. (Sony Music Digital)
The Monkees, Head: Deluxe Edition (Rhino Handmade)
The Pre-Fab Four's most bizarre project is extensively expanded to three discs of psychedelia, live cuts, outtakes, alternate mixes and vintage interviews with Davy Jones. If you've a Monkees fan in your inner circle, this is the holiday gift they'll thank you for. (Rhino)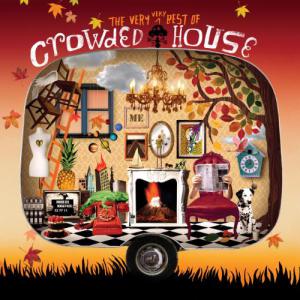 Crowded House, The Very Very Best Of Crowded House (EMI/Capitol)
A new best-of from the Aussie pop masters takes the best of their career save this year's excellent Intriguer. A digital edition features an expanded track list and a live B-side. (Amazon, iTunes)
There's more after the jump, of course.
Jethro Tull, Stand Up: Deluxe Edition (EMI/Capitol)
Today is the U.S. release date for the expansion of the prog group's sophomore release. It's the original album with bonus tracks coupled with a CD (and surround sound, audio-only DVD) of a vintage performance from Carnegie Hall in 1970. (Amazon)
Status Quo, Live at the BBC (Universal Music Catalogue)
The British rockers unearth a multitude of material from the BBC archives, available as either a double-disc set, a DVD, a four-disc box or a limited eight-disc collector's box. (Amazon U.K.)
Ray Charles, Rare Genius: The Undiscovered Masters (Concord)
A neat little compilation of previously unreleased tunes by the Genius, including a much-heralded collaboration with Johnny Cash. (Concord)
Michael Bublé, Crazy Love: Hollywood Edition (143/Reprise)
A reissue of the crooner's 2009 album packed with a bonus disc featuring new single "Hollywood" and a handful of other tracks, including some live cuts. (That bonus disc is also available separately, as Hollywood: The Deluxe EP.) (Amazon)
Various Artists including Paul Simon, Aretha Franklin, The Dixie Chicks, Kansas and Frank Sinatra, The Essential (Epic/Columbia/RCA/Legacy)
Another crop of two-disc compilations of various artists in the Sony oeuvre. The Paul Simon set is notable for being the first release on a Sony label since Simon moved his catalog there from Warner. (Amazon)
The Fall, The Wonderful and Frightening World of...The Fall: Omnibus Edition (Beggars Archive)
The post-punk outfit's 1988 LP is expanded to four(!) discs, including non-LP tracks, BBC sessions and an unreleased live concert. (Amazon U.K.)
A Taste of Honey, A Taste of Honey: Expanded Edition/Another Taste: Expanded Edition (Big Break Records)
Two disco classics, reissued and expanded by the Cherry Red-owned label. Produced by Fonce and Larry Mizell and featuring disco hits like "Boogie Oogie Oogie" and "Do It Good," each set is remastered and augmented with single mixes and alternate versions. (Big Break)
Deneice Williams, When Love Comes Calling (Big Break Records)
The third album by the criminally underrated soul vocalist, originally released during the height of disco in 1979, features production from David Foster and Ray Parker, Jr. and several disco mixes as bonus tracks. (Big Break)
Blue Magic, Welcome Back/Forecast, Forecast I/Centerfold, Centerfold/Skyy, From the Left Side: Expanded Edition (Funky Town Grooves)
The latest batch of FTG releases sees a pair of obscure CD debuts by '80s underground dance groups Forecast and Centerfold (the latter produced by Monte Moir and Ricky Peterson, both of The Time), a 1981 comeback album by soul survivors Blue Magic and a new CD version of Brooklyn funk band Skyy's 1986 album augmented with five vinyl-only remixes from the vault. (Funky Town Grooves)
Paul Williams, Someday Man: Expanded Edition (Now Sounds)
A gorgeously expanded edition of the famed songwriter's 1970 album (featuring tunes entirely penned by Williams and collaborator Roger Nichols, both of whom wrote "We've Only Just Begun" and "Rainy Days and Mondays" for The Carpenters, to name just two classics) that features mono single masters, instrumentals and session outtakes. Check out Joe Marchese's interview with Steve Stanley of Now Sounds later today! (Now Sounds)