In Part 2 of our five-part series exploring the new Apple Records reissue campaign, we look at the folkier side of the label with Mary Hopkin and James Taylor.
In Part 1, Badfinger had close encounters of The Beatles kind when both Paul McCartney and George Harrison lent their production expertise to the Apple Records band. McCartney made his other major contribution to Apple's catalogue with the debut album of a winsome 18-year old Welsh songstress named Mary Hopkin. The Apple Records reissue series has restored to print two of Hopkin's albums, her debut Post Card and its follow-up, Earth Song-Ocean Song.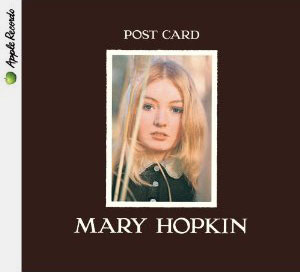 When Post Card made its U.K. album debut in 1969 as Apple LP No. 5, its most famous song, "Those Were the Days," wasn't even on the album. The track could be found on Apple Single No. 2, however, and has been added to this CD reissue as the opening track. (The first Apple single was actually a private recording made by Frank Sinatra entitled "Maureen Is a Champ" and dedicated to Maureen Starkey, Ringo Starr's wife! This revised version of the Richard Rodgers/Lorenz Hart song featured special lyrics penned by Sammy Cahn at Ringo's behest. Wouldn't that have been an amazing bonus track for this series!) It's no exaggeration to say that Post Card was one of the most imaginative, eclectic LPs to come out of the considerably eclectic Apple label! Its songs crossed generational boundaries, with selections drawn from the catalogues of Broadway masters Irving Berlin, George and Ira Gershwin and Frank Loesser, pop darling Harry Nilsson, psychedelic folk star Donovan and for the appended track, Russian composer Boris Ivanovitch Fomin!
"Those Were the Days" actually epitomized the album's approach. Producer McCartney had been enchanted by the old Russian melody (Fomin died in 1948) after hearing Gene Raskin perform his American translation in a London nightspot. In Mary Hopkin, he discovered its perfect interpreter. Hopkin brought her gentle folk sensibility and lilting voice to McCartney's pitch-perfect pop production, scored by Richard Hewson (who also arranged James Taylor's Apple debut). Her gentle voice offset the inherent grandiosity of the melody. Their record climbed to No. 3 in the U.K. and No. 2 in the U.S.
Hopkin felt most connected to three songs written by Donovan Leitch, but she brought the same conviction to the LP's other tracks. Post Card was an album that could be enjoyed by listeners young and old, much as The Beatles' own albums could. The uptempo "Happiness Runs (Pebble and the Man)" is a highlight of the Donovan tracks, marked by punchy brass and a choir. The horns take on a woozier sound on the delightful Nilsson tune, "The Puppy Song," while Hewson's lush arrangement for Ray Noble's "Love is the Sweetest Thing" would have fit right in on the soundtrack to a dreamy 1940s movie musical. Young Love was introduced by Tab Hunter in 1956, but for this track, McCartney adopts a unique beat approach.  George Martin contributes a rare melody and lyrics for the enigmatic "The Game." Undoubtedly the Welsh traditional song "Y Blodyn Gwyn" was one close to Hopkin's heart. She even sings deliciously in French on the chanson "Prince en Avignon"! McCartney truly paid homage to all of his musical influences on this collection.
The original CD issue of Post Card (CD SAPCOR 5) featured 3 bonus tracks, "Turn Turn Turn" (the B-side of "Those Were the Days") and two foreign language versions of "Those Were the Days," one in Spanish and one in Italian. The new reissue retains "Turn Turn Turn" but adds Apple Single 10, the Lennon/McCartney song "Goodbye" b/w "Sparrow," along with a previously unreleased take of "Fields of St. Etienne" produced by Geoff Emerick. The two foreign language versions of "Those Were the Days" have been remixed and appear on the Apple Box Set's bonus discs along with two more renditions, one in German and another in French. (Oddly, the Spanish version is entitled "En Aquellos Dias" on CD SAPCOR 5 and "Que Tiempo Tan Feliz" on the 2010 disc.)
It's unfortunate that Hopkin's 17-track Those Were the Days compilation (CD SAPCOR 23) has not been included in this reissue campaign, so a number of her recordings remain unavailable at present, including "Que Sera Sera (Whatever Will Be, Will Be)," "Knock, Knock, Who's There" and "Temma Harbour," all produced by Mickie Most, and the released version of "Fields of St. Etienne." Perhaps a second wave of Apple reissues will bring this collection back to light. Meet us after the jump for Earth Song-Ocean Song and the Apple debut of James Taylor!
Hopkin's second LP was eagerly awaited, and she delivered in 1971 with Earth Song-Ocean Song (SAPCOR 21). This album, however, was vastly removed from her debut LP. For Earth Song-Ocean Song, Hopkin looked inward, turning to her roots for a warm collection of diverse folk songs, eschewing contemporary pop, theatre music and standards. Hopkin was aided by producer Tony Visconti, with whom she began a relationship during the album's recording which blossomed into marriage.
Among the highlights of this reflective, low-key set are the uptempo "Got to Be More," the hopeful "International" penned by Apple Publishing's team of Bernard Gallagher and Graham Lyle, and a stunning rendition of Tom Paxton's "How Come the Sun" which floored Paxton himself. Hopkin also makes Ralph McTell's "Streets of London" her own.  For his part, Visconti augments the acoustic sound with tasteful string arrangements where appropriate, with "Silver Birch" a particularly lovely track. An early Cat Stevens song, "The Wind," benefits from Hopkin's treatment, and Reina and Mike Sutcliffe's "Water, Paper and Clay" is a booming exception to the album's quiet nature.
The three bonus tracks are the orchestral "Let My Name Be Sorrow" (Hopkin and Visconti would decide on the album's organic, acoustic approach after recording this track with arranger Richard Hewson) and its B-side, Ralph McTell's "Kew Gardens," as well as "When I Am Old One Day" from the sessions. The box set bonus disc adds "Let My Name Be Sorrow" in both Japanese and French, and "Jefferson," the Gallagher/Lyle-written B-side to "Water, Paper and Clay."
Another artist with folk leanings was James Taylor, whose self-titled 1968 debut was released as SAPCOR 3. Listening to Taylor's Apple album now, the production style employed by longtime Taylor collaborator Peter Asher is almost shocking. The laconic, acoustic sound perfected by Taylor wasn't yet perfected, and in its place, Asher "tries out" a variety of backings on the would-be superstar. The result is one of the most fascinating, even important, albums in the entire Apple reissue campaign.
In his new introductory essay to the 2010 remaster, Asher comments that "the album could be fairly described as 'over-produced'" referring to his use of overdubs throughout.  In Asher's defense, though, he was trying to find what worked for the young songwriter and musician, so he tried a number of different approaches. On "Something's Wrong," you'll hear a baroque arrangement by Richard Hewson, that however tasteful, just sounds a bit amiss on a James Taylor recording. There are actually linking musical passages between the songs, making James Taylor somewhat of a concept recording or song cycle. Funky horns and raucous backing vocals mark "Knocking 'Round the Zoo," still a standout track. There's no shortage of classics here, either. Paul McCartney contributed bass to "Carolina in My Mind," whose tantalizingly different arrangement might be a glint of a path not taken by Taylor. It's more up-tempo, with prominent background vocals, quite a contrast from the more familiar approach. "Rainy Day Man" is quintessential Taylor. And of course, "Something in the Way She Moves" remains a stunningly mature, beautiful work, and one that approached another Beatle when he went on to write one of his own masterpieces.
The stylistic potpourri of James Taylor makes for fun listening; the horns of "Brighten Your Night with My Day" reach a crescendo, leading into the groovy, rhythmic "Night Owl." (Five tracks on James Taylor originated during sessions for his band The Flying Machine: "Rainy Day Man," "Knocking 'Round the Zoo," "Something's Wrong," "Night Owl" and "Brighten Your Night with My Day.")
CD SAPCOR 3 contained no bonus tracks at Taylor's request; thankfully he's allowed four fine tracks to grace the 2010 edition. Disappointingly, the Apple-era take known to exist of "Fire and Rain" with female backing vocals is absent, and still awaits future release. "Carolina in My Mind" and "Sunshine, Sunshine" are heard as demos originating from the summer of 1968, while "Let Me Ride" and "Sunny Skies" were recorded in Los Angeles in spring 1969, following James Taylor's release. Both songs were later re-recorded by the artist for his early Warner Bros. LPs, "Let Me Ride" in a revised version on Mud Slide Slim and the Blue Horizon, and "Sunny Skies," of course, on Sweet Baby James. The rest, as they say, is history, as Taylor returned to the United States where he and Asher would define the entire singer/songwriter genre.
Tomorrow: a look at the obscure sides of Apple.