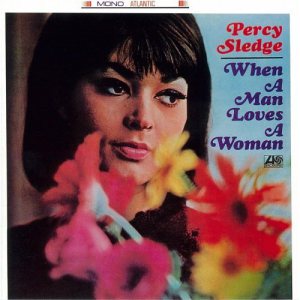 Rhino Handmade's next big title is a box set devoted to Percy Sledge's tenure with Atlantic Records.
Before he was the "King of Country Soul," Sledge was an Alabama-born former hospital worker, playing with a soul combo on weekends. In 1966 he signed to Atlantic, and, following a break-up with a longtime girlfriend, recorded a simple, heartfelt single, "When a Man Loves a Woman." The impassioned, off-the-cuff delivery (an entirely honest one - Sledge improvised the lyrics on the spot) helped propel the song to No. 1 around the world. Sledge enjoyed other Top 40 hits for the rest of his Atlantic tenure, but it's "When a Man Loves a Woman" that he'll forever be associated with.
But Rhino Handmade will offer fans the opportunity to learn more about the music of Percy Sledge. The Atlantic Recordings is a four-disc set compiling Sledge's four albums, scores of single sides and material released in limited quantities in other parts of the world and unreleased tracks. It will be presented roughly in the order in which each track was recorded, spanning from 1966 to 1974. Highlights include all the hard-to-find non-LP B-sides and single versions, a live show from Johannesburg, South Africa in 1970, a rare Christmas single and two versions of the track that made him an immortal.
You can order it here and read the track list after the jump.
Percy Sledge, The Complete Atlantic Recordings (Rhino Handmade, 2010)
Disc 1
When a Man Loves a Woman
Love Me Like You Mean It
You Fooled Me
You're Pouring Water on a Drowning Man
Love Me All the Way
Thief in the Night
Put a Little Lovin' on Me
My Adorable One
Love Makes the World Go Round
When She Touches Me (Nothing Else Matters)
Success
It Tears Me Up
Warm and Tender Love
Sugar Puddin' (single B-side - Atlantic 2342, 1966)
You've Got That Something Wonderful (single A-side - Atlantic 2383, 1966)
I Love Everything About You
So Much Love
A Sweet Woman Like You
Love Me Tender
Heart of a Child
You've Really Got a Hold on Me
I Stand Accused
Try a Little Tenderness
With Every Beat of My Heart
That's How Strong My Love Is
Oh, How Happy
I'm Hanging Up My Heart for You
Little Girl
Disc 2
Behind Every Great Man There's a Woman (single A-side - Atlantic 2453, 1967)
It Can't Be Stopped (single A-side - Atlantic 2396, 1967)
Baby, Help Me
Out of Left Field
You Send Me
Drown in My Own Tears
I Had a Talk with My Woman
What Am I Living For
You Don't Miss Your Water
Tell It Like It Is
I've Been Loving You Too Long (to Stop Now)
Pledging My Love
My Special Prayer
The Dark End of the Street
Just Out of Reach (of My Two Open Arms)
High Cost of Leaving
It's All Wrong But It's Alright
Hard to Believe (single A-side - Atlantic 2434, 1967)
Just Out of Reach (of My Two Open Arms) (Single Version) (single B-side - Atlantic 2434, 1967)
Cover Me
Take Time to Know Her
It's All Wrong But It's Alright (Single Version) (single A-side - Atlantic 2490, 1968)
Feed the Flame
Sudden Stop
Come Softly to Me
Spooky
Between These Arms
Disc 3
Sudden Stop (Single Version) (single A-side - Atlantic 2539, 1968)
Between These Arms (Single Version) (single B-side - Atlantic 2539, 1968)
You're All Around Me (from The Best of Percy Sledge, Atlantic SD-8210, 1969)
Self Preservation (single B-side - Atlantic 2563, 1969)
Wanted
Bless Your Little Sweet Soul (single B-side - Atlantic 2594, 1969)
Any Day Now (single A-side - Atlantic 2616, 1969)
The Angels Listened In (single B-side - Atlantic 2616, 1969)
Standing on the Mountain (single A-side - Atlantic 2848, 1971)
Keep Your Arms Around Me
Kind Woman (single A-side - Atlantic 2646, 1969)
Woman of the Night (single B-side - Atlantic 2646, 1969)
Push Mr. Pride Aside (Single Version)
Baby, Baby, Baby
True Love Travels on a Gravel Road (single A-side - Atlantic 2679, 1969)
Faithful and True (single B-side - Atlantic 2679, 1969)
Too Many Rivers to Cross
Set Me Free
Cotton Mill Man
Love's Where Life Begins
Let It Be Me
Blow Out the Sun
I've Gotta Get a Message to You
Stop the World Tonight (single A-side - Atlantic 2826, 1971)
Help Me Make It Through the Night (single B-side - Atlantic 2754, 19
Disc 4
Love is a Job *
Push Mr. Pride Aside
That's the Way I Want to Live My Life (single B-side - Atlantic 2826, 1971)
Life's Little Ups and Downs
What I Don't Know Won't Hurt Me *
I Found a Love
Time *
Everything You'll Ever Need (single A-side - Atlantic 2886, 1972)
Sunday Brother (single B-side - Atlantic 2886, 1972)
Rainbow Road (single B-side - Atlantic 2848, 1972)
Here I Am
Same Old Loverman *
You Can Always Get It Where You Got It *
Sunshine
Unchanging Love
Introduction (Live at the Empire Theatre, Johannesburg, South Africa - 1970)
Cover Me (Live at the Empire Theatre, Johannesburg, South Africa - 1970)
Knock on Wood (Live at the Empire Theatre, Johannesburg, South Africa - 1970)
Any Day Now (Live at the Empire Theatre, Johannesburg, South Africa - 1970)
Come Softly to Me (Live at the Empire Theatre, Johannesburg, South Africa - 1970)
Heart of a Child (Live at the Empire Theatre, Johannesburg, South Africa - 1970)
Silent Night
Christmas Wish
When a Man Loves a Woman (Alternate Take) (from The Very Best of Percy Sledge - Rhino R2-72969, 1998)
* previously unreleased
Disc 1, Tracks 1-11 released as When a Man Loves a Woman (Atlantic SD-8125, 1966)
Disc 1, Tracks 12-13, 17-23 and 25-28 released as Warm and Tender Soul (Atlantic SD-8132, 1966)
Disc 2, Tracks 5-15 released as The Percy Sledge Way (Atlantic SD-8146, 1967)
Disc 1, Track 16 and Disc 2, Tracks 3-4 16-17, 20-21 and 23-27 released as Take Time to Know Her (Atlantic SD-8180, 1968)
Disc 1, Track 24, Disc 3, Tracks 18, 21 and 23 and Disc 4, Tracks 4, 6 and 11 released on The Golden Voice of Soul (Midi (DE) 20 085, 1974)
All tracks without * or () were released on various international releases