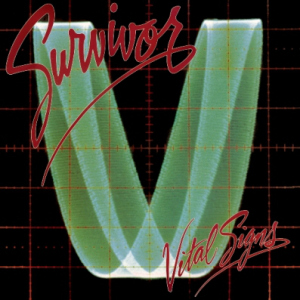 British indie label Rock Candy Records is putting two Survivor albums back in print: 1983's Caught in the Game and 1984's Vital Signs.
These two LPs followed Survivor's 1982 smash "Eye of the Tiger," famously featured on the soundtrack to Rocky III; interestingly, only one of them had any degree of success. Caught in the Game was mostly a stiff, only managing No. 82 on the Billboard charts (the same position as pre-success LP Premonition in 1981) and the title track, the only single, did not perform well. By contrast, Vital Signs was a hit: "I Can't Hold Back" peaked at No. 13, while subsequent singles "High on You" and "The Search is Over" fared even better, respectively charting at No. 8 and No. 4 in the U.S.
Both discs are remastered from the original tapes and feature expanded liner notes. Vital Signs is extended by one track: "The Moment of Truth," as heard on the soundtrack to The Karate Kid (1984). Both can be ordered on Amazon U.K.; they will be available to order in the U.S. on December 7. View the track lists after the jump.
Survivor, Caught in the Game (Rock Candy 087 - originally released as Scotti Bros. QZ-38791, 1983)
Caught in the Game
Jackie Don't Go
I Never Stopped Loving You
It Doesn't Have to Be This Way
Ready for the Real Thing
Half-Life
What Do You Really Think?
Slander
Santa Ana Winds
Survivor, Vital Signs (Rock Candy 088 - originally released as Scotti Bros. FZ-39578, 1984)
I Can't Hold Back
High on You
First Night
The Search Is Over
Broken Promises
Popular Girl
Everlasting
It's the Singer, Not the Song
I See You in Everyone
The Moment of Truth (from The Karate Kid: Original Motion Picture Soundtrack - Casablanca NBLP 7282, 1984)