One of the most-talked about film scores on the market right now is the score to TRON: Legacy, composed by French electronic act Daft Punk. Everything about it is delightfully unconventional: it's a score for a Disney blockbuster - a sequel to a cult classic released nearly 30 years ago - composed by two killer musicians best known for making fresh music through technological, not organic means. But the hybrid electronic/orchestral score is a knockout, arguably a serious Oscar contender and one of the best things about the film.
Naturally, this warrants a discussion of the music to the original film, which set the template for Daft Punk's success in the sequel. It hasn't been talked about much - and, like the film itself, it's stunningly expensive on the secondary market - so let's go through the grid and rediscover the soundtrack to the original TRON in this week's Friday Feature.
In light of its over-the-top sequel, TRON always sort of looked like an overambitious novelty. A devil-may-care computer programmer and arcade owner, Kevin Flynn (Jeff Bridges), attempts to collect evidence that a co-worker passed off Flynn's work as his own, leading to a series of promotions. While infiltrating the headquarters of ENCOM Corporation, he is zapped by a laser and bought to "The Grid," a digital dystopia where computer programs exist as living beings, enslaved under the Master Control Program (David Warner, who also plays the MCP's henchman Sark and Ed Dillinger, the corrupt bigwig who stole Flynn's work). Flynn, noted for being a User instead of a Program, frees the population of The Grid with the help of his allies, Tron (Bruce Boxleitner, who also plays Flynn's real-life ally Alan Bradley) and Yori (Cindy Morgan, also - seeing a pattern yet? - playing Alan's girlfriend).
[youtube=http://www.youtube.com/watch?v=3efV2wqEjEY]
Like most notable action films, the plot was rather secondary to its visuals. The Grid was just that: a stark, computer-animated world where programs are pitted in gladiator-esque games like disc wars and lightcycle races. All these adventures are laid out through incredibly dated but still captivating computer graphics that capture the essence of the early-'80s video arcade scene that was in the twilight of its golden era. TRON was a moderate critical and commercial success - it was loudly championed by Roger Ebert, who included it in his inaugural Overlooked Film Festival - but was crushed at the box-office by other sci-fi fare, including Star Trek II: The Wrath of Khan and E.T. the Extra-Terrestrial. (Those computer-generated images remained definitive, although they were shockingly overlooked by the Oscars - clearly, voters were not ready for the deluge of computer graphics that would begin a decade later.) But it retained enough of a cult following for a sequel in 2010, also starring Bridges and Boxleitner.
A computer-heavy movie needed music to match, and Disney made the right choice by going to Wendy Carlos. The composer rose to prominence with Switched-On Bach, a 1968 LP of classical arrangements on the then-obscure Moog synthesizer. It was a rarity for a classical record - having gone platinum and winning three Grammys - and this work soon culminated in Carlos' first soundtrack, for Stanley Kubrick's A Clockwork Orange (1971). Her synth arrangements of Purcell and Beethoven remain fresh to this day. (Carlos would write for Kubrick again with The Shining (1980), but much of the music was replaced with other source cues.)
Despite Carlos' excellence in utilizing both electronic and orchestral music for TRON (is it any wonder Daft Punk cite her as an influence?), scoring was not an easy process. Carlos found it difficult to write the score to the rapidly-edited movie, and production delays gave her a scant five weeks to orchestrate everything. Electing to overlay electronic cues over orchestral performances (instead of her original plan to do the opposite), Carlos worked closely with The London Philharmonic Orchestra, recording at Royal Albert Hall, to finish the score. She then painstakingly edited it to fix what she considered to be many mistakes (bought on not by the lack of quality in the orchestra but the complexity of the music). While Carlos was relatively happy with the finished product, Disney ended up cutting out some of the music, and replacing other cues with tracks by Journey (reportedly an 11th-hour replacement for Supertramp).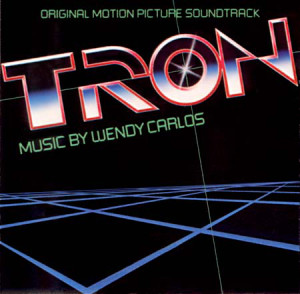 Wendy Carlos, TRON: Original Motion Picture Soundtrack (CBS SM-37782, 1982)
Creation of TRON
Only Solutions - Journey
We've Got Company
Wormhole
Ring Game and Escape
Water, Music and Tronaction
Tron Scherzo
Miracle and Magician
Magic Landings
Theme from TRON
1990s Theme - Journey
Tower Music/Let Us Pray
The Light Sailer
Sea of Simulation
A New TRON and The MCP
Anthem
Ending Titles
The TRON soundtrack took many years to come to CD. One of the last hold-ups was deterioration of the original master tapes, requiring that the tapes be "baked" in an oven to harden the glue holding the magnetic tape together. Fortunately, the process was successful, and the eventual CD release in 2001 (Walt Disney Records 60748-7) even included three bonus tracks at the end:
Tronaction (Original Version)
Break-In (for Flutes, Strings and Celesta)
Anthem for Keyboard Solo
Carlos included several further TRON-related cues in her second volume of Rediscovering Lost Scores (East Side Digital ESD-81762, 2005), alongside some of the unusued music for The Shining and the Kubrickian Woundings (1998), among others.
Creation of TRON V. I
Creation of TRON V. II
Lightcycle Games
Anthem (Studio Version)
Little Interludes
Trinitron
A 2006 expansion of Journey's Frontiers (Columbia/Legacy 82876 85895-2) included "Only Solutions" among its bonus tracks.
The TRON reissue has fallen out of print and commands high prices on the secondary market ($50 and up as of this writing). It is available on iTunes, however, with both Journey tracks available as album-only offerings. (Strangely, a deluxe edition of TRON: Legacy appears to be suffering the same rarity - but that's for a future post.)