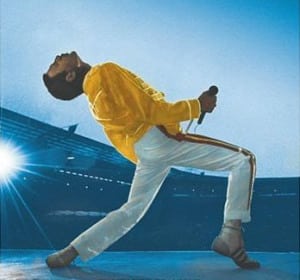 We continue our coverage of Queen's previous reissues - in anticipation of the band's forthcoming remasters on new U.K. home Island Records - with a look at Queen during most of the '80s, where they went increasingly pop-friendly before returning to their rock roots in the 1990s, losing their iconic frontman and becoming anthologized in nearly a dozen or so compilations.
The show must go on, after the jump.
Hot Space (EMI (U.K.)/Elektra (U.S.), 1982 - reissued Hollywood (U.S.), 1991/Parlophone (U.K.), 1994)
Queen and Mack (and Arif Mardin!) move the pendulum more toward pop and R&B to middling effect. Queen as a dance band was a polarizing notion among fans, and something had to be done to whet the appetites of music listeners. The band turned to a song written from a jam session with David Bowie at Mountain Studios in Montreux, Switzerland. (Bowie was there to sing background vocals for another track that ultimately went unused.) Armed by an infectious bassline from Deacon and the effortless trade-off between the powerhouse voices of Mercury and Bowie, "Under Pressure" was far and away the easy choice for first single, and became another U.K. No. 1.
The sole bonus track on the Hollywood reissue was a remix of fan favorite "Body Language."
The Works (EMI (U.K.)/Capitol (U.S.), 1984 - reissued Hollywood (U.S.), 1991/Parlophone (U.K.), 1994)
With a reconfigured record deal that put Queen on the EMI/Capitol roster in the U.S. as well as the U.K., some time apart to work on solo projects (notably Mercury's solo LP Mr. Bad Guy, released in 1985) and an increasing interest in pop music and synths, The Works was probably the first post-synth Queen album to really work. Singles like "Radio Ga Ga," "Hammer to Fall" and "I Want to Break Free" straddle the line between the band's rock and pop sensibilities to great effect, and the album sides (including "Man on the Prowl" and the epic "Machines (or 'Back to Humans')") aren't bad either. Queen were also starting to commission remixes of their own singles, which were plum material for the eventual Hollywood reissue (rather than newly commissioned mixes). The three tracks on that disc were extensions of "Radio Ga Ga" and "I Want to Break Free" along with a non-LP B-side, "I Go Crazy." (Fun fact: this was the first Queen album released simultaneously on CD.)
The Complete Works (EMI (U.K.), 1985)
A vinyl box set compiling nearly everything the band had released at the time, from Queen to The Works. A bonus 12" is included, featuring all the studio non-LP B-sides at the time and both sides of the then-new single for "One Vision."
A Kind of Magic (EMI (U.K.)/Capitol (U.S.), 1986 - reissued Hollywood (U.S.), 1991)
Comprised mostly of songs Queen wrote for the cult action film Highlander (lead track "One Vision" actually appeared in the film Iron Eagle a year earlier), Magic is another shiny pop affair, one that was initially met with derision from critics but has since become a fan favorite. "One Year of Love," "Who Wants to Live Forever," "Princes of the Universe" and the title track are just a few solid tunes on the record.
Interestingly, there are two expanded versions on compact disc: one, the original U.K. CD edition of the album, has three instrumental remixes of "A Kind of Magic," "Friends Will Be Friends" and "Who Wants to Live Forever." The U.S. reissue on Hollywood, meanwhile, has the remix of "Forever" (which appeared on a 12" single) and the extended "One Vision."
Live Magic (EMI (U.K.), 1986/Hollywood (U.S.), 1996)
Another could've-been-better live set from the band (particularly since this would be the band's final tour), criticized roundly for heavy editing (particularly on the vinyl version). American fans didn't even get a hold of this album until the late '90s, at which point better live sets (some from the same tour) were released.
The Miracle (Parlophone (U.K.)/Capitol (U.S.), 1989 - reissued Hollywood (U.S.), 1991)
Though the band touted The Miracle as a return to their roots, it was as full of synths as ever. And it was only just okay as an album; "I Want It All" and "Breakthru" are solid pop-rockers, but "The Invisible Man" is irritating and many of the other tracks are just there. (Oddly, the band was more unified than ever, crediting the songs to the entire band as a group. They were also unified in the ultra-horrifying album sleeve.) Again, the original CD was appended by several bonus tracks: B-sides "Hang On in There" and "Chinese Torture" and an extended mix of "The Invisible Man." (There were another three non-LP tracks, which must be a record for a Queen album; the band had apparently considered but scrapped an EP of those tracks, Another Miracle.) The Hollywood reissue kept those tracks and added an extension of another single, "Scandal."
Queen at the Beeb (Band of Joy (U.K.), 1989/Hollywood (U.S.), 1995)
Those looking for a back-to-basics Queen sought out this disc, comprised of two BBC sessions from 1973. Much of the material derives from Queen (except for "Ogre Battle" from Queen II), although it's much rawer than the finished product (these sessions actually predated any of their studio albums - no small feat, that). Hollywood smartly reissued the set in the U.S. in the mid-'90s.
Innuendo (Parlophone (U.K.)/Hollywood (U.S.), 1991)
Queen had a new label in the U.S., Disney's Hollywood Records (which acquired the band's back catalogue as well) and were going full force with a new album, finally making good on the promise of a more baroque-rock approach similar to their first albums. But it was not the most ideal of circumstances. Freddie Mercury had been suffering from AIDS since 1987; only during the Innuendo sessions did he tell his bandmates. Whether he knew the end was near or not, however, Mercury led the band through one of their strongest albums in years, anchored by powerhouse performances such as "Headlong," "I'm Going Slightly Mad" and final track "The Show Must Go On."
The album sold well in the spring of 1991 - well enough that the band began working on a potential follow-up. But by the summer, Freddie was too weak to continue recording. On November 24, 1991, barely a day after issuing a statement finally confirming his illness after years of press speculation, the singer died at age 45. A final single, "These Are the Days of Our Lives," was released, backed by the inimitable "Bohemian Rhapsody" and settling in at No. 1 and No. 2 in the U.K. and U.S. (The popularity of "Bohemian Rhapsody" would be further augmented in America by the song being prominently featured in the comedy Wayne's World.)
Greatest Hits II (Parlophone (U.K.), 1991)/Classic Queen (Hollywood (U.S.), 1992)
Released one month before Mercury's death, the U.K.-only Greatest Hits II collected the band's biggest hits since 1982, from "Under Pressure" to "The Show Must Go On." It was ultimately released in the U.S. as a double-disc set with the original Greatest Hits disc in 1994 and again as part of the triple-disc The Platinum Collection alongside the first and third hits compilations.
As mentioned in the previous post, Hollywood replaced the first two Greatest Hits LPs with an alternately-sequenced Greatest Hits in 1992, and, later that year, Classic Queen. While the track list for Classic Queen is a brilliant mess, collecting huge hits and fan favorites in equal measure, completists will want to pick it up for a few new edits and, in the case of "Under Pressure," a new remix.
Live at Wembley '86 (Parlophone (U.K.)/Hollywood (U.S.), 1992 - reissued Hollywood (U.S.), 2003)
A far better presentation of the tour so clumsily captured on Live Magic - taken, in fact, from the same July 12, 1986 show that was featured on that earlier album - shows Queen at both their most theatrical and their most traditionally rock-oriented (part of Disc 2 is devoted to classic rock covers, including "Tutti Frutti" and "Gimme Some Lovin'"). A U.S. reissue, retitled Live at Wembley Stadium, includes the same two-disc presentation with four bonus tracks - three from the prior day's Wembley show and another track from a later show in Budapest.
The 12" Collection (Parlophone (U.K.), 1992)
With the remixes on the Hollywood reissues largely unavailable in the U.K., this compilation collects 10 original extended mixes - many of which never appeared on the remasters in general - along with "Bohemian Rhapsody" and, for some reason, "The Show Must Go On." A mail-order box set, Box of Tricks, paired that compilation with a live show on VHS and some other swag.
Five Live (with George Michael and Lisa Stansfield) (Parlophone (U.K.)/Hollywood (U.S.), 1993)
Amazingly, the multi-artist tribute to Freddie Mercury that packed London's Wembley Stadium in the spring of 1992 was only ever presented on CD as a distilled EP. And Queen barely figure into the equation anyway; it's largely George Michael's show (as was the case on his own tour at the time, he performed covers, including Seal's "Killer" and "Papa Was a Rollin' Stone"), though he does lead a killer rendition of "Somebody to Love" (a U.S. Top 40 hit) and duetted with Lisa Stansfield on "These Are the Days of Our Lives."
Made in Heaven (Parlophone (U.K.)/Hollywood (U.S.), 1995)
As Freddie Mercury neared the end of his life, he had recorded virtually anything that could be written fast enough. In 1995, Brian May, John Deacon and Roger Taylor reconvened in the band's Switzerland studio to build an album from those vocals (and a few from Mercury's solo LPs). Though it's a bit more treacly and overlong than most Queen LPs, the public still missed Freddie, and it sold well around the world.
Ultimate Queen (Parlophone (U.K.), 1995)
Released around the same time as Made in Heaven, this 20-disc, limited, numbered box set (15,000 copies made) featured all of the then-relatively-new Queen remasters alongside Made in Heaven. It did not include any bonus material but was a heck of a way to get all the band's studio output (and Live Killers, Live Magic and Live at Wembley '86) in one fell swoop. The holographic packaging was pretty neat, too.
Queen Rocks (Parlophone (U.K.), 1997)
While the band went rather pop-oriented in their last decade, Queen did indeed rock, and this compilation was built to show that through both harder-driving singles and album cuts. Two new tracks were included: an alternate version of "I Can't Live with You" from Innuendo and the soft ballad "No-One But You (Only the Good Die Young)," the only composition recorded without Mercury.
Queen: The eYe (Electronic Arts, 1998)
One of the more unusual entries in the band's catalogue, this poorly-received computer game (set in some sort of dystopic future world that had to be saved through the music of Queen) has become a collector's item for one reason: the five CD-ROMs were able to be played in CD players and featured a heavy amount of remixes and instrumental strains of Queen's biggest hits and fan favorites.
The Crown Jewels (Hollywood (U.S.), 1998)
This U.S.-only box of the band's first eight albums (Queen through The Game) is certainly plush, including LP-style packaging, a deluxe booklet with liner notes by noted DJ/VJ Matt Pinfield and a reproduction of the original "Bicycle Race" poster. But it can't compare to the more complete Ultimate Queen box in terms of depth.
Greatest Hits III (Parlophone (U.K.)/Hollywood (U.S.), 1999)
Seeing as how Queen released exactly one studio album since the last greatest hits album, it was obviously a stretch to make another one, and this set is largely culled from unnecessary remixes and even a few solo tracks by Freddie Mercury and Brian May. A few tracks are worth it, though, including Queen and George Michael's live version of "Somebody to Love," a live version of "The Show Must Go On" with Elton John providing surprisingly strong vocals, and the band's hard-to-find 1984 single "Thank God It's Christmas." Also released at the same time was The Platinum Collection, the easiest way for American fans to grab all three original greatest hits LPs at once.
Queen on Fire: Live at the Bowl (Parlophone (U.K.)/Hollywood (U.S.), 2004)
A live show taken from the band's 1981 tour was fraught with technical problems, but the band plays so admirably you'd never know the difference. The two-disc setlist is a thing of beauty, providing an ample, accurate document of the band at the time. The accompanying DVD release included additional footage from elsewhere on the same tour.
Stone Cold Classics (Hollywood (U.S.), 2006)
A straightforward hits compilation that includes two live tracks by Queen + Paul Rodgers, who would go on to play a ridiculous amount of shows and ultimately record one boring album, 2008's The Cosmos Rocks.
The A-Z of Queen, Volume 1 (Hollywood (U.S.), 2007)
Another straightforward comp, available only through Amazon or Wal-Mart and featuring a DVD of previously-released live clips and music videos. Hardly A-Z material.
Queen Rock Montreal (Parlophone (U.K.)/Hollywood (U.S.), 2007)
A show from the 1982 tour, originally released on video under the name We Will Rock You, this provides a complete set culled from two days at Montreal's Forum, with the band in solid form as usual (Freddie is particularly interactive with the crowd, and the rest of the band sounds great). It was simultaneously released to DVD.
The Singles Collection Vol. 1-4 (Parlophone (U.K.), 2008-2010)
Four boxes of the band's complete singles from 1973 to 1999, packaged in replica CD-sized single sleeves. Volumes 2 and 3 have B-sides making CD debuts ("A Human Body," from The Game sessions, and the single mix of "Back Chat" on Vol. 2; the instrumental "Blurred Vision" on Vol. 3), but the sets stumble by not including any of the 12" versions. With these being EMI's last Queen products, the task now lies with Universal to free those mixes.
Absolute Greatest (Parlophone (U.K.), 2009)
The penultimate Queen release from EMI was another straightforward hits disc, newly mastered by Bob Ludwig. A deluxe version featured a disc of band commentary on each track, and for a limited time, buyers of the disc had access to some rare and unreleased live content. It was a nice celebration of a deservedly-acclaimed band, but overall, there's been a lot of Queen comps in the last decade or so (particularly here in the U.S.). It's our hope that Universal will focus more on the albums on their own, with bonus material to boot.
Stay tuned for Part III of Queen's Back Tracks, which will focus on the band's videography.