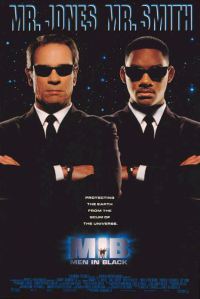 Once in a while, a great comedy comes around that makes an incredible impact on film, thanks to its quick wits, original ideas and great performances. In the 1980s, there were several great films that deftly blended comedy with science fiction and action film tropes - 1984's Ghostbusters and 1985's Back to the Future - that remain generational touchstones and modern-day classics of popular cinema. When children of the '80s say, "They don't make 'em like they used to," it's not hard to imagine them thinking of movies like these.
But there was one film, released more than a decade later, that belies its reputation as a simple blockbuster film and has yet to take its rightful place among the tight, smartly-written traditions of those earlier sci-fi/comedies. That film is Men in Black (1997), a highly-satisfying flick starring the unlikely duo of Will Smith and Tommy Lee Jones. MIB spawned a successful (if not fruitful) franchise, and it also has some interesting musical qualities to it as well. Put on a black suit, ready your neuralizers and come with us on a Friday Feature journey through the world of the Men in Black, after the jump.
The idea of secret, nameless government agents attempting to explain the unexplainable qualities of our world has always been a ripe topic for science fiction and popular culture. In 1990, Malibu Comics published a three-issue comic, The Men in Black, created and written by Lowell Cunningham. It was a darker twist on the sci-fi formula, with the single-named agents not only monitoring extraterrestrial and paranormal activity but controlling it, by any means necessary. Another three-issue arc followed in 1991, and the comic was optioned for a film the following year. Ultimately, Barry Sonnenfeld, a cinematographer who transitioned to directing with films such as The Addams Family (1991) and Get Shorty (1995), was hired to direct from a script by writer Ed Solomon. Steven Spielberg, no stranger to sci-fi, would produce.
Ultimately, the edges were taken off from the original comic, with the MIB serving to protect and monitor extraterrestrial activity, not control it. The alien aesthetics were hybrids of modern-day beasts and classic sci-fi creeps from the '60s (dig that minimalist headquarters complex), the location shoot in New York City was pitch-perfect, and the cast was stellar, with Tommy Lee Jones as the straitlaced veteran agent K and Will Smith (the onetime rapper who was beginning to transition into blockbuster films with Bad Boys (1994) and Independence Day (1996)) as his apprentice, the hard-nosed NYPD cop J. (Bonus points to the hilarious villain Edgar, a giant cockroach stuffed into the skin of a farmer played by Vincent D'Onofrio.)
Men in Black was a rousing success in the summer of 1997, grossing more than half a billion dollars worldwide and spawning a miniature franchise (including a Saturday morning cartoon and a Universal Studios theme park ride). Smith became even more of a box-office star - after Independence Day, it was his second consecutive top moneymaker on a July 4th weekend - and had a hit single as a rapper with the film's main theme, heavily based off a sample of Patrice Rushen's "Forget-Me-Nots." (The song only hit No. 1 on Billboard's airplay chart, as it was not released as a physical single. It would later appear on Smith's smash LP Big Willie Style, released later that year.)
In typical late '90s fashion, the soundtrack was crammed with music that had virtually nothing to do with the film - but it is notable for music collectors for its amount of appearances by then-unknowns, including Alicia Keys and Destiny's Child.
Various Artists, Men in Black: The Album (Columbia CK 68169, 1997)
Men in Black - Will Smith
We Just Wanna Party with You - Snoop Dogg featuring Jermaine Dupri
I'm Feelin' You - Ginuwine
Dah Dee Dah (Sexy Thing) - Alicia Keys
Just Cruisin' - Will Smith
The 'Notic - The Roots featuring D'Angelo
Make You Happy - Trey Lorenz
Escobar '97 - Nas
Erotik City - Emoja
Same Ol' Thing - A Tribe Called Quest
Killing Time - Destiny's Child
Waiting for Love - 3T
Chanel No. Fever - De La Soul
Some Cow Fonque (More Tea Vicar?) - Buckshot LeFonque
M.I.B. Main Theme - Danny Elfman
M.I.B. Closing Theme - Danny Elfman
Later that year, Columbia released a score album for the film. The score was composed by the ever-reliable Danny Elfman, who delivered a slick, jazzy score with a recurring ostinato as the main theme. Compared to his more typical work with the likes of Tim Burton, MIB is a breath of fresh air for the composer. Despite the film's worldwide success, the score album was only ever pressed in America; other countries had to import it. (How collecting has changed since then!)
Danny Elfman, Men in Black: The Score (Columbia/Sony Music Soundtrax CK 68859, 1997)
M.I.B. Main Theme
D's Memories/Chase
Edgar's Truck/A New Man
Imports/Quiet Moment
J Contemplates
Headquarters
The Suit
Morgue Time
Petit Mort
K Reminisces
Orion's Belt/Cat Stinger
Noisy Cricket/Impending Trouble
Sexy Morgue Babe/Icon
Take Off/Crash
Finale
M.I.B. Closing Theme
Elfman delivered an able score for the otherwise not-as-good-as-the-original Men in Black II (2002). Though all the main elements were still there, including Jones, Smith and the best supporting actors for the original (including Rip Torn and Tony Shaloub), lightning did not strike twice, and the sequel, while still succeeding financially, was a critical dud. Smith's box-office draw has cooled slightly over the years, but the summer of 2012 promises yet another MIB adventure with both Smith and Jones back in action.
Danny Elfman, Men in Black II: Music from the Motion Picture (Sony Classical CK 86295, 2002)
Worm Lounge #1 (Worms in Black)
Logo
Titles
Big Jeff
Headquarters
Chop-Chop
Heart Thump
Customs
Hunting for K
J Nabbed/K's Back
The Real Story
Sleuthing
The Defense Begins
The Chase
The Light
The Finale
Worm Lounge #2
Titles Revisited
I Will Survive - performed by Tim Blaney as Frank the Pug
Black Suits Comin' (Nod Ya Head) - performed by Will Smith introducing Tra-Knox