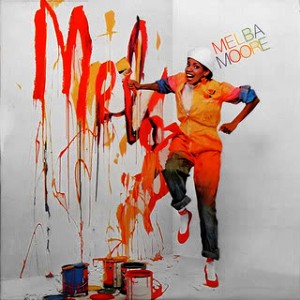 By 1978, Melba Moore had already established herself as a multifaceted musical force. After making her Broadway debut as Dionne ("White Boys") in the original Broadway company of Hair, she picked up a Tony Award in 1970 for her performance in Purlie, where she introduced the showstopping "I Got Love." In 1978, she was starring in New York opposite the legendary Eartha Kitt in Timbuktu! and ready to resume her solo recording career. With stints on the Mercury and Buddah labels behind her, she signed with Epic, and the label dispatched her to Philadelphia's famed Sigma Sound Studios. There, the team of Gene McFadden and John Whitehead produced the aptly-titled Melba (not her first release to bear that title). With McFadden and Whitehead at the controls, Melba Moore embraced the disco generation head-on.
Back in November, Mike reported on Funky Town Grooves' extensive reissue campaign devoted to Moore's successful EMI/Capitol period of 1981-1986, and also on PTG's reissue of Closer, her final effort for Epic in 1980. Now, that PTG release is bookended with Big Break Records' expanded and remastered reissue of Melba, due in the U.K. on February 14.
The album leads off with a nearly eight-minute cover of the Bee Gees-penned "You Stepped Into My Life," which rose to No. 5 on the U.S. dance chart and No. 12 on the R&B chart.  (A shorter version was released as a single, as well.) The second single, "Pick Me Up, I'll Dance" became another uptempo club sensation, and Moore revisited Archie Bell and The Drells' "It's Hard Not to Like You," not coincidentally co-written by McFadden and Whitehead. The album itself peaked at a respectable No. 35 on the R&B album chart.
Click on the jump for everything you need to know about BBR's expanded reissue of Melba!
As is customary for Big Break, the newly-remastered Melba will feature a lengthy liner notes essay (drawing on interviews with both Moore and John Luongo, who remixed Moore's tracks for the disco market) as well as bonus tracks, and be housed in a Super Jewel Box. The bonus tracks consist of an alternate version of "You Stepped Into My Life" labeled "Original Version" (perhaps the short single edit, as the album track is quite lengthy) as well as the 12-inch disco remix of "Pick Me Up, I'll Dance" and its B-side, the 12-inch instrumental of the same track.
Melba can be pre-ordered from Amazon U.K. or Amazon U.S., where it will arrive approximately one week later, on February 22.
Melba Moore, Melba (Epic JE-33507, 1978 – reissued Big Break Records CDBBR0034, 2011)
You Stepped Into My Life
There's No Other Like You
It's Hard Not to Like You
Together Forever
Pick Me Up, I'll Dance
Happy
I Promise To Love You
Where Did You Ever Go
You Stepped Into My Life (Original Version) (possibly from Epic 8-50600)
Pick Me Up, I'll Dance (12" Disco Mix) (Epic 28-50665-A, 1978)
Pick Me Up, I'll Dance (12" Instrumental) (Epic 28-50665-B, 1978)