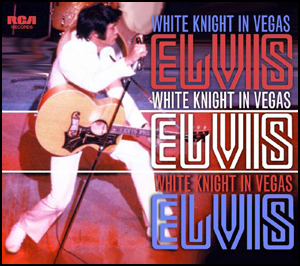 The King has returned: Follow That Dream, Sony's "official bootleg" label for Elvis Presley catalogue projects, has announced its two newest titles for February, a live set and a vinyl reissue.
First up is White Knight in Vegas, a 1969 performance at Las Vegas' International Hotel, the biggest showroom on the strip at the time. Fresh off the iconic NBC comeback special some nine months prior, Presley began his stint at the venue in late July, and this show captures Elvis at his showiest. Mastered from the original eight-track multitrack recording by Vic Anesini, the set is presented in a 5" digipak (production problems prevented this set from appearing in the typical 7" digipak) and features a 12-page booklet with rare photos.
Also up for pre0rder is a vinyl version of FTD's limited edition of How Great Thou Art, Elvis' second gospel LP from 1967. The original album featured the Top 5 hit "Crying in the Chapel" and was Elvis' first with producer Felton Jarvis, who would produce all Elvis LPs for the remainder of the singer's life. The vinyl version (released on a more densely-packed double-disc set last year) features the album and original master takes (including a soundtrack song, "Beyond the Reef") across two records.
Each set will soon be available to pre-order at Elvis' official Web store, with a release date of February 15. View the track lists after the jump.
Elvis Presley, White Knight in Vegas (RCA/Follow That Dream, 2011)
Blue Suede Shoes
I Got a Woman
All Shook Up
Love Me Tender
Jailhouse Rock/Don't Be Cruel
Heartbreak Hotel
Hound Dog
Memories
My Babe
Mystery Train/Tiger Man
Monologue
Baby, What You Want Me to Do
Runaway
Inherit the Wind
Yesterday/Hey Jude
Introductions
In the Ghetto
Suspicious Minds
Can't Help Falling in Love
All tracks recorded live at The International Hotel, Las Vegas - 8/26/1969 and previously unreleased.
Elvis Presley, How Great Thou Art: Limited Edition (Vinyl) (RCA/Follow That Dream, 2011)
LP 1: Original LP and Outtakes
How Great Thou Art
In the Garden
Somebody Bigger Than You and I
Farther Along
Stand By Me
Without Him
How Great Thou Art (Takes 1 & 2)
So High
Where Could I Go But to The Lord
By and By
If The Lord Wasn't Walking By My Side
Run On
Where No One Stands Alone
Crying in the Chapel
Somebody Bigger Than You and I (Takes 14, 15 & wp 5)
LP 2: Outtakes
Run On (Takes 1 & 2)
Stand By Me (Takes 9 & 10)
So High (Take 1)
By and By (Takes 1-5 & 7)
By and By (Takes 8 & 9)
Beyond the Reef
If The Lord Wasn't Walking By My Side (Take 1)
Without Him (Take 1)
Somebody Bigger Than You and I (Take 12)
In the Garden (Takes 1-3)
Run On (Takes 3-6)
Where No One Stands Alone (Takes 2, 3 & wp 5)
Side 1, Tracks 1-6 and Side 2, Tracks 1-7 released as How Great Thou Art (RCA LPM/LSP 3758, 1967)
Side 3, Track 6 released on Elvis Aaron Presley: 1955-1980 25th Anniversary Edition (RCA CPL8 3699, 1980)
All other tracks previously released on CD edition of How Great Thou Art: Limited Edition (RCA/Follow That Dream, 2010)