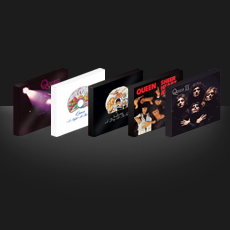 I see a little silhouetto of the track lists of the forthcoming U.K. Queen remasters, as released on the band's official site today. There was a track list posted on the Steve Hoffman forums that was taken from a Japanese Web site and perhaps too heavily devoted to the remixes from The eYe (that odd 1998 computer game with five discs' worth of remixes and instrumental tracks built into the CD-ROMs and suitable for ripping to one's iPod). Those track lists were mostly wrong, thankfully. So what are fans going to get? Let's talk after the jump.
Each disc is going to be expanded by five or six tracks, rather than a full bonus disc's worth of material. Queen gets off to a great start, including the outtake "Mad the Swine" from the U.S. reissue of the album and five of the band's long-desired demos from De Lane Lea Studios in 1971. (The other bonus track from the 1991 reissue of Queen, a "long-lost retake" of "Keep Yourself Alive," is featured on the reissue of A Night at the Opera.) Queen II collects two unreleased BBC session takes, a live cut, an instrumental of "Seven Seas of Rhye" and the non-LP B-side "See What a Fool I've Been."
Sheer Heart Attack focuses on live tracks, BBC sessions and an a cappella track, but here's where things get odd: one of those live cuts is wildly superfluous, coming from the band's already-released Wembley Stadium concert in 1986. Likewise, A Night at the Opera includes a live cut from Live Killers amid the mostly instrumental and a cappella mixes. A Day at the Races concludes the initial batch of reissues, featuring mostly live cuts (including the Top of the Pops version of "Good Old-Fashioned Lover Boy") and a remix of "Teo Torriate" from a Japanese compilation.
Altogether, there are only about six tracks that have already been previously released, and some of those tracks had never been released in the band's native U.K. in the first place. Overall, this writer would have to say that these expanded editions are certainly preferable to their U.S. counterparts released some two decades ago. Sure, it would have been nicer to have gotten truly deluxe editions, but this batch might not have fans dreading what "bonus material" is yet to come. Have a look for yourself below.
Queen, Queen: Expanded Edition (originally released as EMI EMC-3006, 1973 - reissued Island/UMe (U.K.), 2011)
Keep Yourself Alive
Doing All Right
Great King Rat
My Fairy King
Liar
The Night Comes Down
Modern Times Rock'n'Roll
Son and Daughter
Jesus
Seven Seas of Rhye...
Keep Yourself Alive (De Lane Lea Demo, December 1971) *
The Night Comes Down (De Lane Lea Demo, December 1971) *
Great King Rat (De Lane Lea Demo, December 1971) *
Jesus (De Lane Lea Demo, December 1971) *
Liar (De Lane Lea Demo, December 1971) *
Mad the Swine (bonus track on U.S. reissue - Hollywood Records HR-61064-2, 1991)
Queen, Queen II: Expanded Edition (originally released as EMI EMA-767, 1974 - reissued Island/UMe (U.K.), 2011)
Procession
Father to Son
White Queen (As It Began)
Some Day, One Day
The Loser in the End
Ogre Battle
The Fairy Feller's Master-Stroke
Nevermore
The March of the Black Queen
Funny How Love Is
Seven Seas of Rhye
See What a Fool I've Been (BBC Session, July 1973 - 2011 Remix) *
White Queen (Live at Hammersmith Odeon, December 1975) *
Seven Seas of Rhye (Instrumental Mix 2011) *
Nevermore (BBC Session, April 1974) *
See What a Fool I've Been (B-side to "Seven Seas of Rhye" - EMI 2121, 1974)
Queen, Sheer Heart Attack: Expanded Edition (originally released as EMI EMC-3061, 1974 - reissued Island/UMe (U.K.), 2011)
Brighton Rock
Killer Queen
Tenement Funster
Flick of the Wrist
Lily of the Valley
Now I'm Here
In the Lap of the Gods
Stone Cold Crazy
Dear Friends
Misfire
Bring Back That Leroy Brown
She Makes Me (Stormtrooper in Stilettoes)
In the Lap of the Gods...Revisited
Now I'm Here (Live at Hammersmith Odeon, December 1975) *
Flick of the Wrist (BBC Session, October 1974) *
Tenement Funster (BBC Session, October 1974) *
Bring Back That Leroy Brown (A Cappella Mix 2011) *
In the Lap of the Gods...Revisited (Live at Wembley Stadium, July 1986) (from Live at Wembley '86 - Parlophone CDPCSP-725, 1992)
Queen, A Night at the Opera: Expanded Edition (originally released as EMI EMTC-103, 1975 - reissued Island/UMe (U.K.), 2011)
Death on Two Legs (Dedicated to......
Lazing on a Sunday Afternoon
I'm in Love with My Car
You're My Best Friend
'39
Sweet Lady
Seaside Rendezvous
The Prophets Song
Love of My Life
Good Company
Bohemian Rhapsody
God Save the Queen
Keep Yourself Alive (Long-Lost Retake) (bonus track on U.S. reissue - Hollywood Records HR-61064-2, 1991)
Bohemian Rhapsody (Operatic Section A Cappella Mix 2011) *
You're My Best Friend (Backing Track Mix 2011) *
I'm in Love With My Car (Guitar & Vocal Mix 2011) *
'39 (Live at Earls Court, June 1977) *
Love of My Life (Live) (single A-side - EMI 2959, 1979 - also released on Live Killers - EMI EMSP-330, 1979)
Queen, A Day at the Races: Expanded Edition (originally released as EMI EMTC-104, 1976 - reissued Island/UMe (U.K.), 2011)
Tie Your Mother Down
You Take My Breath Away
Long Away
The Millionaire Waltz
You and I
Somebody to Love
White Man
Good Old-Fashioned Lover Boy
Drowse
Teo Torriatte (Let Us Cling Together)
Tie Your Mother Down (Backing Track Mix 2011) *
Somebody to Love (Live at Milton Keynes, June 1982) *
You Take My Breath Away (Live in Hyde Park, September 1976) *
Good Old-Fashioned Lover Boy (Top of the Pops, July 1977) (Mono) *
Teo Torriatte (Let Us Cling Together) (High Definition Mix) (from Jewels II - EMI TOCP-67796 (JP), 2005)