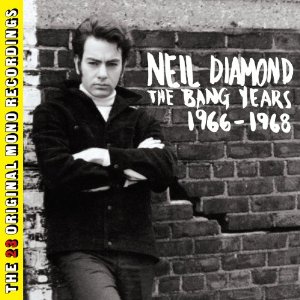 Come this March, Neil Diamond won't be such a solitary man. Diamond will find plenty of stellar company when he's inducted into the Rock and Roll Hall of Fame on March 14.  While Diamond has maintained his superstar status in both the recording studio and the concert stage for 45 years, chances are that the recordings he made for Bang Records between 1966 and 1968 were foremost on voters' minds when choosing to induct the singer into the venerable hall. It's during this period that Diamond "graduated" from the Brill Building ranks and established himself as a formidable rock and roll force with the albums The Feel of Neil Diamond and Just for You for Bert Berns' vibrant New York label.
Yet the 27 unique recordings released by Diamond on Bang (consisting of 25 individual songs, with "Shilo" and "Solitary Man" released in two distinct versions each) have for the most part been unavailable in the CD era. A 1983 compilation, Classics: The Early Years (Columbia 38792), was duly issued on compact disc in 1986, but only collected twelve of Diamond's hits. Other Bang rarities have since trickled out on various box sets and anthologies, but the Bang era has never been collected comprehensively, nor have the original albums seen reissue. This is particularly ironic because Diamond's status as a hitmaker was in high gear, aided by the production of Jeff Barry and Ellie Greenwich: "Cherry, Cherry," "Girl, You'll Be a Woman Soon," "Solitary Man," and "Shilo" all originated during the Bang years.
This finally changes with the March release, timed to coincide with the Rock Hall induction, of The Bang Years 1966-1968.  So what's included, and what hasn't made the cut?  Hit the jump to find out, including full track listing and discographical details!
Here's the rub, Diamondheads: your reaction will largely depend on whether you choose to see the glass half-full or half-empty. The Bang Years will include 23 of Neil's 27 recordings for the label. Omitted entirely are "Crooked Street" and "Shot Down," two tracks which remained unreleased until after the artist's departure from Bang. Also excluded from the lineup are the alternate versions of "Shilo" and "Solitary Man," each of which will only make one appearance on this set. Despite these frustrating omissions, this release is largely good news. So much of this material has been unavailable for so long, and it's especially nice that Diamond didn't nix the inclusion of the rarely-heard covers including "Monday, Monday," "Hanky Panky," "Red Rubber Ball," "New Orleans" and "La Bamba." On the other hand, all 27 songs could have easily been included on one CD, so it's disappointing that the set remains so-close-yet-so-far in terms of completeness.
The big news, too, is that all 23 tracks will be presented in mono. Classics: The Early Years was all-stereo, but derived from a variety of sources. Diamond's The Greatest Hits 1966-1992 (Columbia C2K 52703/CK 52762, 1992) debuted eight Bang tracks in mono, and In My Lifetime (Columbia C3K 65013, 1996) gave us 11 in mono. The Essential Neil Diamond and its 3.0 edition (Columbia 88697 34044-2) also presented its Bang material in mono. Clearly Diamond has favored the mono sound in recent years, which is befitting as so many of these classics were first heard through AM radio speakers. It hasn't yet been revealed whether The Bang Years' mixes will be album versions or singles, or a combination thereof; almost all of the Bang tracks exist in multiple variations. In fact, the number of those variations is often mind-blowing. For those interested in exploring them, you might like to start with our Reissue Theory post dedicated to Neil's Bang tenure and then continue onto the definitive reference site Neil Diamond on Bang Records.
One could speculate that "Crooked Street" and "Shot Down" were eliminated from The Bang Years because Diamond didn't authorize their original release in 1971, seeing as they were pulled from the Bang archives to compete with his then-current music. It's long been thought that "Crooked Street" was a demo never intended for release, as its sole accompaniment is Diamond's acoustic guitar. Also, neither of the songs has ever been released in true mono. "Crooked Street" appeared on the Do It LP (itself a post-1968 compilation) in rechanneled stereo, and on Bang single 586 in the same rechanneled version. "Shot Down" also was presented on Do It in rechanneled stereo.
As for the non-appearance of the alternate "Shilo" and "Solitary Man," it may simply have been felt that these variations were unnecessary (though this writer begs to differ). With only one version of each included, it's my hope that the original Just for You LP version of "Shilo" is the one present (identifiable by its second verse beginning "Young girl with fire…"). However, the second "Shilo" was, like "Crooked Street" and "Shot Down," issued post-Diamond's departure from Bang and was nonetheless selected for Classics: The Early Years, so anything is possible. "Solitary Man" is near-certain to appear in its original LP version, from The Feel of Neil Diamond, as the second version featured stereo overdubs and was never issued in mono. The Feel cut is the original recording of Diamond's early signature song, with a single acoustic guitar, no female backing vocalists (they were added later) and the horn parts subtly and tastefully mixed.
Some details about The Bang Years are still forthcoming, but rest assured that we will update this page as soon as they are made clear. Release dates have been given as March 1 and March 8, and Amazon is oddly showing "7-N Music" as the label, rather than the expected Legacy imprint. (UPDATE: the label is now listed firmly as Sony/Legacy.) In the meantime, The Bang Years can currently be pre-ordered here at Amazon:
Neil Diamond, The Bang Years 1966-1968 (Sony/Legacy 88697 85331-2, 2011)
Solitary Man
Cherry, Cherry
Girl, You'll Be a Woman Soon
Kentucky Woman
Thank the Lord for the Night Time
You Got to Me
I'm a Believer
Red, Red Wine
The Boat That I Row
Do It
New Orleans
Monday, Monday
Red Rubber Ball
I'll Come Running
La Bamba
The Long Way Home
I've Got the Feeling (Oh No No)
You'll Forget
Love to Love
Someday Baby
Hanky Panky
The Time is Now
Shilo
Tracks 1, 2, 10-15, 17, 19, 20-21 from The Feel of Neil Diamond (Bang LP 214, 1966)
Tracks 3, 5-9, 16, 18, 23 from Just for You (Bang LP 217, 1967)
Tracks 4 & 22 from non-LP single Bang 551, 1967