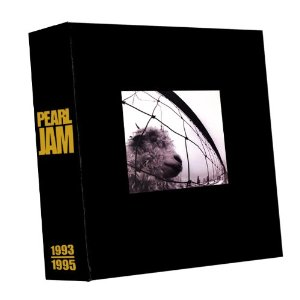 We've previously covered the forthcoming wave of Pearl Jam reissues from Legacy, this time pertaining to the band's second and third LPs Vs. (1993) and Vitalogy (1995). It seems that these sets might be closer to stores than previously known, thanks to some Amazon listings.
The retailer has March 29 dates for expanded editions of each album, as well as a box that looks to collate both of them with possible additional material. (This clears up a bit of confusion from a Rolling Stone story that seemed to suggest that there would indeed be a box set of both albums in one package.) Interestingly, there are provisional track listings attached to each page (well, attached to the Vs. and deluxe box set pages, at least) that indicate at least three bonus tracks for each of the albums. Vs. will have three non-LP songs (at least two of which were previously released in some form) while Vitalogy will feature three alternate versions of songs from the original LP.
Presumably, the deluxe box (which has nice-looking packaging) will feature a wealth of riches on par with the Ten box released in 2009. Assuming that's the case, you might want to place a pre-order; the box is priced shockingly low - at just over $35 as of this writing. Information is certainly still to come on these sets, so tune in to The Second Disc to be ready when it arrives!
Pearl Jam, Vs.: Expanded Edition (Epic/Legacy 88697 84314-2, 2011)
Go
Animal
Daughter
Glorified G
Dissident
W.M.A.
Blood
Rearviewmirror
Rats
Elderly Woman Behind the Counter in a Small Town
Leash
Indifference
Hold On
Cready Stomp
Crazy Mary
Tracks 1-12 released as Epic ZK 53136, 1993
A possibly alternate version of Track 13 released on Lost Dogs (Epic E2K 85738, 2003)
Track 14 previously unreleased
TrackTrack 15 from Sweet Relief: A Benefit for Victoria Williams (Columbia OK 57134, 1993)
Pearl Jam, Vitalogy: Expanded Edition (Epic/Legacy 88697 84312-2, 2011)
Last Exit
Spin the Black Circle
Not for You
Tremor Christ
Nothingman
Whipping
Pry, To
Corduroy
Bugs
Satan's Bed
Better Man
Aye Davanita
Immortality
Stupid Mop
Better Man (Guitar/Organ Only)
Corduroy (Alternate)
Nothingman (Demo)
Tracks 1-14 released as Epic EK 66900, 1995
Tracks 15-17 previously unreleased