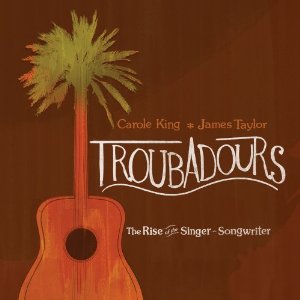 Morgan Neville's 2010 film Troubadours: The Rise of the Singer-Songwriter is nothing if not ambitious. A participant in the Sundance U.S. Documentary Competition, Troubadours functions as a dual biography of Carole King and James Taylor, as well as the story of Doug Weston's club on Los Angeles' Santa Monica Boulevard that gave rise to King, Taylor and so many others. Their 2007 reunion and subsequent tour in 2010 provides the framework for the film. Yet moreover, it touches on the entire singer-songwriter ethos that rose out of the turbulent last days of the 1960s, and in doing so, also biographically spotlights Jackson Browne, Elton John, Kris Kristofferson, Bonnie Raitt, Joni Mitchell and other Troubadour mainstays such as Don Henley and Glenn Frey of Eagles. (Steve Martin, a frequent guest at the Troubadour's "Hoot" nights with his banjo in tow, contributes much of the film's humor with his wry and on-the-money recollections. One such memory involves Frey setting him straight on the band's name in something out of a "Who's on first?" routine. It's "Eagles," Martin stresses today. Not "The Eagles!") With its limited theatrical run wrapping up, Concord Music Group, a producer of the film, gives Troubadours a DVD release on March 1 via its Hear Music label in a special package that also contains a 10-track CD.
The accompanying CD is not a soundtrack to the film; wouldn't that have been something, with its exclusive (and sometimes impromptu!) performances and rare archival footage of Taylor, King and others. Instead, we're offered a sampler with some of the biggest names to play The Troubadour and be associated with the Los Angeles music scene of the early 1970s. As guitarist Danny "Kootch" Kortchmar points out in the film, don't call these musicians mellow! They include Taylor and King, of course, who are represented with "Sweet Baby James" and "It's Too Late," respectively, but also Raitt, John, Kristofferson, Randy Newman, Warren Zevon, and also 2011 Rock and Roll Hall of Famer Tom Waits. Lowell George's Little Feat is the only group present, and a track from Linda Ronstadt is also included. While Ronstadt herself wasn't a singer-songwriter, Neville's film points out her importance to the era as a first-rate interpreter of many of her friends' songs.
What rare treats are offered in the film? Hit the jump for details, plus pre-order information and track listing for the bonus CD!
The movie itself will undoubtedly be a treat to any fan of rock and pop. It offers a treasure trove of vintage clips. There's footage of Gerry Goffin and Carole King "writing a song" in the Brill Building and home movies of the Goffin clan at home in West Orange, New Jersey, a time which inspired their hit for the Monkees, "Pleasant Valley Sunday." (For all of the non-Jerseyans reading this, Pleasant Valley Way is a major thoroughfare in the community.) It's fascinating to see King abandon her '60s beehive for the freedom of Laurel Canyon as King's daughter Sherry Goffin Kondor talks about her mother's lifestyle change leading up to Tapestry. We see Taylor introducing "Fire and Rain" as his new song, "I've Seen Fire and I've Seen Rain," at the 1969 Newport Folk Festival. Needless to say, there's footage of Weston living large at his iconic club.
Of the newly-shot footage, there are too many priceless recollections to mention. Peter Asher amusingly describes The Fab Four's reaction to Taylor's original Apple LP, while Jackson Browne plays a passionate version of Bob Dylan's "I Want You" and explains how the song is part pop song, part something else entirely. Steve Martin steals the show with his pithy remarks, while a perceptive David Crosby is a close second. Other artists and songwriters appear (Barry Mann and Cynthia Weil, Roger McGuinn, J.D. Souther, Henry Diltz, Lou Adler), sometimes fleetingly, to recall this extraordinary time. While the darker side of the era is also addressed, such as Taylor's long battle with drug abuse, most of the participants seem to glow as they recall all of the good times. I have a feeling that if you've read this far, you'll have a nostalgic glow, too, upon seeing the all-too-short, 91-minute film.
Troubadors can be pre-ordered at Amazon; below is the track list for the accompanying bonus CD!
Troubadours: The Rise of the Singer-Songwriter: Bonus CD (Hear Music, 2011)
Sweet Baby James – James Taylor
Desperado – Linda Ronstadt
Dixie Chicken – Little Feat
Take Me to the Pilot – Elton John
Ol' 55 – Tom Waits
Love Has No Pride – Bonnie Raitt
Sail Away – Randy Newman
Poor, Poor Pitiful Me – Warren Zevon
Why Me – Kris Kristofferson
It's Too Late – Carole King
Track 1 from Sweet Baby James, Warner Bros. WS-1843, 1970
Track 2 from Don't Cry Now, Asylum SD-5064, 1973
Track 3 from Dixie Chicken, Warner Bros. BS-2686, 1973
Track 4 from Elton John, Uni 73090, 1970
Track 5 from Closing Time, Asylum SD-5061, 1973
Track 6 from Give it Up, Warner Bros. BS-2643, 1972
Track 7 from Sail Away, Reprise MS-2064, 1972
Track 8 from Warren Zevon, Asylum 7ES-1060, 1976
Track 9 from Jesus Was a Capricorn, Monument KZ 31909, 1972
Track 10 from Tapestry, Ode SP-77009, 1971