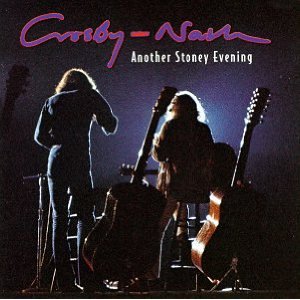 With Buffalo Springfield confirmed to play Bonnaroo and a fall tour still a possibility, Neil Young and Stephen Stills have a busy few months ahead. Well, David Crosby and Graham Nash aren't ones to sit around waiting on their bandmates. The venerable harmonists are the latest artists to take the indie route and have announced the formation of Blue Castle Records. Its first release will arrive March 22 to coincide with their upcoming tour as a duo. On that date, Crosby and Nash will reissue Another Stoney Evening, the out-of-print album chronicling their October 10, 1971 concert at Los Angeles' Dorothy Chandler Pavilion. Of all the different factions of the Crosby, Stills, Nash and Young family, the Crosby-Nash partnership has always been among the most rewarding.
Another Stoney Evening (its name derived from a bootleg release and inspired by the duo's not-so-thinly-veiled drug references throughout) was first officially released on Arista in 1998 and then reissued five years later in the DVD-Audio format from DTS Entertainment. Crosby described the concert as "the loosest show on earth," and it's a valuable document of the Crosby-Nash team beginning its parallel career with that of the CSN and CSNY groups. Nash was coming off his solo Songs for Beginners, released in June 1971, while Crosby's If I Could Only Remember My Name, released in February of that year, was still fresh in fans' minds. The repartee between the two men is evident and easy, their camaraderie translating well to disc. The CSNY catalogue is represented with songs such as "Déjà Vu" and "Teach Your Children," while both men recreated highlights from their solo albums.
Another Stoney Evening is planned to be the first of many releases from Blue Castle. While any and all CSNY-related projects are notoriously slow in getting off the ground (Where is the Stephen Stills box from Rhino? The live tour recordings from 1974? I won't even joke about Neil Young's Archives, Vol. 2!), the projects spearheaded by Nash in the past have all been worthwhile despite the waits. Crosby promised Rolling Stone that "we have a lot – I mean massive – quantities of stuff recorded" that could see eventual release. He also has a solo project in the works, produced by James Raymond, his son and bandmate in CPR.
Hit the jump for pre-order info, track listing and discographical information!
Another Stoney Evening is scheduled for release on March 22 in both digital and vinyl formats.  No CD release appears to be in the cards. Further information will be updated at Crosby and Nash's official website, where pre-orders are currently being taken for the digital version only.
Crosby-Nash, Another Stoney Evening (Arista 14057, 1998 – reissued Blue Castle Records, 2011)
Anticipatory Crowd
Déjà Vu
Wooden Ships
Man in the Mirror
Orleans
I Used to Be a King
Traction in the Rain
Lee Shore
Southbound Train
Laughing
Triad
Where Will I Be?
Strangers Room
Immigration Man
Guinevere
Teach Your Children
Exit Sounds