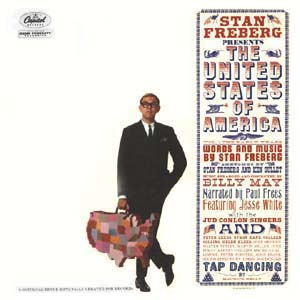 Here's one for Watson: "This actor, comedian, voice artist, singer, songwriter and advertising guru coined the name 'Grammy' for the annual awards bestowed by the National Academy of Recording Arts and Sciences (NARAS)." The correct answer? "Who is Stan Freberg?" To list Freberg's credits in the fields of cinema, radio, television, animation and music would take up the entirety of this column, but readers unfamiliar with those accomplishments are advised to stop reading now, order a copy of Rhino's multi-disc box set Tip of the Freberg, and then return here. For anyone with a funny bone ready to be tickled will take delight in "Green Chri$tma$," "John and Marsha," and Freberg's indelibly hysterical versions of "Heartbreak Hotel" and "I've Got You Under My Skin." But you might be asking yourself, "What the heck does Stan Freberg have to do with Presidents' Day?"
In 1961, Freberg released his most ambitious project yet. Released on Capitol Records and featuring the participation of his merry troupe of voice talents including June Foray and Paul Frees, The United States of America Vol. 1: The Early Years gave musical voice to George Washington (Freberg) and Thomas Jefferson (Byron Kane), while Vol. 2: The Middle Years, released some 35 years later on the Rhino label, added James Madison (Lorenzo Music, otherwise known as the voice of Carlton the Doorman and Garfield!), Abraham Lincoln (Freberg again!) and Ulysses S. Grant (David Ogden Stiers) to Freberg's presidential lexicon. For Vol. 2, Jesse White, Peter Leeds, and Foray all returned to the voice cast alongside "newcomers" John Goodman, Sherman Hemsley, Tyne Daly and Harry Shearer.
Stan Freberg Presents the United States of America has been described by Barry "Dr. Demento" Hansen as either the best comedy album in history, or the best history album in comedy. Which is it? Hit the jump and you decide as we celebrate Presidents' Day here at The Second Disc!
Stan Freberg, Stan Freberg Presents the United States of America Vol. 1: The Early Years (Capitol SM-1573, 1961 - reissued Capitol  92061, 1989 and Rhino R2 72476, 1996)
Overture
Columbus Discovers America/"It's a Round, Round World"
Pilgrim's Progress/"Take an Indian to Lunch"
The Thanksgiving Story (Under the Double Turkey)
The Sale of Manhattan/"Top Hat, White Feather and Tails"
The Boston Tea Party
Declaration of Independence/"A Man Can't Be Too Careful What He Signs These Days"
The Midnight Ride of Paul Revere
Betsy Ross and the Flag/"Everybody Wants to Be an Art Director"
The Discovery of Electricity
Washington Crosses the Delaware (Command Decision)
Yankee Doodle Go Home (Spirit of '76)
The Battle of Yorktown
Finale/"So Long, Friend..."
Tracks 8 & 10 were added for the Capitol and Rhino reissues.  Track 9 was expanded for both reissues.
As is clear from the song titles, reverence was not one of Mr. Freberg's key traits. Instead, this delicious history lesson is a wildly wacky one, filled with acute observations in both scene and song from characters also including Christopher Columbus, Queen Isabella, King Ferdinand, Benjamin Franklin and Betsy Ross. As Freberg told Dr. Demento in 1996, he had flunked out of history class in high school and "I thought, 'Why does American history have to be so incredibly boring?' I kept thinking about all those people, Betsy Ross, Thomas Jefferson...they were real people, not just a bunch of marble statues in a park." The wit and sophistication with which Freberg recast these seminal American stories kept The United States of America in history classrooms long after the original LP went out-of-print. I'd like to share some of the most "cherce" lyrics, but I'd rather not ruin them for you! Suffice to say, it was a blue-chip affair all around: Paul Frees (still heard every day in Disney theme parks around the world) narrated, and Billy May (the man behind Frank Sinatra's orchestration of "Come Fly with Me" and so many others) arranged and conducted. The United States of America was an instant success, disproving George S. Kaufman's famous quip that "satire is what closes on Saturday night." Freberg's imagination was boundless, taking listeners from Plymouth Rock (where the Mayor tries to drum up the Indian vote with "Take an Indian to Lunch") through George Washington's victory in the Revolutionary War after much waffling about which boat to rent! If The United States of America were a Broadway musical, the multi-talented Freberg would have been credited with "Book, music and lyrics by Stan Freberg" (with an assist on the book/sketches from Ken Sullet). It certainly sounded like a big, brassy musical, complete with an overture. Enter David Merrick.
Immortalized as "The Abominable Showman," the notorious David Merrick (1911-2000) still stands as one of the most successful producers in American theatre history, with credits including Hello, Dolly!, Oliver! and Carnival. Tales of his shenanigans are legendary, and stories about him plentiful. (Arguably his best stunt was promoting his 1961 musical Subways are for Sleeping by finding seven gentlemen with the same names as the seven most important theatre critics. He invited them to the musical and got their permission to use their names and pictures in advertising, and then placed an ad with their hyperbolic recommendations about the tepidly-received musical. Only one newspaper published the ad, but the ensuing publicity kept the show running for nearly six months. Merrick reportedly had thought this stunt up years earlier, but had to wait for the retirement of the New York Times' Brooks Atkinson, for obvious reasons!) Merrick wanted to bring The United States of America to the stage. After much back-and-forth, he persuaded Freberg to give him the rights and shelve the plans for the second and third volumes, so that those records wouldn't compete with the eventual Original Cast Recording of the new musical. Freberg agreed and got to work, writing the songs and dialogue to bring the show up through the First World War.
Little did he know he had a war of his own on his hands. Unlike most theatrical producers today, Merrick was famously hands-on. However, he often used intimidation as his key tool. (His office was painted a devilish red for visitors' maximum discomfort!) In a new interview with our friend Mike Ragogna, Freberg remembers that "we were rehearsing at the St. James Theatre [Merrick's former office still resides above the theatre] and he said this to me: 'Take Lincoln out of the Civil War, he doesn't work.' I said to him, 'David, Abraham Lincoln is not a fictional character I made up. You can't take him out of the Civil War.' He said, 'Yes we can, we can do anything we want in the theater!' So that's when I walked away from David Merrick." But the walking away led to protracted legal battles with the impresario. As a result, Vol. 2 and Vol. 3 were scrapped. In addition to various other recordings and activities, Freberg moved into a lucrative advertising career; he is largely credited with introducing humor to advertising, and he has received a staggering 21 Clio Awards in his career. But The United States of America wouldn't go away quietly. Once Paul McCartney was asked what kind of music he enjoyed listening to, and the Beatle responded with one or two song titles from Freberg's magnum opus. Steven Spielberg has name-checked Freberg and United States.
The United States of America Vol. 1 was reissued by Capitol on CD in 1989 with some added material. Two cut scenes were reinstated ("The Midnight Ride of Paul Revere" and "The Discovery of Electricity") while "Betsy Ross and the Flag" was extended with material originally cut due to the limitations of vinyl. New sound effects were seamlessly added to finish the tracks. Freberg had rarely gone through a year since 1961 without being asked when Vol. 2 would arrive.  As the 1990s arrived, he finally decided to forge ahead with it.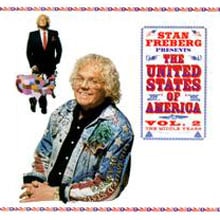 Stan Freberg, Stan Freberg Presents the United States of America Vol. 2: The Middle Years (Rhino R2 72476, 1996)
Intro & Overture
Madison, Jefferson, Franklin & Osbourne: The First Advertising Agency (Part 1)
"Madison, Jefferson, Franklin & Osbourne"
Madison, Jefferson, Franklin & Osbourne (Part 2)
"America! America!"
Madison, Jefferson, Franklin & Osbourne (Part 3)
Rumplemayer's Horseshoes: The Francis Scott Key Story
"Rumplemayer's Horseshoes"
Stephen Foster, Beloved Songwriter
Samuel F.B. Morse Sends the First Telegram
Abe Lincoln in Analysis
"Show Folk"
Abe Lincoln at Home in the White House
Barbara Frietchie, Martyr of the Year
"Shoot If You Must"
Lincoln at Shiloh, with General Grant
"As Long As You're Up"/"A Sober Life's a Hard Life"
The Appomattox Courthouse Bar & Grill
"There'll Never Be Another War"
Custer's Last Stand
Alexander Graham Bell and the First Phone Call
Thomas Edison Invents The Light Bulb! The Phonograph! (Part 1)
"Perseverance"
Thomas Edison Invents The Light Bulb! The Phonograph! (Part 2)
"Planned Obsolescence"
The Wright Brothers at Kitty Hawk
Henry Ford Invents Detroit
"Perseverance" (Reprise)
The Sinking of the Lusitania
Two Tin Pan Alley Songwriters
"U-Boat"/"The Guns of August"
"Hello, Peace, Hello"
"There'll Never Be Another War" (Reprise)
Finale: "America! America!" (Reprise)
For Freberg fans, 1996's Vol. 2: The Middle Years was worth the wait. Freberg took advantage of the compact disc's longer playing time in this volume which brought America's story right through World War I, as had been originally planned for the Merrick stage adaptation. As Freberg said upon its release, "I used some of the material from the David Merrick era, added to it, and updated it. This new album is exactly the way I heard it in my head." The voice cast was a starry one, with John Goodman, Tyne Daly, Harry Shearer and David Ogden Stiers among its members. Voice artist Corey Burton filled in for the late Paul Frees as the narrator, and the legendary Billy May returned to arrange and conduct. Fayard Nicholas of the Nicholas Brothers, then upwards of 80 years old, even added taps! Freberg had lost none of his flair for mirth despite the years that had passed. The first song introduced us to Madison, Jefferson, Franklin and...Osbourne? "Advertising men are we/We've got a new, all new campaign/We're gonna put it on the train/And see if it gets off/At Washington, D.C.!," they sang. Freberg was off and running. Rhino reissued Vol. 1 with Vol. 2 in a special two-disc set (R2 72476, 1996) and also released both volumes separately. Unfortunately, all editions are currently out-of-print on CD, but both titles are well worth seeking out, and Vol. 1 is still available digitally on iTunes.
As of this writing, Vol. 3 hasn't yet materialized but Freberg assured Mike Ragogna, "Hunter [his wife] and I are actually working on [it]" and Hunter added that plans may be afoot to animate United States or even give it long-delayed Broadway berth, presumably with a producer more sympathetic to history than the late David Merrick was. Freberg has been celebrated since 1996 with a variety of reissues including the aforementioned Tip of the Freberg (Rhino 75645, 1999) which collects the best of his work across various media, including material from The United States of America. More recently, DRG's Singles (DRG 91512, 2009) offered 35 of Freberg's Capitol singles on two CDs, but U.S.A. fell outside of its purview. Stan and Hunter Freberg have a new self-released album, Songs in the Key of Freberg, on which Freberg tackles some of the conventions of modern society in songs such as "Your Call Will Be Answered in the Order in Which It Was Received" and "Gas Station Nation." Perhaps these topical tunes will offer us some clues as to how Freberg will approach Vol. 3. David Merrick was certainly enough of a character to be lampooned in such an edition! In addition to his recording, appearances and speaking engagements, Stan Freberg keeps busy providing voices for such programs as The Garfield Show. (His friend and collaborator Mark Evanier has a recent photo up at his terrific blog, News From ME.)
Not bad for a kid who flunked out of history, eh?