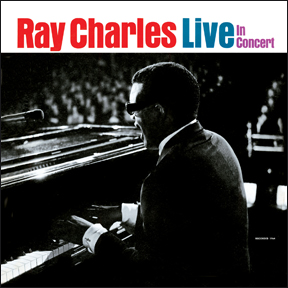 Ray Charles took the Shrine Auditorium by storm in 1964, following a tour of Japan. That fiery show was recorded (unbeknownst to the Genius himself) and released as Live in Concert in 1965. Now, Concord is prepping an expanded edition of the concert with several unreleased bonus tracks from the same show.
Though the original 12-track LP touched on some great hits and standards as only Ray could sing them – "What'd I Say," "I Got a Woman" and "Hallelujah, I Love Her So" chief among them – the expanded set list includes several more of Charles' most famous cuts as played at the show, including "One Mint Julep" and "Georgia on My Mind." The set includes new liner notes by Bill Dahl on the show (and the man in concert), and is presented in a new 24-bit digital remaster.
This new package will be out April 5; order it here and hit the jump for the track list.
Ray Charles, Live in Concert: Expanded Edition (Concord CRE-31439-02, 2011)
Opening
Swing a Little Taste *
One Mint Julep *
I Got a Woman
Georgia on My Mind *
Margie
You Don't Know Me
Hide Nor Hair
That Lucky Old Sun *
Baby, Don't You Cry
In the Evening (When the Sun Goes Down) *
Hallelujah, I Love Her So
Makin' Whoopee
Busted *
Don't Set Me Free
Two Ton Tessie *
My Baby (I Love Her, Yes I Do) *
What'd I Say
Finale
Tracks 1, 4, 5-8, 10, 12-13, 15 and 18-19 released as ABC LP 500, 1965. All other tracks previously unreleased.